The Latest Bathroom Trends for 2023
February 2023
Czech & Speake was built on the recognition of the importance of the bathroom space in the home. Demand for considered and trend-led interior design in the bathroom has risen in parallel to wellness trends and spending more time at home post pandemic, and this will only continue to grow. Whether you are looking for a bathroom remodel, or simple decorative changes to keep your space refreshed, here are some of our favourite bathroom trends to follow in 2023.
1.
Bathroom Colour Trends 2023
Changing the colour of the paint, tiles and accessories in your bathroom is an easy way to update the space and align with current trends. Our experts have been analysing industry colour trends, and narrowed it down to those that we think will be around for while.
1.1
Soothing, Stylish Green
It was the Victorians who first innovated green in the bathroom, recognising its calming effect in the space. In 2023, spaces are designed with wellness in mind, so it is no wonder green has made a comeback. With connections to nature, the subconscious effects of green soothes and relaxes the mind and body, perfect for a space designed to wind down and bathe in. We are seeing a range of green tones used by top interior designers, from deep forest and racing green, bright tones of jade and seafoam or lighter tones of tea, sage and retro avocado green. The bathroom we have featured comes from architectural firm Studio Ben Allen who won an award for this North London Bathroom, cladded in pigmented green concrete, designed to have a 'hamman' feel.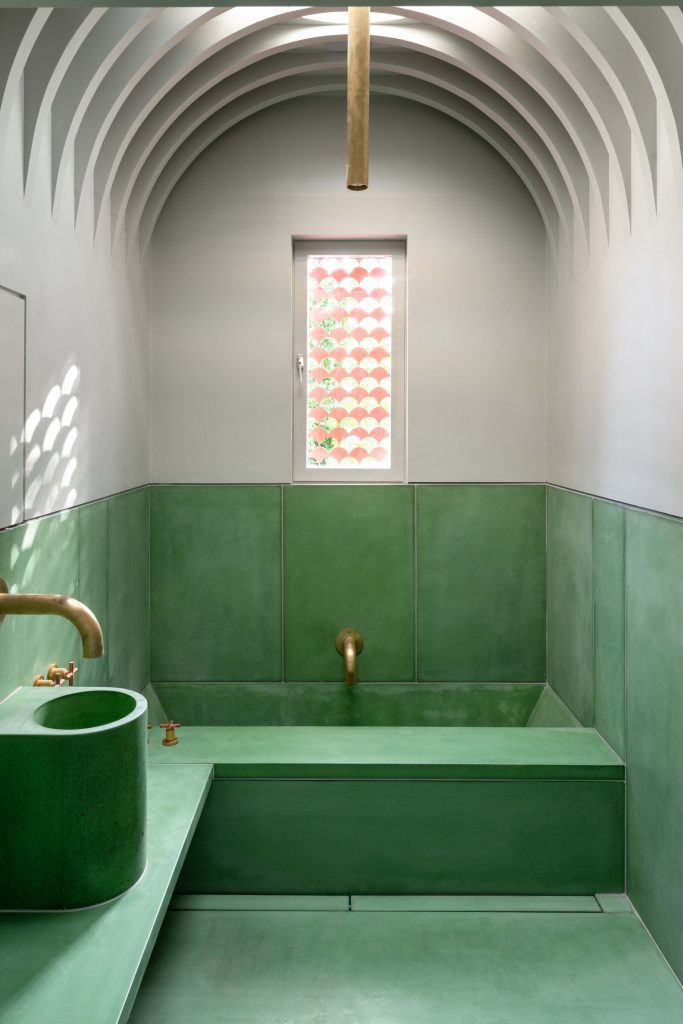 With influence from a growing trend in mediterranean decor and spa-like bathrooms, earth tone and neutral colour palettes are being selected in favour of white. This is driven by contemporary mindsets that desire for the bathroom to be more than just a functional space, but instead a personal sanctuary, and these influences offer escapism and warmth. Some key neutral trends include limewash walls, taupes and creams, light wood panelling and textured concrete walls. The image shows how Emil Eve Architects have paired textured taupe toned walls with warm, diffused wall lighting to capture that spa-like feel in this East London Victorian townhouse.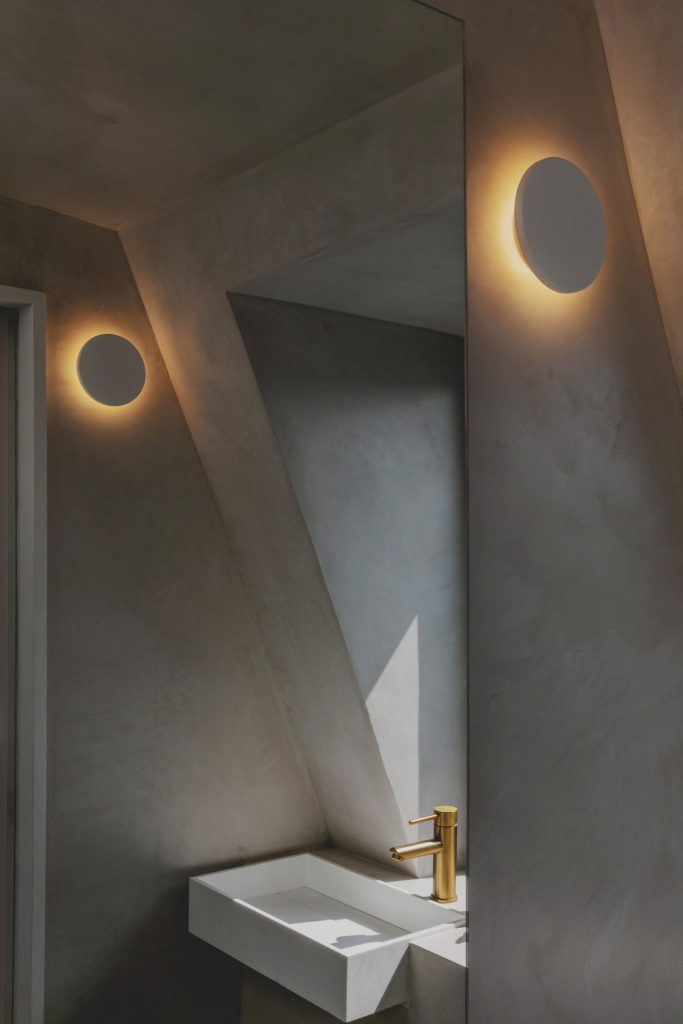 1.3
Pantone Colour of the Year: Viva Magenta
Each winter, colour matching company and industry leaders, Pantone, produces a colour that it predicts will be prevalent in the upcoming year, based on analysis of cultural trends. This chosen colour then appears in interior, fashion, beauty and graphic design. It was announced that the Pantone colour of 2023 is 'Viva Magenta', so expect to see it everywhere. The hue is a red-pink tone that presents a balance between warm and cool, it is both bold and velvety – very much a colour of positivity. The interior image from Heather Hillard Design shows the power of using magenta in the powder room, with bold magenta-orange floral wallpaper set against traditional white sanitary ware.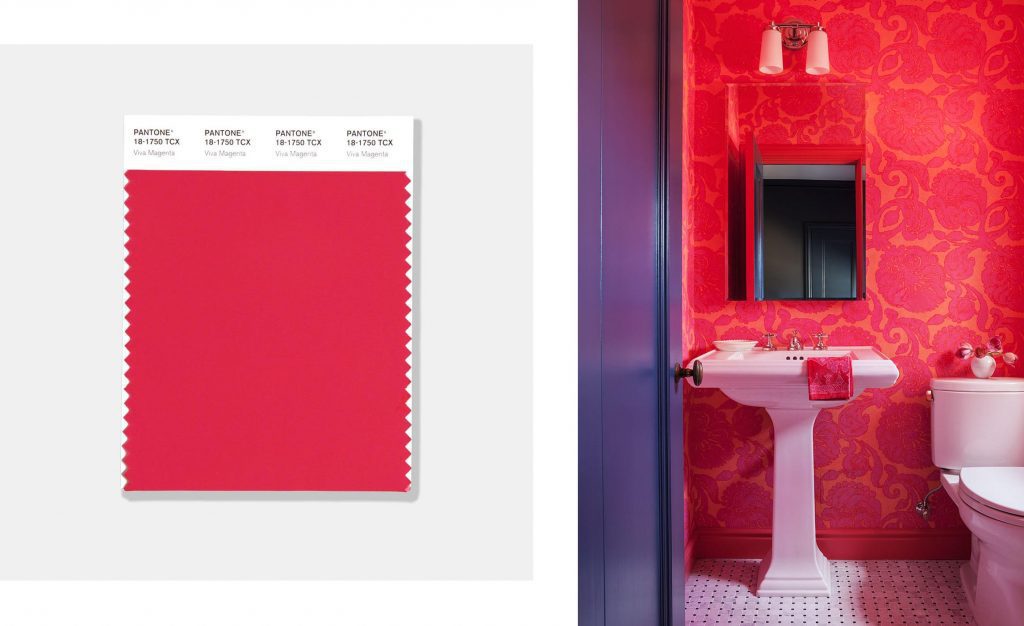 1.4
Which bathroom colours are timeless?
From 2023's bathroom colour trends, the neutral palette is one that will always be timeless as the delicate, muted shades are inoffensive and offer a strong base with flexibility in changeable features. Simple accessory and textile changes will keep the space on trend.
2.
Bathroom Finish Trends 2023
If you are ready for a bigger bathroom renovation, discover our trend picks for finishes from fittings and hardware to floor and wall tiles.
In terms of plumbing, we are seeing popularity in warm metallics, particularly in pairing with the earthy colour trend. Think gold, bronze and brass, with a brushed finish being preferred for its softer effect, which is more suited to modern interiors inspired by wellness concepts. At Czech & Speake we offer bespoke services to achieve a brushed effect over a chosen warm metal. The left image shows unique brushed gold fittings combined with Carrara marble by luxury bathroom brand Lusso Stone, demonstrating the harmony at which warm metallics and earth tones can reside. Next to this is our Edwardian Cross Top Basin Mixer in stunning Duragold.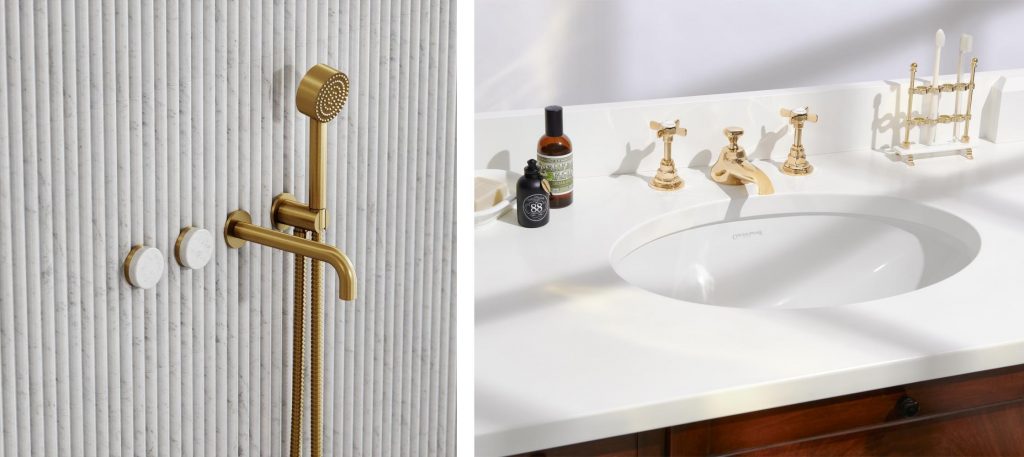 We're delighted that checkerboard tiles are on trend for 2023. The iconic and graphic tile formation is a signature of Czech & Speake bathrooms and our most famous Edwardian bathroom range. This collection was inspired by historic design excellence, so it is inevitable that such trends will always come back. The checkerboard tile is a versatile base that can be paired with both traditional and contemporary interior styles, with a popularity in blending styles. The image shows a beautiful use of traditional checkerboard floor tiles paired with decorative wall tiles by natural stone tile and flooring suppliers, Mandarin Stone. The right image includes our iconic Edwardian Bath Mixer in perfect harmony with the classic monochrome checkerboard floor.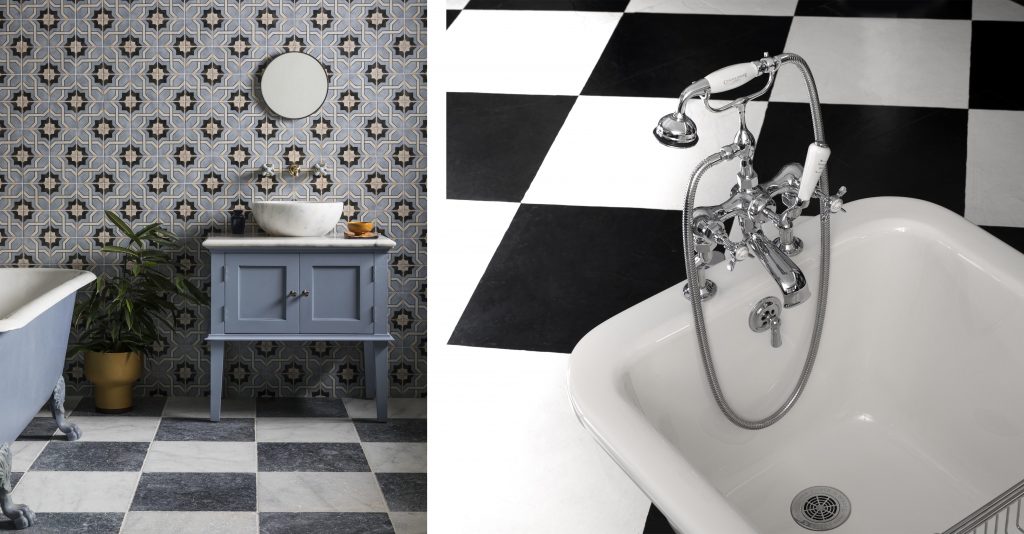 2.3
Which bathroom finishes are timeless?
As well as the checkerboard tile as featured, monochrome hexagon mosaic tile patterns are a timeless bathroom choice. If you're after the 'spathroom' or popular 'Japandi' style of bathroom, large natural stone tiles create a calm and neutral space that will remain on trend. In terms of fitting finishes, Chrome will never go out of style. Chrome is staple to all of Czech & Speake's bathroom fitting collections.
3.
Trend's for small bathrooms
Getting the most of our floorspace is increasingly important in modern living. Discover the 2023 trends that offer clever solutions and embrace the charm of smaller spaces.
3.1
Wall mounted accessories and fittings
Wall mounted fittings and accessories are an increasingly popular way to make your bathroom feel bigger and more functional. By wall-mounting toilets, sinks, racks and accessories, it lifts everything off the floor to create more physical space, while making it visually look much bigger. At Czech & Speake, each of our ranges offers wall mounted options. The photo features the Wall Mounted Towel Rack from our traditional Edwardian range, which is designed to sit close against the wall, only extending out from the wall at the top for maximum space beneath. As well as this, changing up your accessories is a cost effective way to refresh your bathroom space. Explore our bathroom accessories.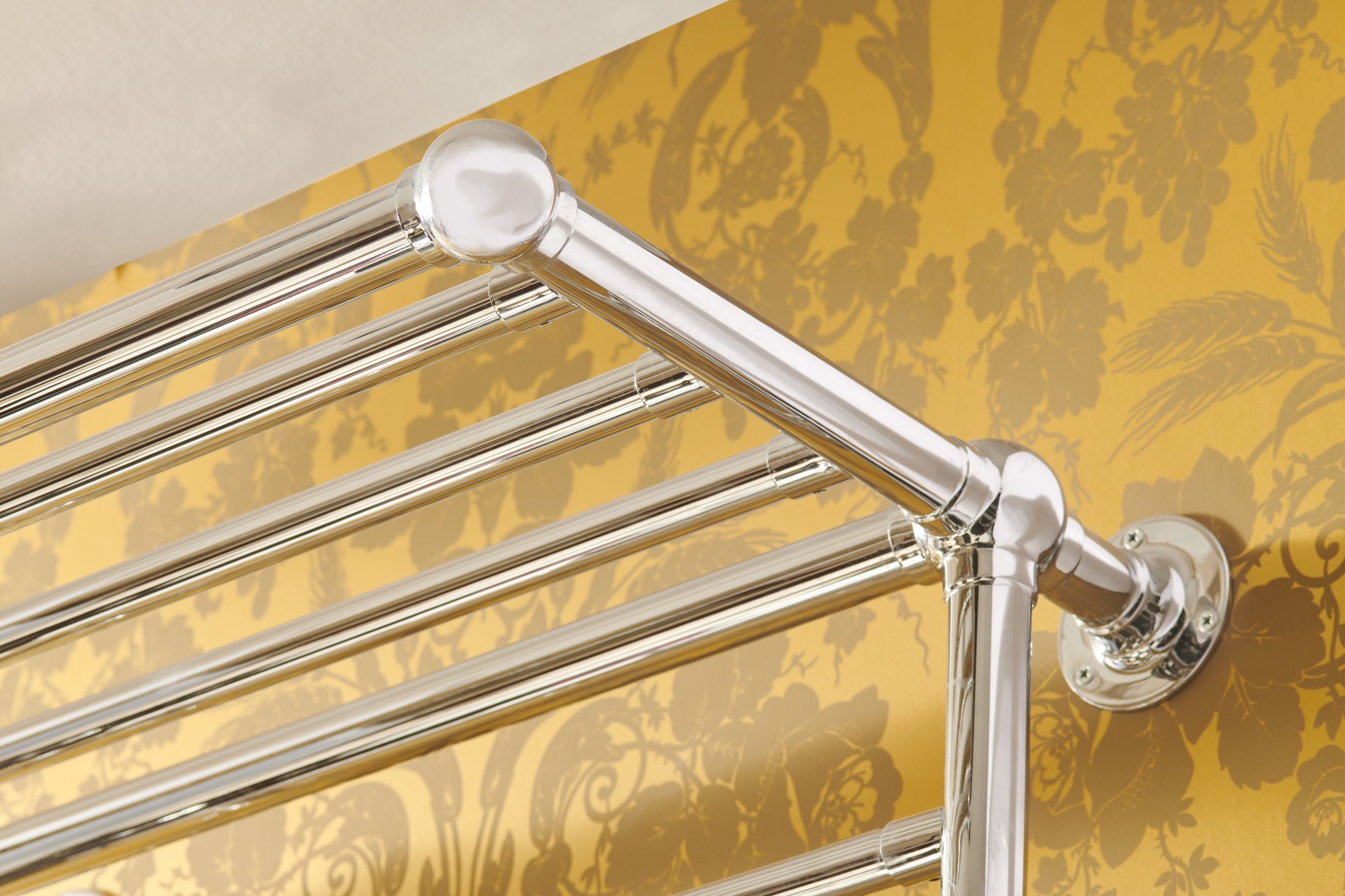 Powder room's tend to be very tight spaces, so are quite often neglected. However, this year we are seeing interior designers embracing the space in a bold way so that it is not forgotten. One perk of a small space is that decorating it requires a lot less material, which gives you leeway to spend more on the fewer materials you use. Using high-end, floor-to-ceiling patterned wallpaper in the powder room is a big trend for 2023. We love this powder room by Emil Eve Architects who worked closely with wallpaper brand CommonRoom.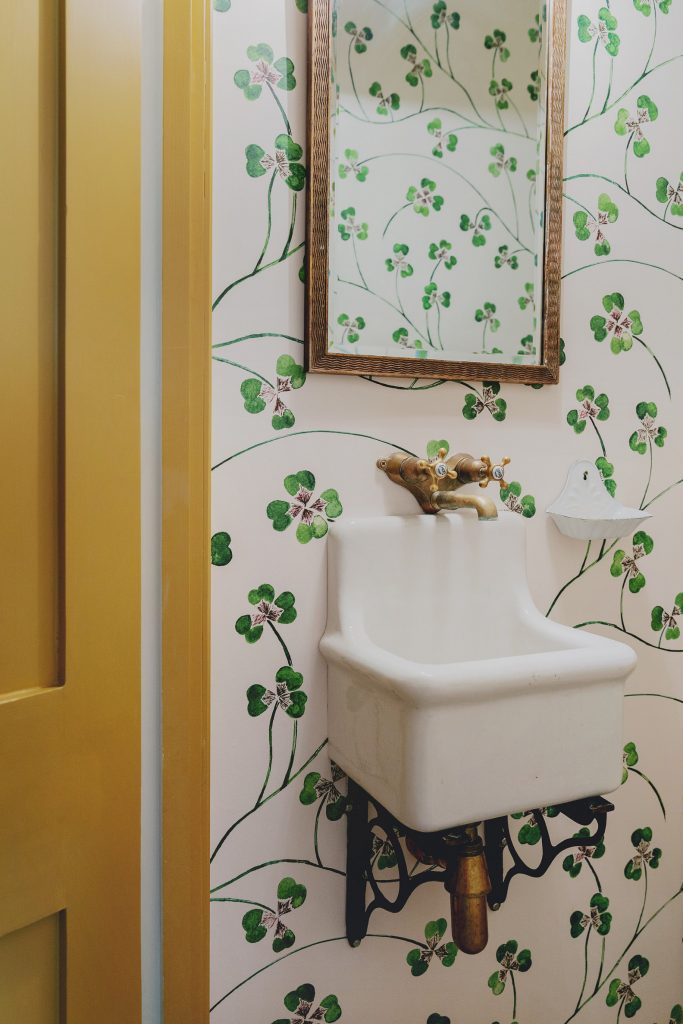 Photos in order of appearance:
Project: Studio Ben Allen(www.studiobenallen.com), Photography: French+Tye
Project: Emil Eve Architects (www.emileve.co.uk), Photography: Mariell Lind Hanssen
Image 1: Pantone colour swatch 'Viva Magenta' (pantone.com),  Image 2: Project: Heather Hilliard (heatherhilliard.com), Photography: Michele Lee Willson
Image 1: Photo: Lusso Stone (www.lussostone.com), Image 2: Czech & Speake, Photography: Isaac Dann
Image 1: Photo: Mandarin Stone (www.mandarinstone.com), Image 2: Czech & Speake
Wall Mounted Towel Rack Photo: Czech & Speake
Project: Emil Eve Architects (www.emileve.co.uk), Photography: Mariell Lind Hansen