The 8 Best Summer Perfumes For Your Next Holiday
July 2023
From childhoods spent on Menorcan beaches to long, sultry evenings in the American Deep South, Czech & Speake fragrances are indelibly linked to the memories founder Frank Sawkins has created whilst travelling the world. And, as anyone who is transported back to holidays past when applying sunscreen will assure you, no more so is this true than in summer, when our senses are heightened, and lasting memories are made.
With zesty citruses, warm green grasses and light, flowing florals, holidays are a time of light, bright, refreshingly vibrant scents and fragrances that just smell like summer. For summer perfumes 2023, layer these classic summer scents with rich woody and smoky summer evening fragrances to create a rich, complex scent which is charmingly unique and original.
From summer evening fragrances to perfumes that smell like the sea, Czech & Speake has curated the very best perfumes that smell like summer holidays and travel-size perfume sets for your next trip. So, whether you're heading abroad or need to bring that holiday feeling to the everyday, let our picture-postcard summer scents be your memory maker.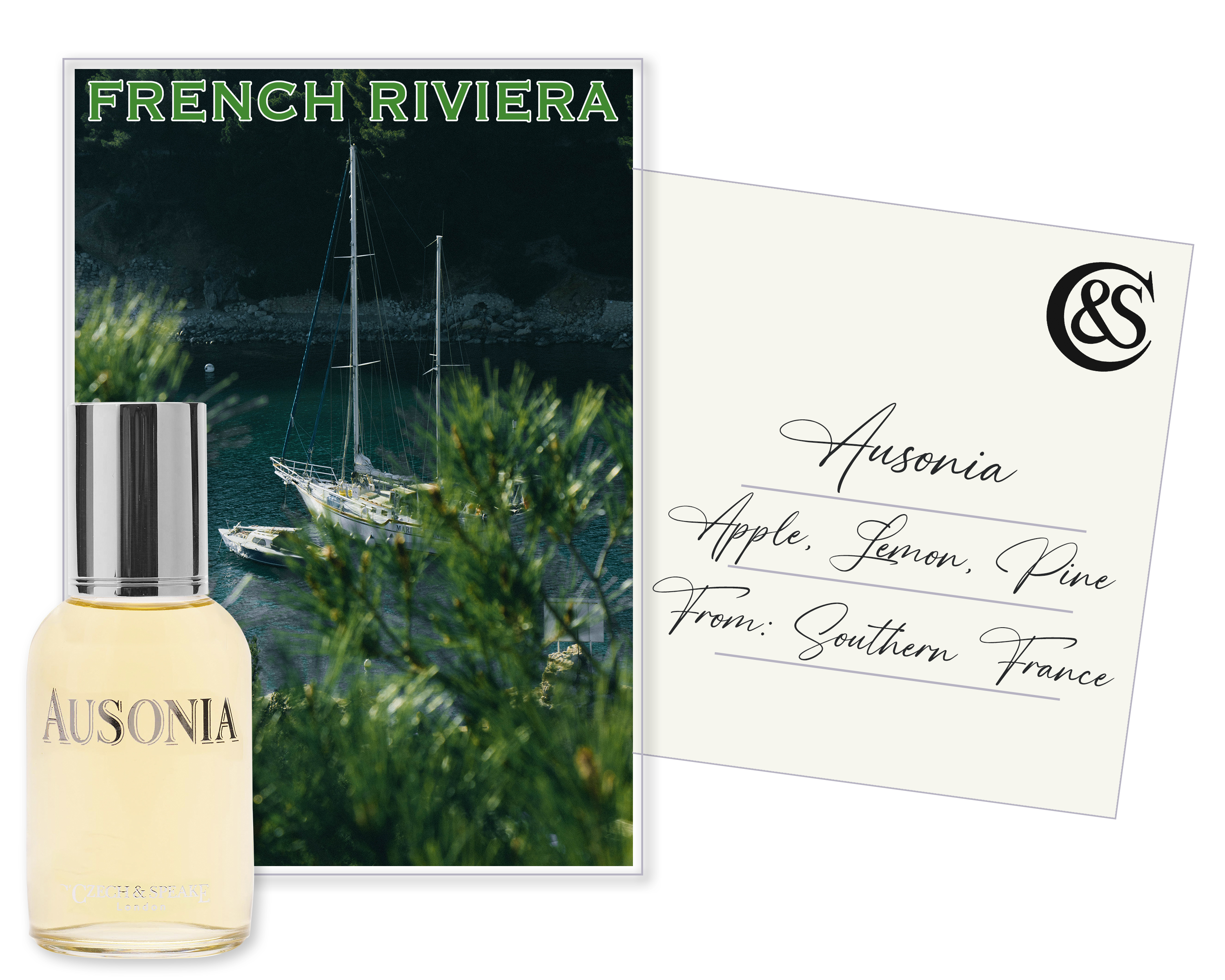 Ausonia Eau de Parfum 50ml, £105
With a bracing ozone opening blending sharp lemon and green apple with an aromatic pine heart, Ausonia washes over you like a cool coastal breeze on a warm summer's evening. For those of us who can't wait to be by the tranquil blue waters of the Mediterranean, a 50ml handbag size Ausonia perfume – truly the perfume that smells like the summer sea – will take you there in an instant.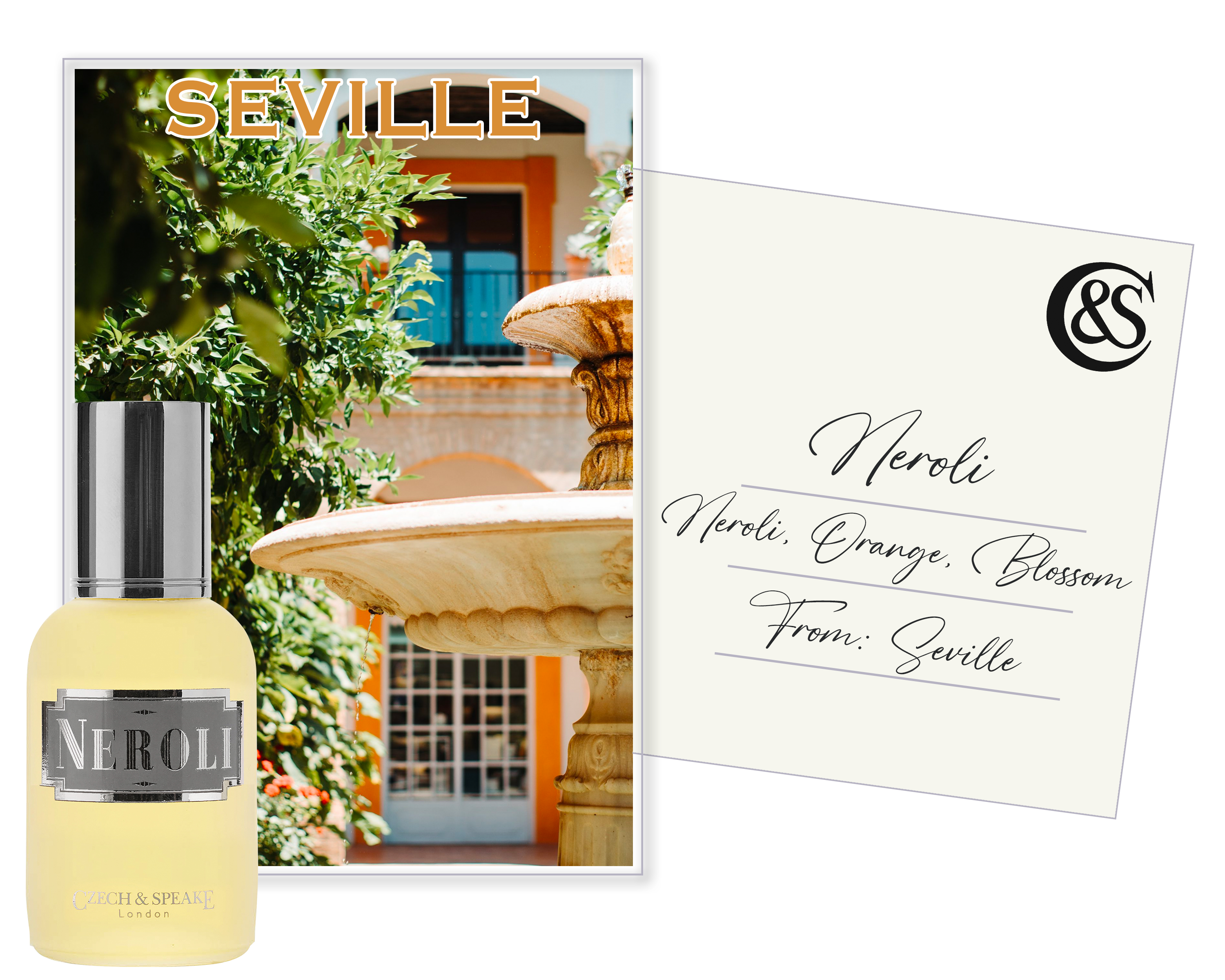 Whisk off to the citrus-laden streets of Seville with a scent packed full of orange and blossom. With orange and lemon trees growing on almost every street corner, a holiday-size Neroli perfume – with warm orange blossom and sharp orange zest notes undercut by heady ylang-ylang – will transport you to a city bursting with culture, food and flamenco.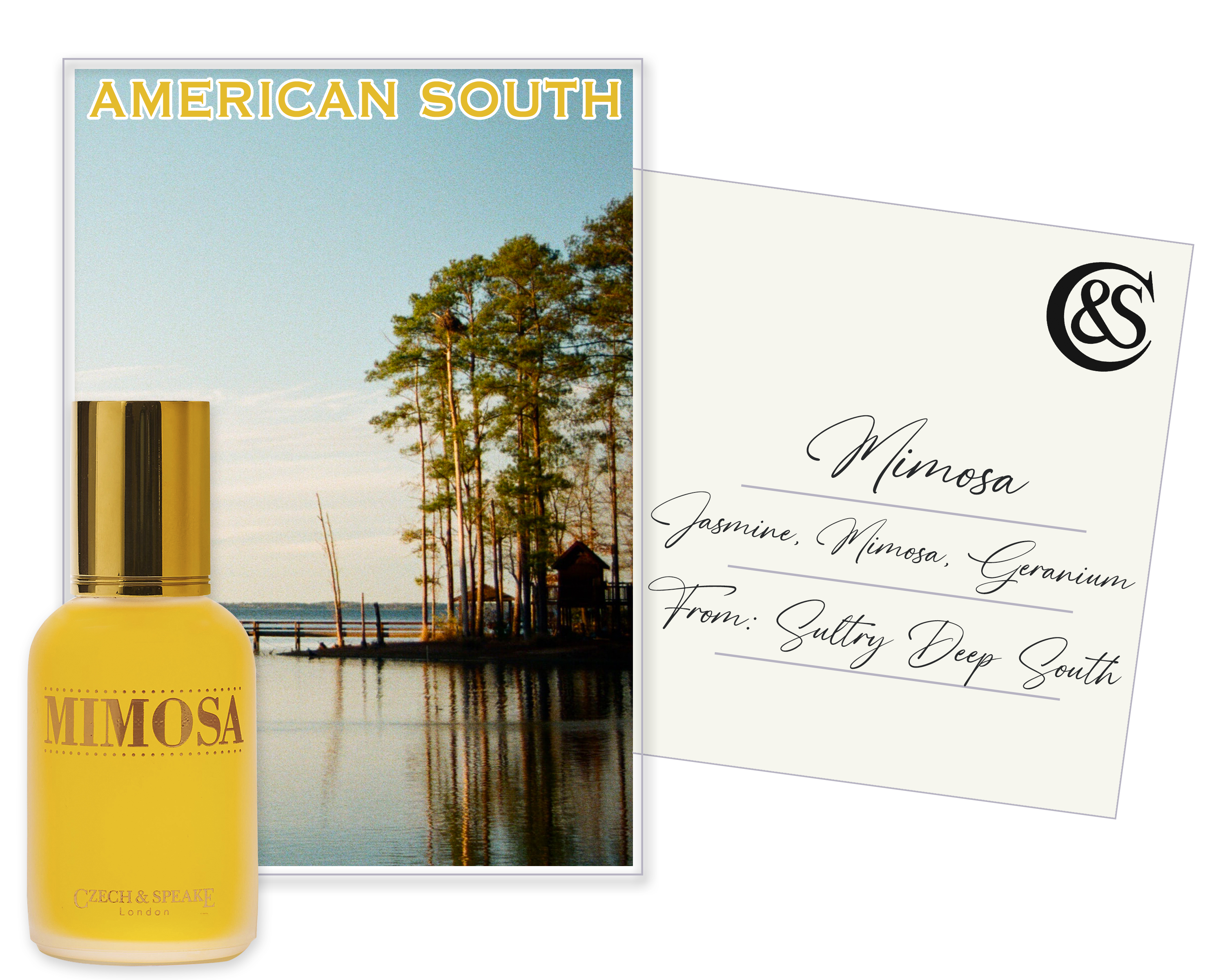 Mimosa Eau de Parfum 50ml, £105
A clean, soft scent packed with warm, white florals, Mimosa's trio of mimosa, jasmine and ylang-ylang flowers create a vibrant, sultry accord reminiscent of long, hazy evenings in the American South. A versatile, refreshing day scent, layer Mimosa with Spanish Cedar for a unique and evocative summer night perfume.
.
A Stylish Summer's Evening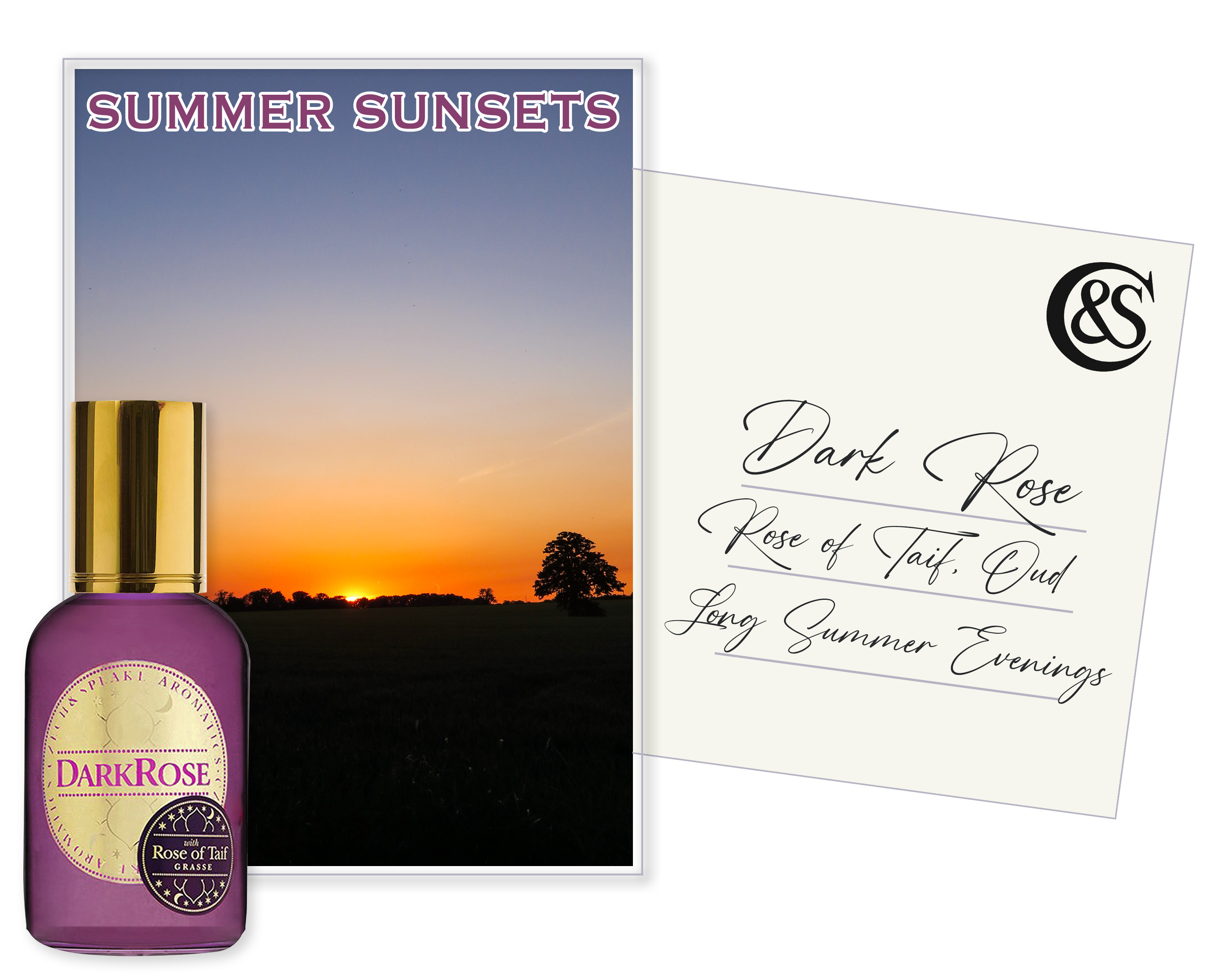 Dark Rose Eau de Parfum 50ml, £105
A rich and indulgent scent, Dark Rose is an ideal summer evening perfume, effortlessly lightened for warm summer weather when layered with its sister scent, classic Rose. Crafted with Cambodian Oud and Rose of Taif, an exceedingly rare variety of Damask rose grown only in Saudi Arabia, Dark Rose will have you dreaming of long, warm evenings outdoors.
Spanish Cedar Eau de Parfum 50ml, £105
An indulgent tribute to Mediterranean memories, Spanish Cedar's cooling blackberry and and resinous cedar accord will whisk you away to the sandy, pine-covered coves of Menorca. An ideal summer night perfume, Spanish Cedar's pronounced woody notes triumph as temperatures cool through long evenings spent outdoors. Or choose to layer Spanish Cedar with Ausonia as the answer to smelling good all day in hot weather: Ausonia's bracing oceanic and citric notes brighten rich cedar and sandalwood.
.
An English Countryside in Bloom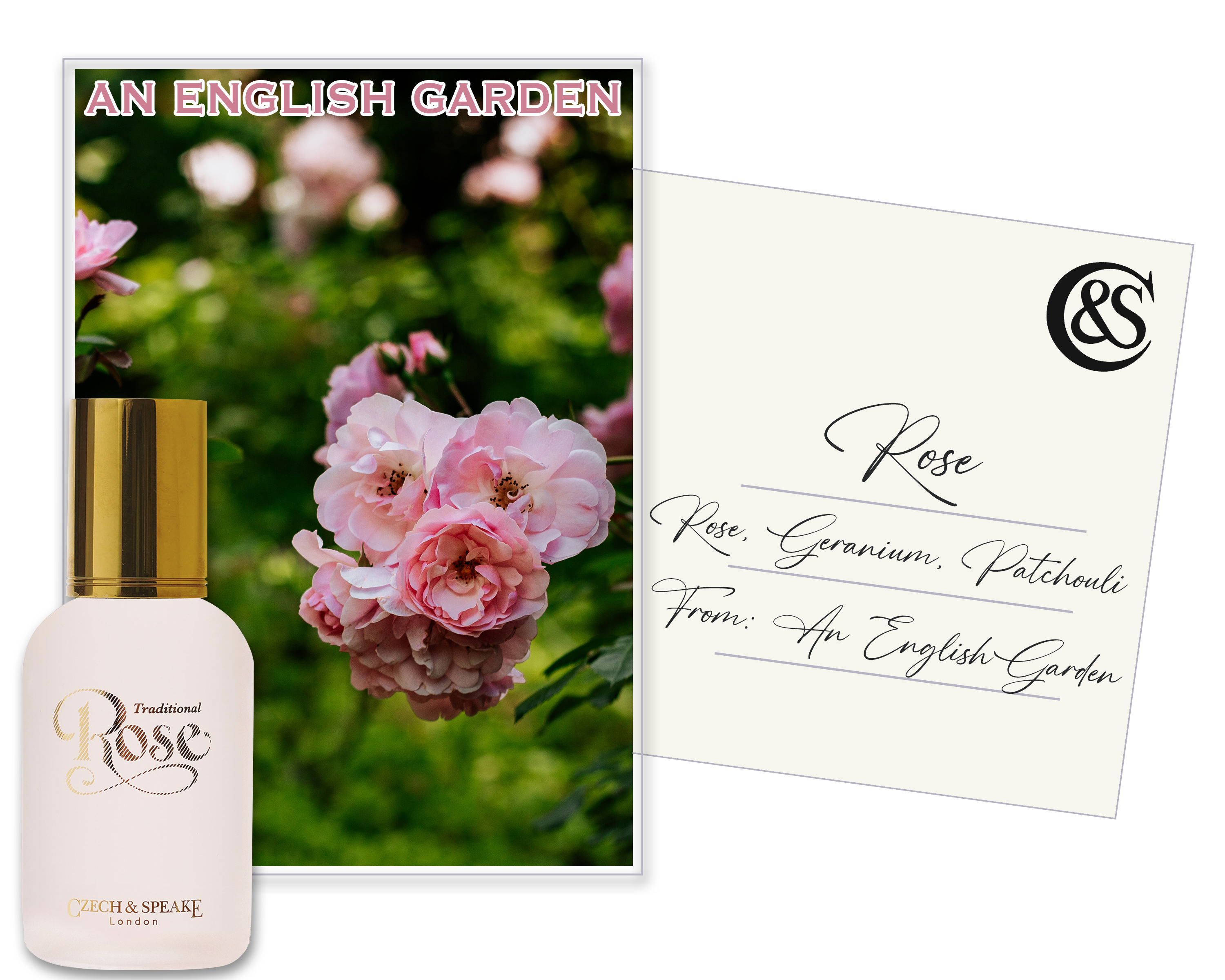 A true English gem and one of the best summer fragrances for her. With a heart of charming bourbon rose, lemon-scented geranium and herbaceous patchouli, Rose is a high summer scent packed with the blooms of the English countryside. For those of us staying closer to home this year, the Rose Eau de Parfum 50ml will instantly transport you to sunny afternoons spent surrounded by nature.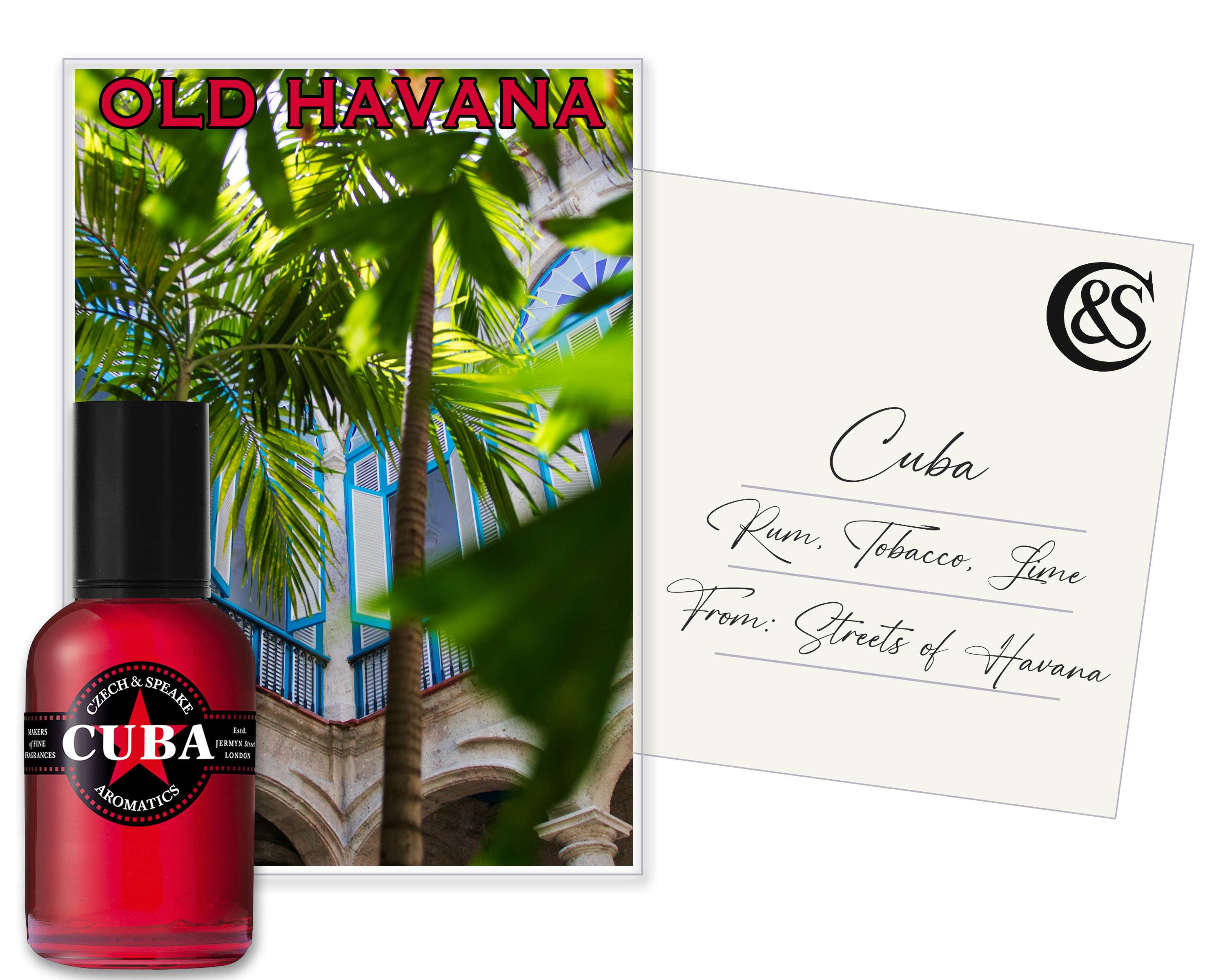 An eponymous scent inspired by the sights, sounds and smells of the Cuban capital, this is a summer perfume that smells like vacation. Cooling top notes of zest lime and refreshing mint level out a powerful rum and tobacco accord. As complex and vibrant as the streets of Old Havana, Cuba Eau de Parfum 50ml is a long-lasting summer fragrance crafted for Caribbean adventures.
.
Sights and Sounds of London Town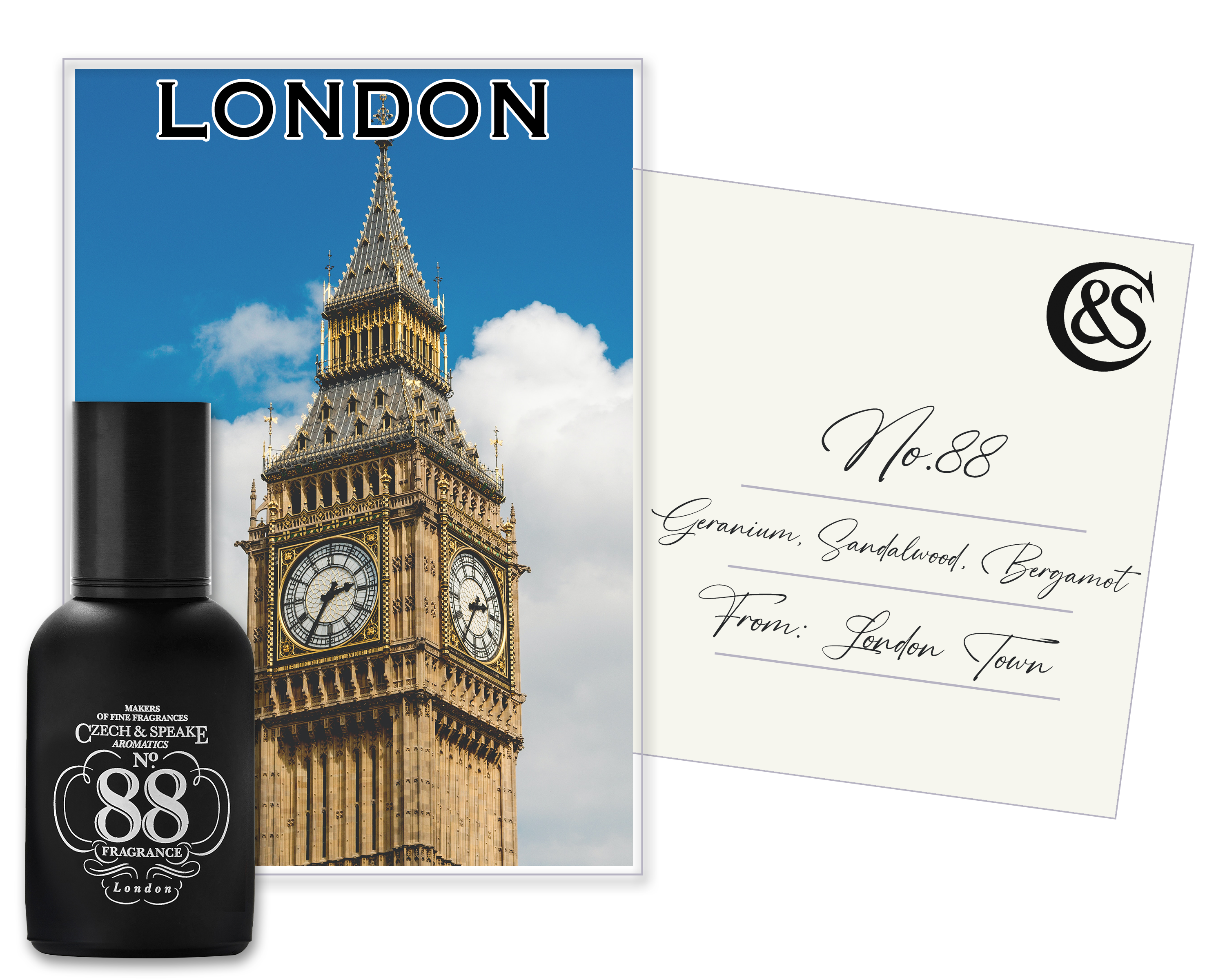 Whilst London is Czech & Speake's home, the city is a summer must-visit for those elsewhere. Inspired – and defined – by the scent's London roots, No.88's heart of geranium, rose and bergamot instantly evoke the endless parks, iconic landmarks and contemporary culture of this great city. For summer, choose No.88 Cologne 50ml. A refreshingly long-lasting summer fragrance, this lighter formulation of our iconic scent works equally well as a day fragrance walking the city streets, or as a charming summer evening fragrance when layered with a light, citrus fragrance such as Neroli.
.
Travel-Size Perfume Sets
When one scent is not enough, choose travel-size perfume sets, expertly curated with the best summer fragrance combinations.
.
Summer Eau de Parfum Fragrance Travel Set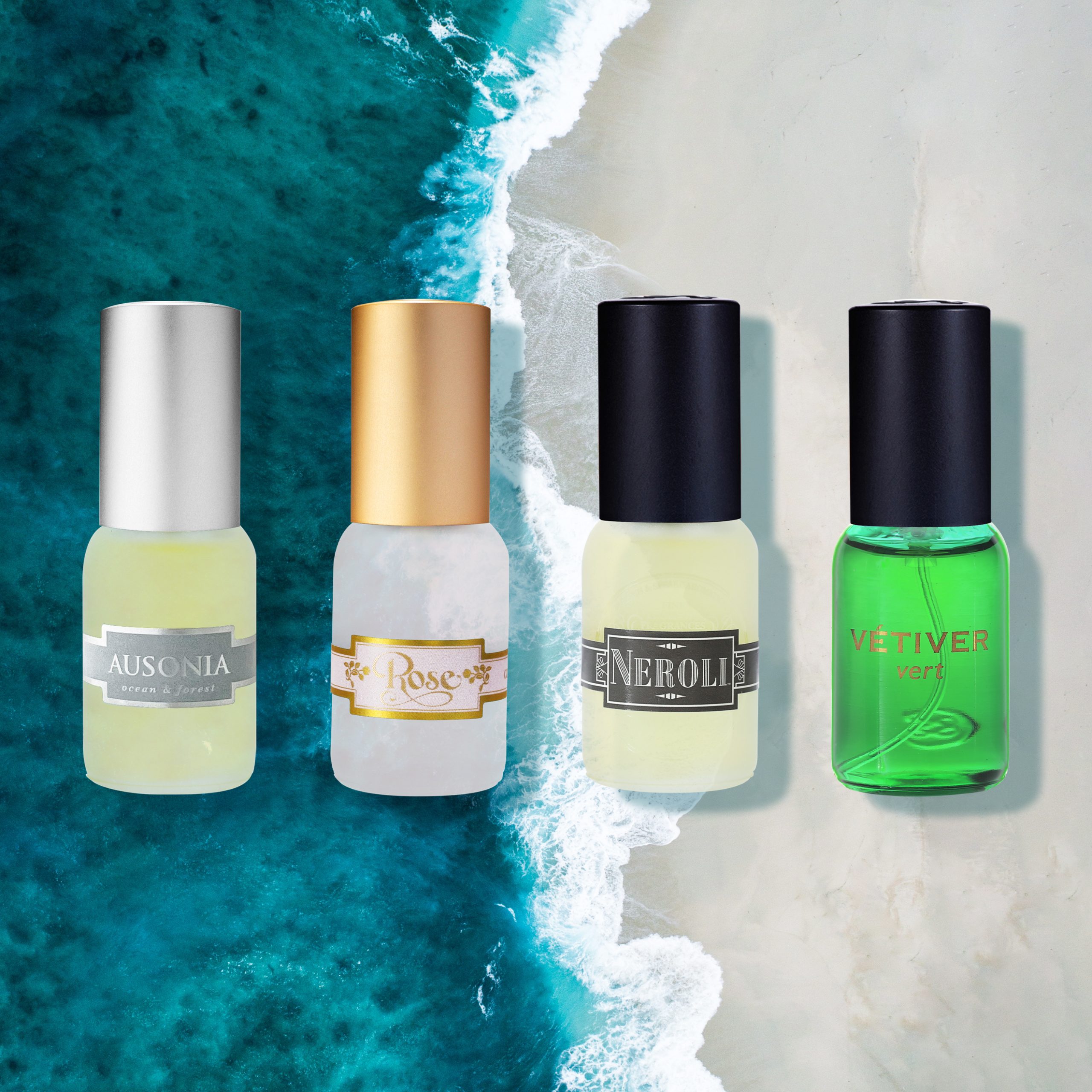 Summer Eau de Parfum Travel Set, £160
With rigorous airport restrictions, travelling with perfume on planes can often mean choosing just one or two scents, and leaving some of your favourites behind. Step forward the ready-to-go Summer Fragrance Travel Set. Curated with four classic summer perfumes in a convenient 15ml travel perfume atomiser size, this hassle-free set is airplane carry-on compliant and means no more missing out on your favourite fragrance.
.
Bespoke Fragrance Travel Set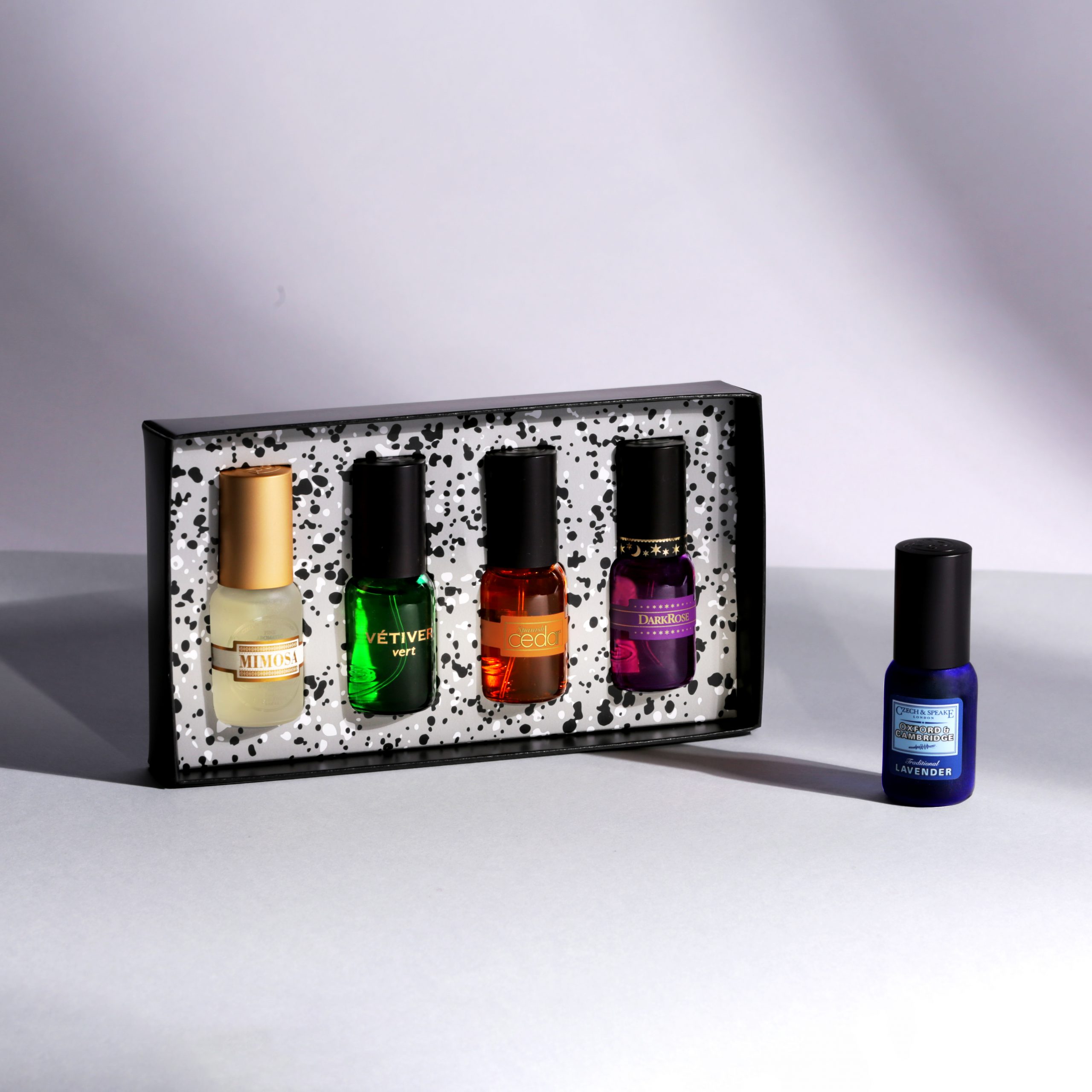 Bespoke Eau de Parfum Travel Set, £160
For luxury travellers whose journey does not stop after one destination, a single scent is simply not enough. Choose the Bespoke Eau de Parfum Travel Set and select four fragrances perfectly tailored to your holiday plans.
And what better way to make your memories with scent than with fragrance layering. Whatever your unique combination, layering two fragrances creates a wholly unique interpretation of classic scents. Whether it's charming Rose with sister scent Dark Rose, or cool oceanic Ausonia with sharp citric Vétiver Vert, bright, pairing a summery day scent with an indulgent summer evening perfume will create a holiday fragrance as unique as the memories you make.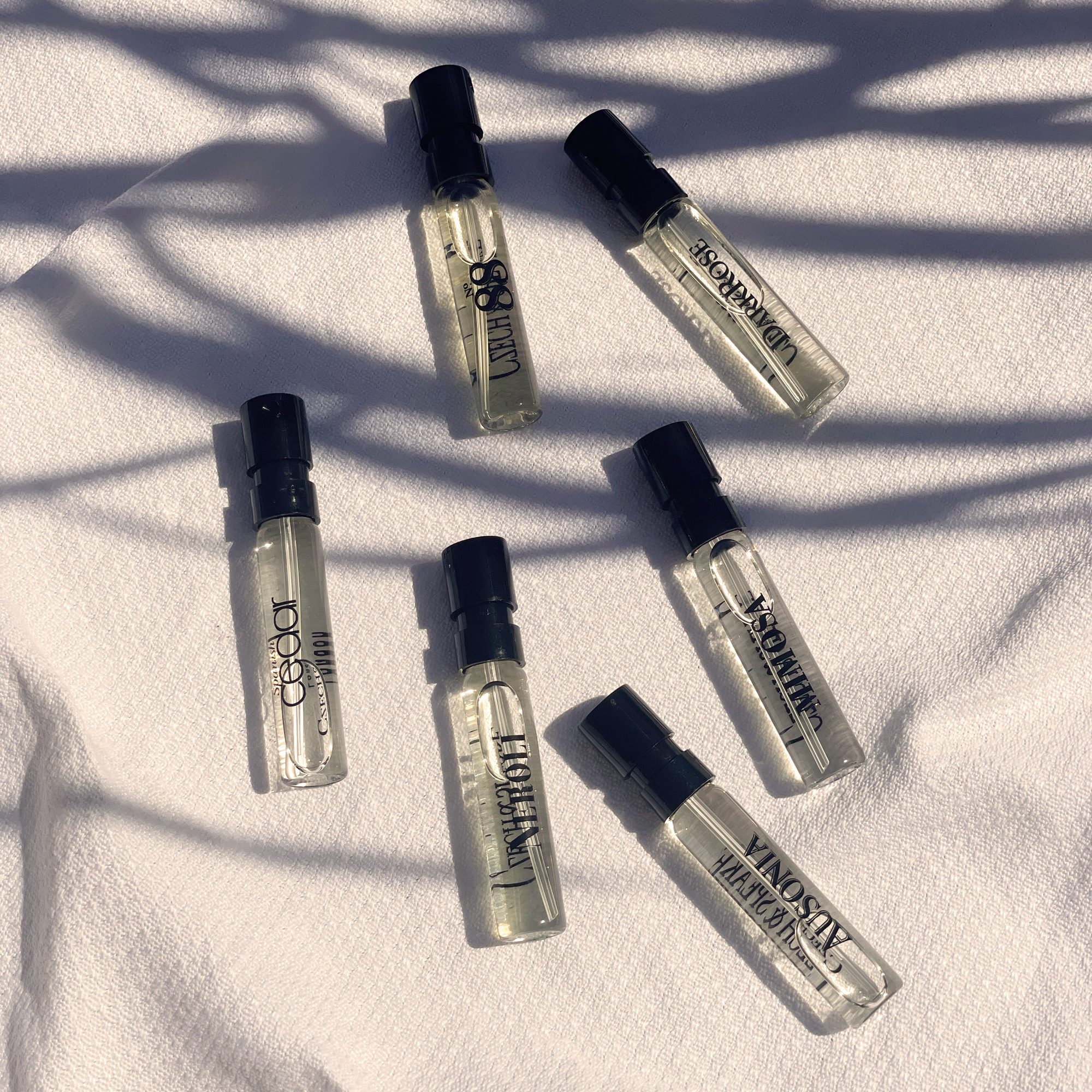 A charming, cost-effective introduction to Czech & Speake fragrances, our new Summer Discovery Set contains six 2ml travel-size mini perfume samples carefully selected for their light, summery notes. From iconic No.88 to refreshing Ausonia, citric Neroli to sun-soaked Spanish Cedar, this is the ideal gift for those searching for new scent discoveries. Even better, each Fragrance Discovery Set secures a deposit towards a full-size Eau de Parfum, the perfect follow-up to a newfound favourite.
.
Travel Shaving and Grooming
When travelling, a gentleman's grooming routine can often go awry. To avoid unwanted stubble or mismanaged manis, travel-size, aeroplane-compliant sets which can be quickly packed for planes are essential. For men on the move, discover the best travel shaving and grooming sets; the ideal accompaniment to the best summer fragrances for him.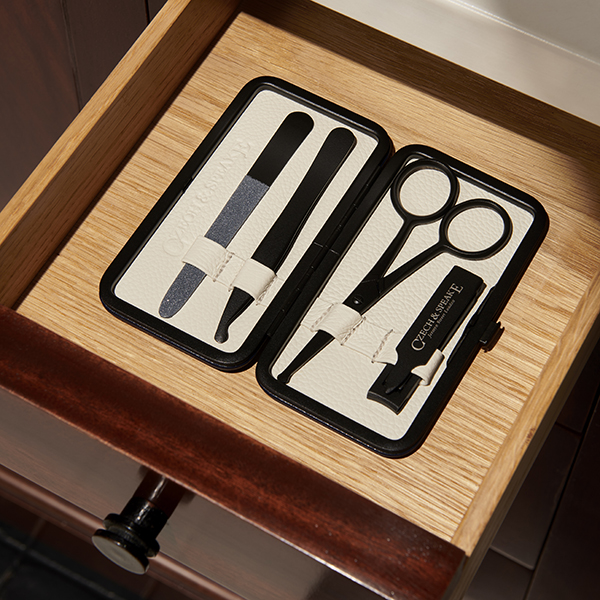 Blue and White Air-Safe Manicure Set, £270
Expertly created for travel, each instrument in the Air-Safe Manicure Set is airport-safe, making this Set a holiday essential ready to be taken in carry-on luggage alongside your travel-size perfume. For Summer 2023, choose the Blue and White Air-Safe Manicure Set with Telfon instruments designed for an expertly maintained mani all summer long.
.
Oxford & Cambridge Travel Shaving Set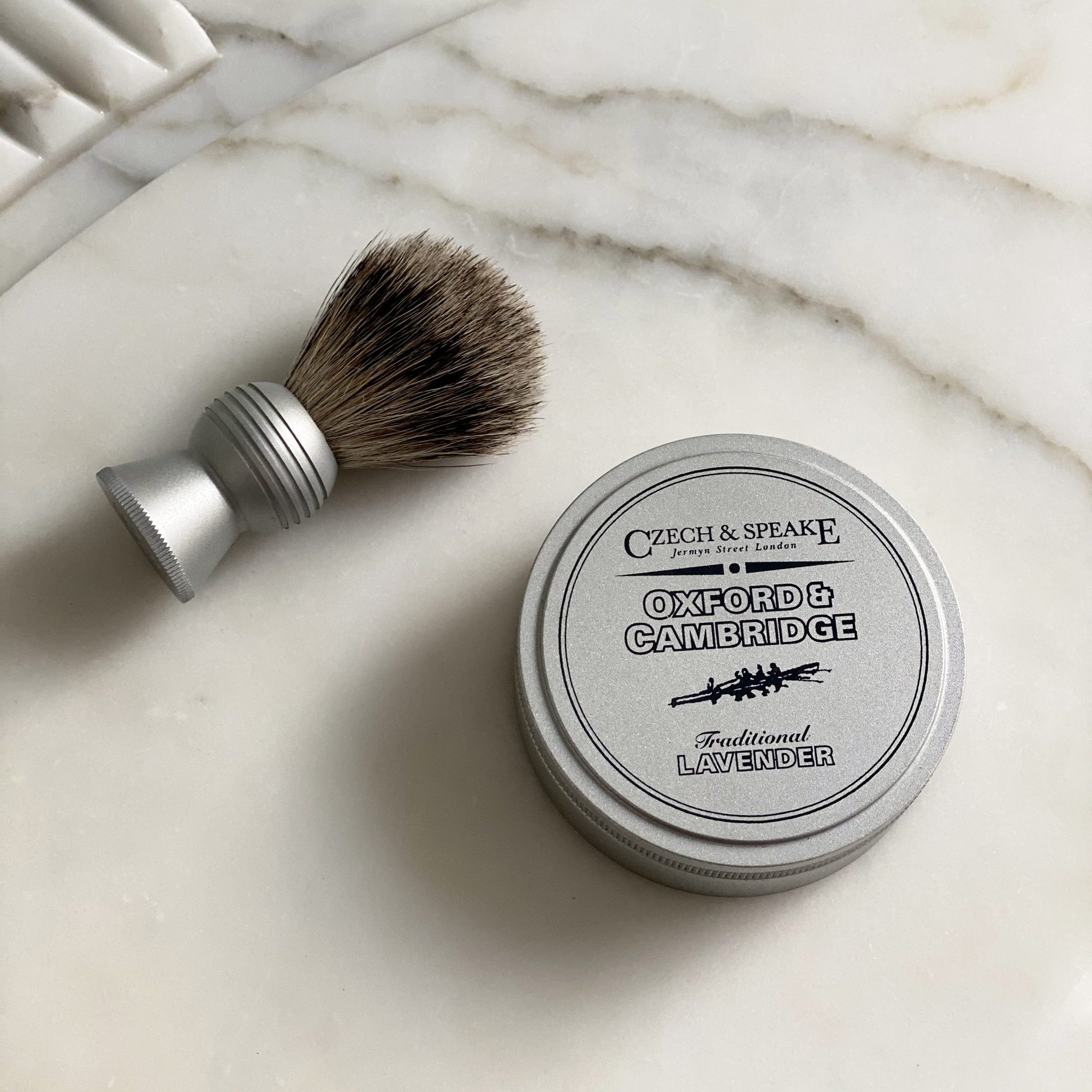 Oxford & Cambridge Travel Shaving Set, £160
For an unrivalled shaving experience no matter where you travel, choose the Oxford & Cambridge Travel Shaving Set. A three-piece travel fragrance set delicately infused with our fresh, revitalising lavender scent, this set includes a travel-sized Badger Shaving Brush, a close-fastening Shaving Dish and an Aftershave 15ml perfume travel size.
.
Last Minute Travel Perfume
If holiday plans creep up on you, don't let the stress of wondering whether you can travel with 100ml perfume or the fear of how to pack fragrances for travel get to you. Choose our Express Delivery service at checkout, available on all orders, to have your travel-size fragrances and fragrance travel sets in time for your next trip.