Czech & Speake has been part of joyful and tender moments in people's lives for many years. Frank Sawkins, Czech & Speake Founder and Creator shares some of his Oxford & Cambridge memories with you. A fragrance brings back a sense of nostalgia, you relive that exact emotional experience, a connection, all over again. Maybe when you wear Oxford & Cambridge you remember your first love, or your child's first steps…We want to continue to build this lifetime partnership with you, and we would love to hear about your Oxford & Cambridge fragrance memories.
For now, we leave you with Frank's memories:
---
I Remember…
---
Where does the name "Oxford & Cambridge" come from?
Czech & Speake lavender scent is quintessentially English; an invigorating aromatic fragrance which pays homage to the established English universities of Oxford & Cambridge, seats of learning, classical architecture and British sporting traditions. The most famous of these varsity matches is the boat race, which has taken place each year since 1856. My maternal ancestors held royal warrants to ply their trade on the Thames and so being drawn to the river, I have watched the boat race every year since I can remember.
What are the memories behind it?
I occasionally wander pass these august colleges with a snapshot view through the portal of ancient doorways to see immaculate quadrangles with sumptuous lawns and herbaceous borders of lavender rosemary. This gave me the idea of the English association of lavender and Oxford & Cambridge, a great compliment and addition to Czech & Speake. For many years Atkinson's eau de lavande, created in 1910, was my favourite lavender scent of my early adulthood but the original company close its doors in 1980s. So, I decide to produce my own lavender fragrance as a light cologne for everyday use.  I considered it to be a fresh cologne for everyday use, a sort of "Preppy" cologne, that was in the early 1990's, these clients still seem to be enjoying the scent, in fact for many years this has been number 2 best seller.
What is the inspiration behind its packaging?
Our design is based on light and dark blue 'colours' of Oxford & Cambridge university using graphic details that reflects traditions and the classicism of these English university cities. The iconic Czech & Speake bottle is hand made using a traditional apothicary blue medicinal glass. Apologies to Cambridge as we have chosen an altenrnative light blue…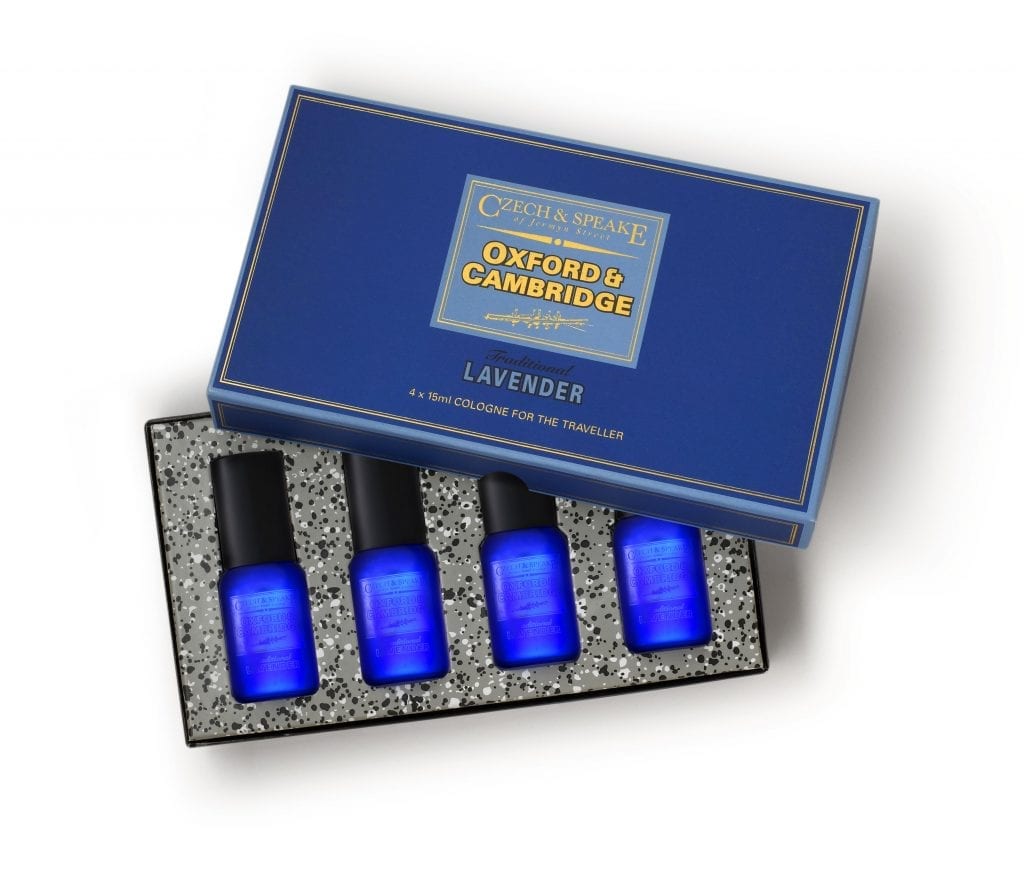 What are the main ingredients in the Oxford & Cambridge?
A refined blend of English and French lavenders, topped with herbaceous peppermint, rosemary and bergamot on a base note of warm oak moss and sandalwood.
---
What about your memories? If you would like to share your Oxford & Cambridge memories, send us an email to customer.service@czechandspeake.com. Alternatively, you can post on social media and include #ShareYourMemories at the end of your post.
#ShareYourMemories
---
Located in North America or would like to pay in Euros? Please visit our US site here and our EU site here.