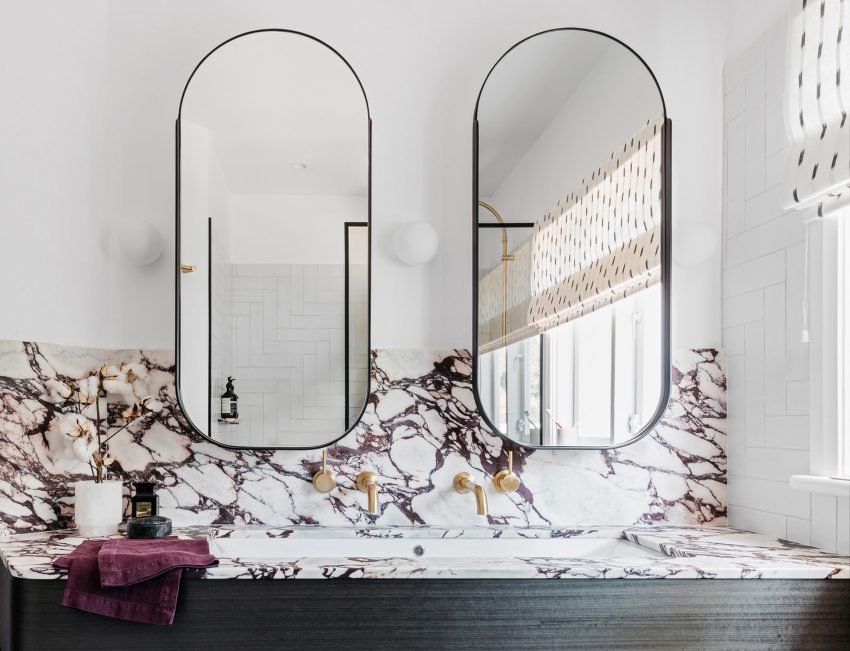 'Wherever you are in the world, the bathing experience is a ritual that you can enjoy in a private space, where you can be truly alone to contemplate, meditate and delight in personal care.' These are some words we use at Czech & Speake to advocate the bathroom experience. We are passionate about the pleasures the space can provide, and for this reason we believe the bathroom decor should never be neglected or designed to be simply functional. Think outside the box with decor that can enhance your whole holistic experience. 
Scrap the white walls, and discover bold tile contrasts, beautiful stone and striking pattern… These are our top three inspirational statement bathroom designs:
Wall to Floor Statement Marble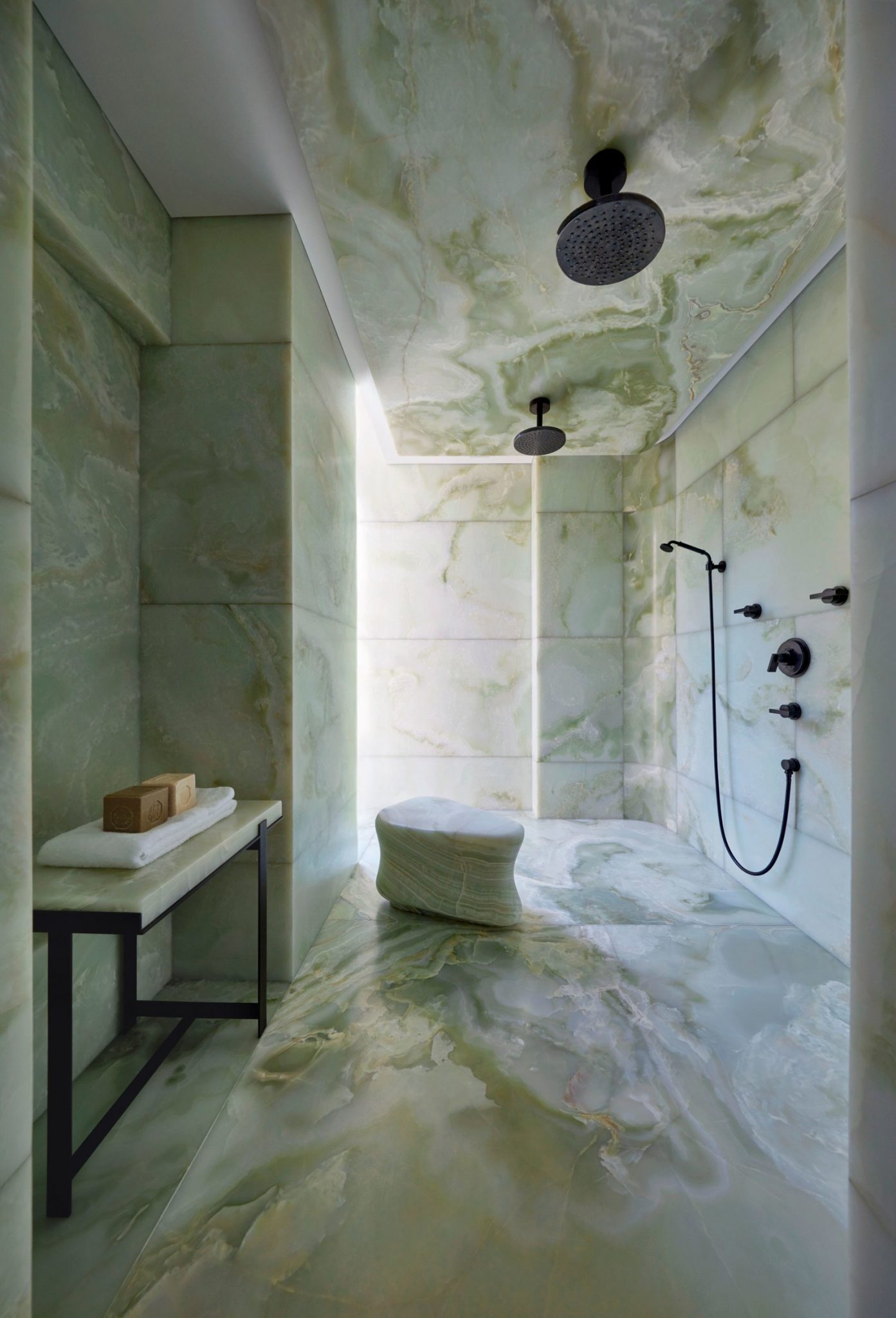 We had to include this unique wall-to-floor clad master bathroom in our list, intimately positioned through the rear of a custom cedar and walnut walk-in-wardrobe. This extraordinary room sits within an avant-garde project designed by famed French design studio, Liaire, in collaboration with Powerhouse Company in Munich. The more unusual choice of green onyx marble makes moderate appearances in other rooms of the house but takes pride of place in the master bath, covering every inch of the space. The natural Indian stone is truly a treat for the eyes with twists and twirls of green, cream and sometimes pink, while its delicate pastel hue is not overbearing. 
Tile and Stone Contrast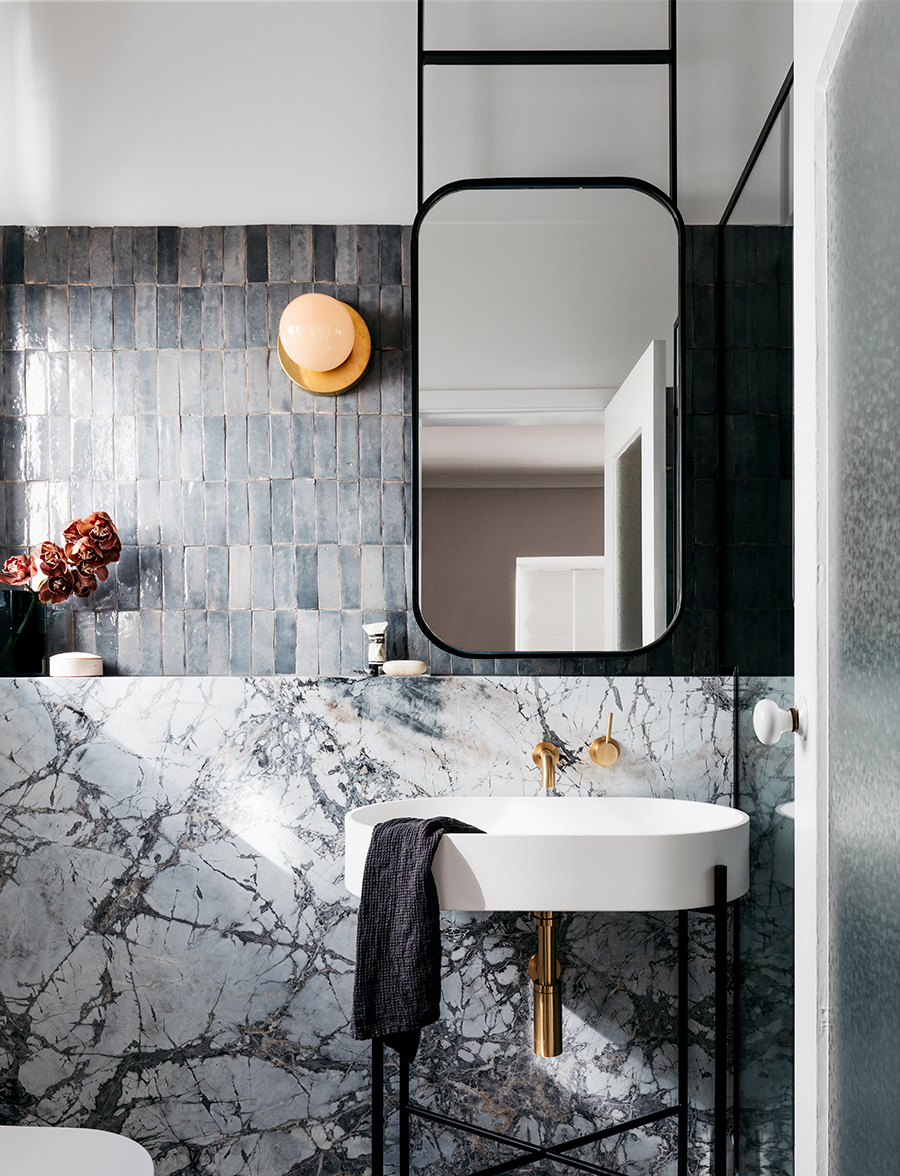 This is just one of four bathrooms situated within 'Woollahra House', an inner-city residence designed by award-winning Decus Interiors. The design studio share our values of prioritising the bathroom space, with each individually decorated in unique colour schemes, materials and textures. Pictured is our favourite of the bunch, for its daring use of contrast. Decus have layered two thirds of the walls with rectangular stone tiles and clad the lower half with heavily defined marble. The division of the three segments, with layers of 3-dimension, create bold lines which prevent the similar toned stone pattens from clashing, rather bringing them together in harmony. 
Sweeping Patterned Paper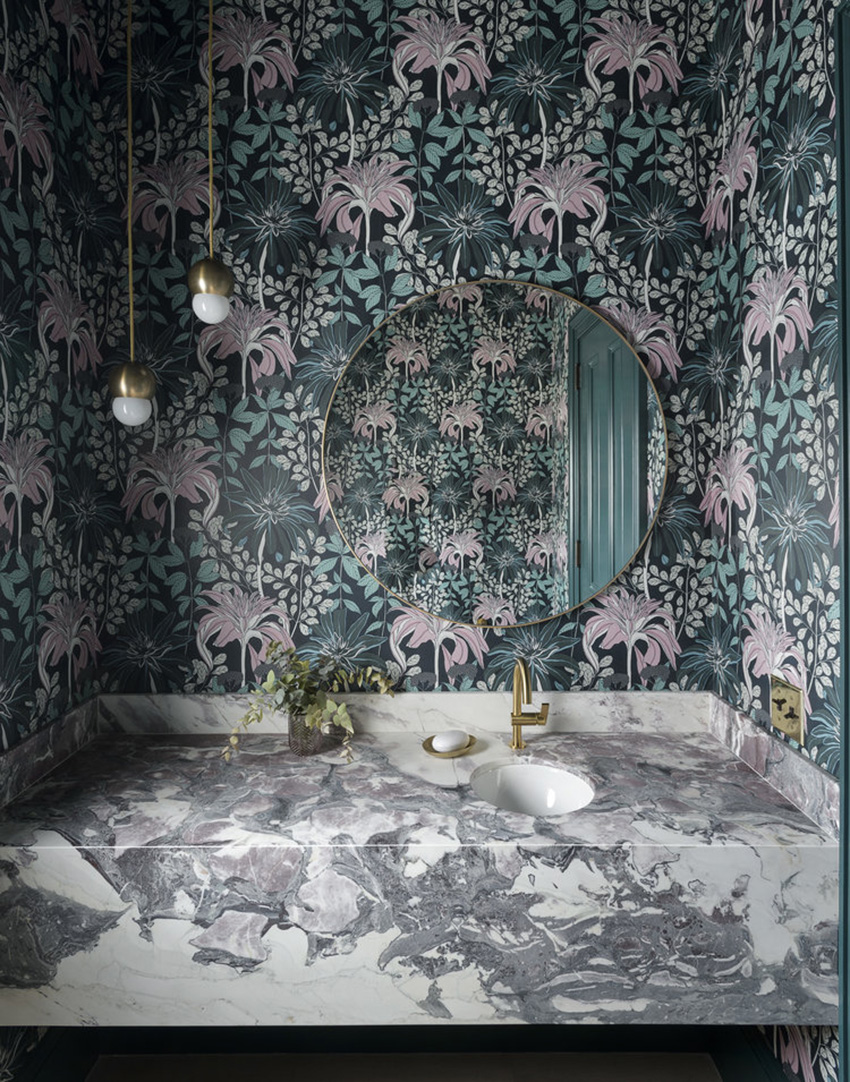 Many would shy away from using wallpaper in the bathroom with the worry of easy-wear against the elements. But with proper ventilation and placement away from direct contact with water, there is no reason not to embellish your walls. This bathroom housed in 'Riverside Residence' by Greenwich's riverside beautifully shows the strength of using pattern within a personal sanctuary. The designers at Studio DB have been bold, encasing the entire room with a boyant, floral print, paired with a contrasting marble vanity, tactically finished with a complimenting splash back.
If you'd like to learn more about our brand,  follow us on our newly established Czech & Speake Interiors Instagram account.
Sources: decus.com, www.architecturaldigest.com, www.studiodb.com
---
Located in North America or would like to pay in Euros? Please visit our US site here and our EU site here.