Behind the Perfume: Neroli
July 2021
Neroli Perfume is one of Czech & Speake's most evocative fragrances. Derived from the blossom of the Bitter Seville Orange Tree, the fragrance of Neroli essential oil is floral, citrusy and distinctive, a historic favourite in perfumery. To honour the beloved scent, we would like to tell you more about neroli fragrance, its history, and share with you the unique background of Czech & Speake's Neroli collection.
Neroli is an essential oil derived from the blossom of the bitter Seville Orange Tree, which bears a sour orange fruit which is too sharp for consumption, but it is this very bitterness that is produced that makes it far more aromatic than other varieties. The leaves, twigs and oranges provide much desired essential oils, but it is the white neroli blossom that is truly thrilling to the senses. The orange blossoms are freshly picked in the spring in warm climates such as Egypt, Morocco, Spain and Tunisia. Next, the fragrance is extracted using the process of steam distillation to retrieve the delicious fresh Neroli oil which can then be used in perfumery.
2.
What does neroli smell like?
Although delicate, neroli perfume is surprising: a delicious harmony of floral and citrus. Its complex aroma fuses floral, citrus and green, deriving from the orange blossom and leaves of the bitter orange tree, with unique hints of honey and spices. The result is an essential oil that is airy, distinctive and utterly refreshing.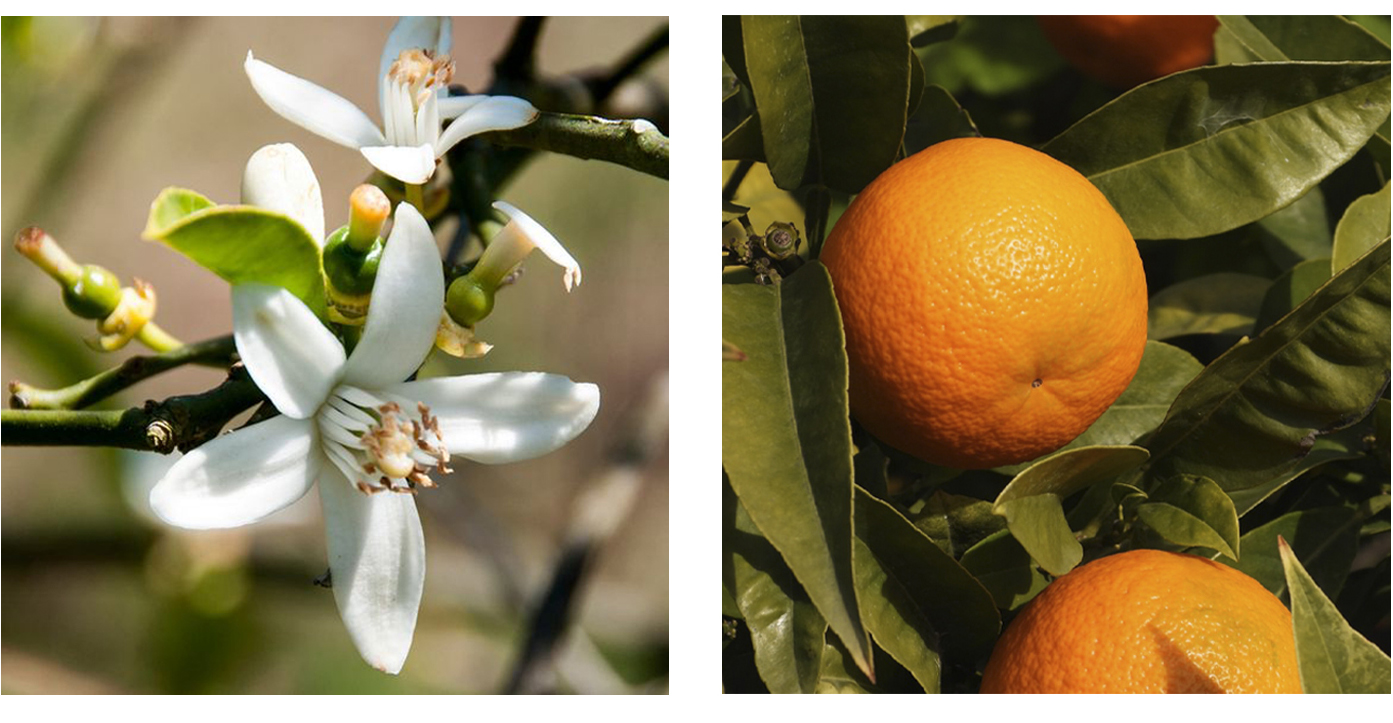 3.
Neroli Essential Oil Benefits & Uses
If you've ever taken a whiff of our Neroli Cologne, you'll be aware of the evocative nature of the scent along with its subtly medicinal properties. Other than its use in perfumery for colognes, aftershaves and perfumes, Neroli's stimulating essence makes the oil an ideal candidate for aromatherapy, with the ability to enhance mental wellbeing through relieving stress and anxiety. In certain cultures, it is thought that the aroma of Neroli oil is able to promote tranquility and love. As a result, neroli essential oil has deep associations with romance, and perhaps the most notable example is its symbolic use in weddings, traditionally Chinese, as omens of purity, moral virtue, fruitfulness and fertility.
As well as mental benefits, it has remarkable physical benefits. Neroli essential oil can ease pain and reduce inflammation while providing relief for sore muscles due to its natural antiseptic properties. Its aroma can be used to clear sinuses when you have a cold, and reduce headache pain – an ideal, natural stress reliever.
4.
Neroli Fragrance History
Neroli essential oil has an ancient history, used by the likes of the Ancient Egyptians for its health, wellbeing and spiritual benefits. However, it wasn't until the 17th century that Neroli became fashionable as a perfume, receiving its name from the Italian town of 'Nerola' in homage to the land's Princess, Anna Maria de La Trémoill. The Princess was the first person to distill orange blossom in the Spring to form Neroli essential oil, which she soon made her signature scent. She would perfume her gloves, clothes and bathwater, and her influence made it a fashionable fragrance.
Italian perfumer Giovanni Maria Farina began creating citrus scents using Neroli and later moved to Germany and set up his own perfumery, creating the original "Eau de Cologne", named in honor of his new German city. Since then, Neroli is one of the most used essential oils in floral perfumes, and can be found within the formulas of many great perfumers, including the iconic combination that is Chanel No.5.
5.
About Czech & Speake's Neroli
Czech & Speake's interpretation of Neroli Fragrance is beautifully simple. The perfume captures the sweet, waxy blossom of the orange flower suffused with the zest of the fruit, on a base of exotic ylang-ylang. The resulting fragrance is floral and citrussy, characteristic of warm climates, but with an ability to refresh. Our Neroli perfume may be delicate, but it is certainly compelling, remaining one of Czech & Speake's most loved, versatile and top-selling fragrance collections alongside No.88, of course.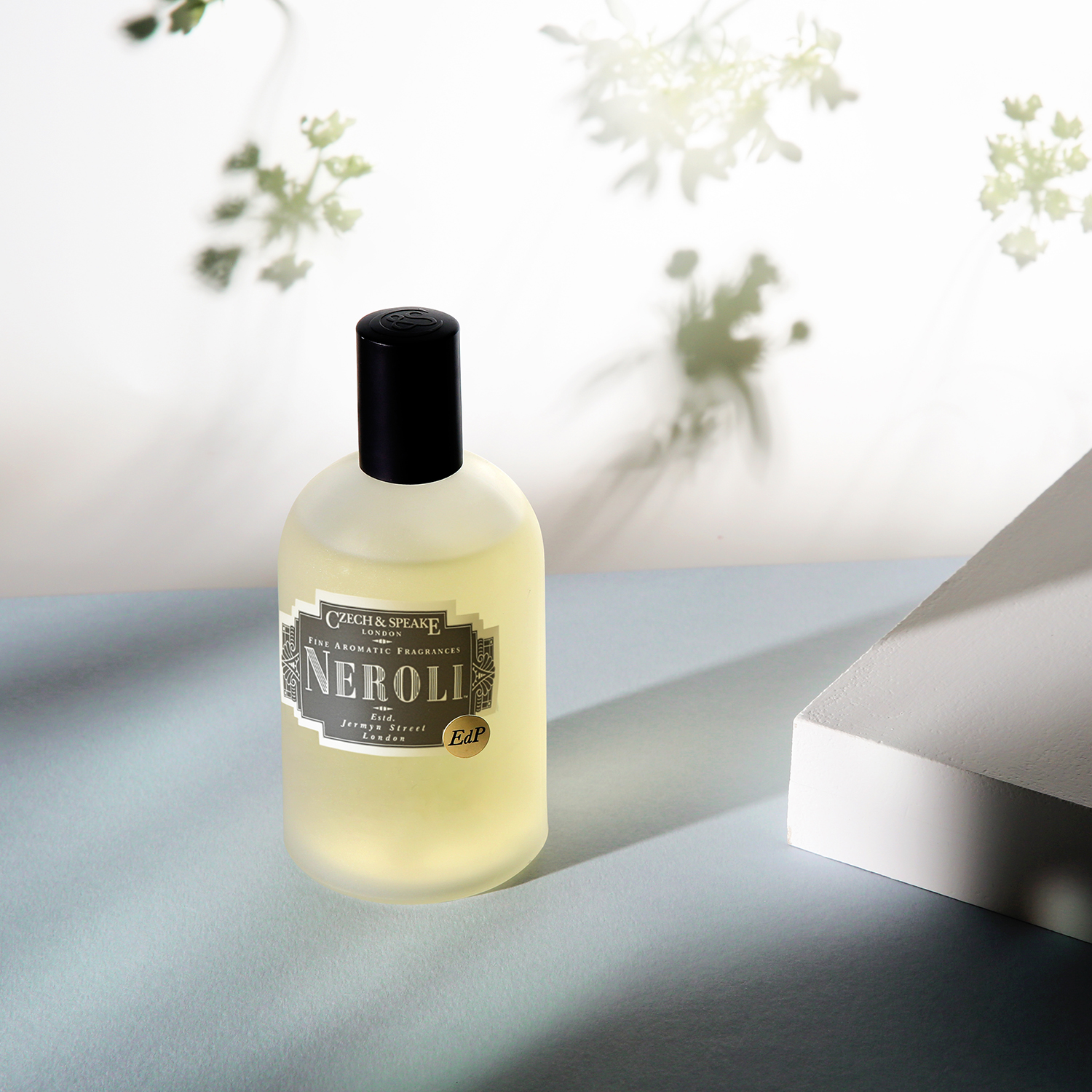 5.1
Neroli Cologne Inspiration
The original Czech & Speake Neroli Cologne is packaged in a suitably soft-toned box, and with a closer look, you'll notice that Napoleon Bonaparte's hat makes up the geometric print, branded with the C&S emblem. Our founder, Frank Sawkins, was inspired by an original 18th-century perfume formula allegedly blended for the military leader, a discovery made from a visit to the British Museum. Napoleon was a documented lover of neroli scent who was said to have used neroli Eau de Cologne extravagantly throughout his life. Sawkins believed that early colognes of this period were more concentrated, and with this in mind, he increased the perfume compound to release a new depth and intensity to the Neroli scent.
5.2
Czech & Speake Neroli Cologne
Neroli Cologne is the original neroli fragrance, launched in 1981. At first, it was simply named 'Eau de Cologne', but this was later changed to 'Neroli' in order to stand out from the many that exist of dubious quality. Like Czech & Speake's iconic No.88, Neroli Cologne has always been available as a 200ml version with a classic shaker top. The shaker top is designed to release carefully measured drops of perfume.
This summer saw the launch of new sizes and versions of the popular Neroli scent. A smaller, travel-size 50ml bottle was launched to bring the refreshing scent of Neroli with you wherever you go.
5.3
Czech & Speake Neroli Eau de Parfum
With the popularity of higher concentrated Eau de Parfum's on the rise, Czech & Speake Neroli has been released as an Eau de Parfum Spray, available in 200ml and 50ml sizes. Founder Frank Sawkins describes the new, stronger Neroli Eau de Parfum: "It has a depth and power that I never thought possible, especially in the warmer months, I do urge you to try it…Instant sunshine!"
5.4
Czech & Speake Neroli Aftershave
A lighter version of Neroli is available as an aftershave with antiseptic properties, to soothe and refresh after shaving. Neroli essential oil's natural anti-inflammatory properties are perfect for sensitive, freshly shaven skin, while the citrusy scent is the perfect wake-up call.
5.5
Czech & Speake Neroli Bath & Body
If you love the Czech & Speake Neroli fragrance, its essence has also been incorporated into a number of bath and body products, including body wash, hand wash, hand soap and bath oil providing an ultimate luxurious bathing experience.
Shop the full Neroli Fragrance Collection
---