February blues? Inspiration to breathe life into your Bathroom Space
February 2022
The pursuit of the dream bathroom. Bathroom renovations can be a bit of a daunting process for the uninitiated. The beginning of the year is a good time for a refresh in many areas of your life and setting up a luxurious bathing experience is a great way to start. Bathroom design tends to be neglected, with the argument that its purpose is for function. However, we believe that personal care in a comfortable environment is one of the best indulgences, especially for the sun deprived winter months. At Czech & Speake our original product and specialism is our beautiful range of bathroom fittings and accessories. Choosing the best furnishings for your ideal bathroom space should epitomise luxury alongside function, whilst also keeping the harmonious tranquility in an area designed purposely for preening, grooming and above all relaxation.
We know that winter blues catch up with the majority of us, but this year embrace the moodiness of deep blues, as they are bang on trend. Blue has a timeless appeal, but this season we have seen aqua, azure and arctic blue take a back seat to the rich tones of classic, deeper blues setting this luxe trend into play. Dark walls act as the perfect backdrop for bronze or gold accessories and fittings to stand out, while warm low lighting enhances the already relaxing atmosphere, with a dimmable setting to give the option of brightness for more practical tasks.
If you are tempted to be daring with a darker colour palette, discover our Cubist range, which takes its inspiration from the cutting edge and dramatic ArtDeco movement, with cubic forms designed to compliment monochromatic colour schemes.
"A bathroom interior design trend that we see continuing is that of biophilia," says Henry Prideaux Henry Prideaux Interior Design.
The shift towards a naturalistic ambiance is being increasingly acknowledged as an interior that is sensitive to authenticity and mental wellbeing. A Biophilia bathroom should seamlessly incorporate natural elements including materials and colours.
Bringing the outdoors in, in the form of natural light and plants, is a way of incorporating natural and organic elements into the space to emit a sense of calm.
3.
Mixing the Old with the New
Another trend sweeping the interior scene this year is juxtaposing traditional styles against or in cohesion with, the contemporary. This is showcased with the traditional brass fixtures and accessories and a timeless freestanding bath which works perfectly in tandem with a tiled sage green wall used in more modern styles.
To create something truly unique, mixing a traditional, freestanding bath with a modern and sleek fixtures, or period style fixtures and sink to complement and enhance the desired effect.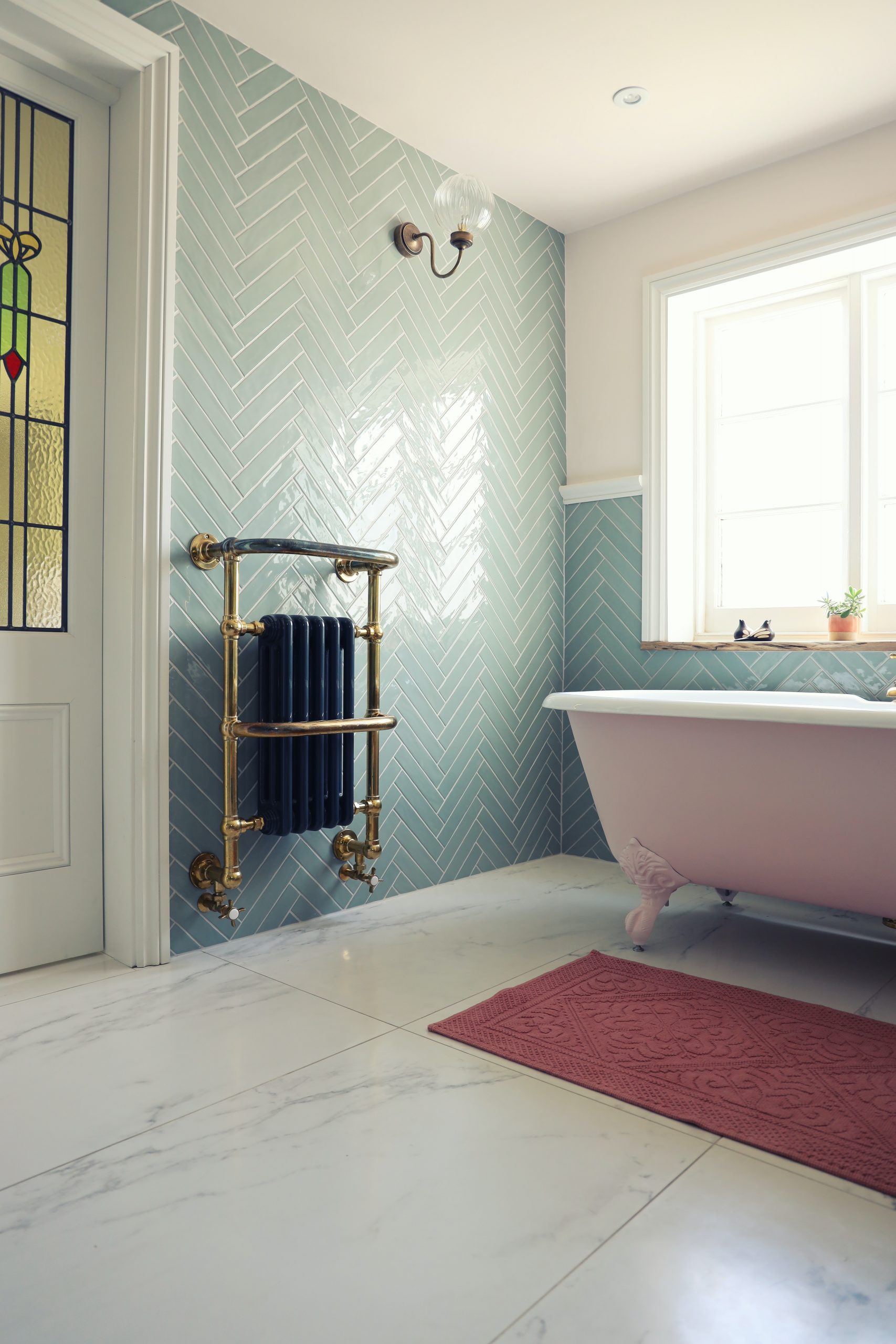 The luxury addition of a marble surface creates a feeling of opulence but most importantly needs light maintenance. It's currently having a large moment amongst bathroom favourites with its versatility in design. Marble stands the test of time and ages beautifully, with its natural veining having marvelous visual impact.
Discreet, elegant fittings should be chosen to maintain focus on the marble
and showcase its beautiful natural pattern. Our Edwardian range uses simple, elegant and classic design, and would make the perfect paring to a marble backdrop.
If you'd like to learn more about our niche brand and see our interior suggestions, follow us on our Czech & Speake Instagram account.