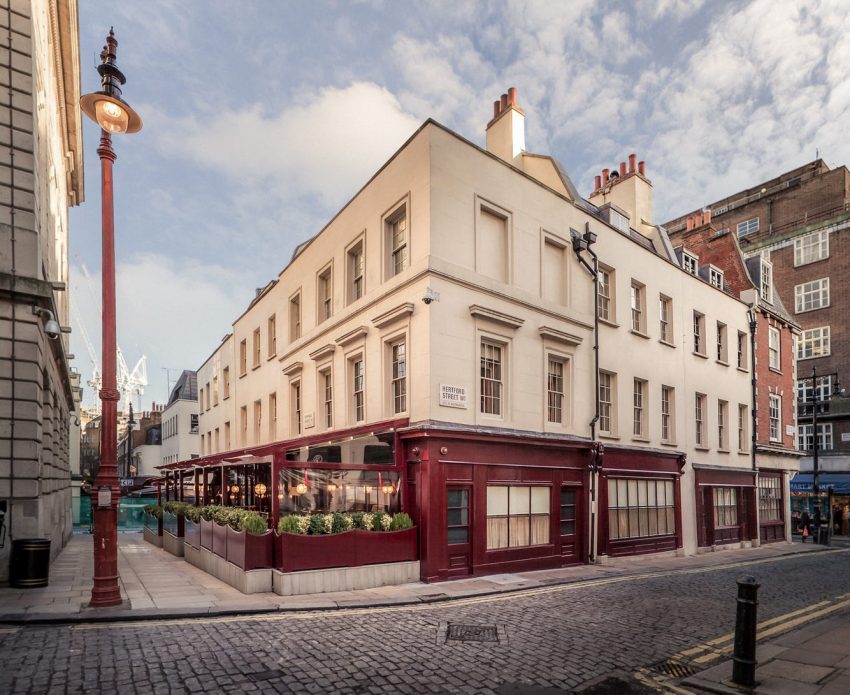 Following on from our last journal post in which we explored our Cubist Collection's Art Deco influences, we wanted to share with you one of our favourite commissions for the range, the glamorous and exclusive private members club: No.5 Hertford Street. 
No.5 Hertford Street's location is not showy. It can be found on a street corner in the quieter parts of Shepherd Market, Mayfair. Although painted crimson, the club is unobtrusive, as it is dimly lit and silent from the outside. Secrecy is poignant in regards to this club; very little is given away on their website and on arrival to the seemingly unnamed venue, the doorman ushers you in faster than you can take a breath.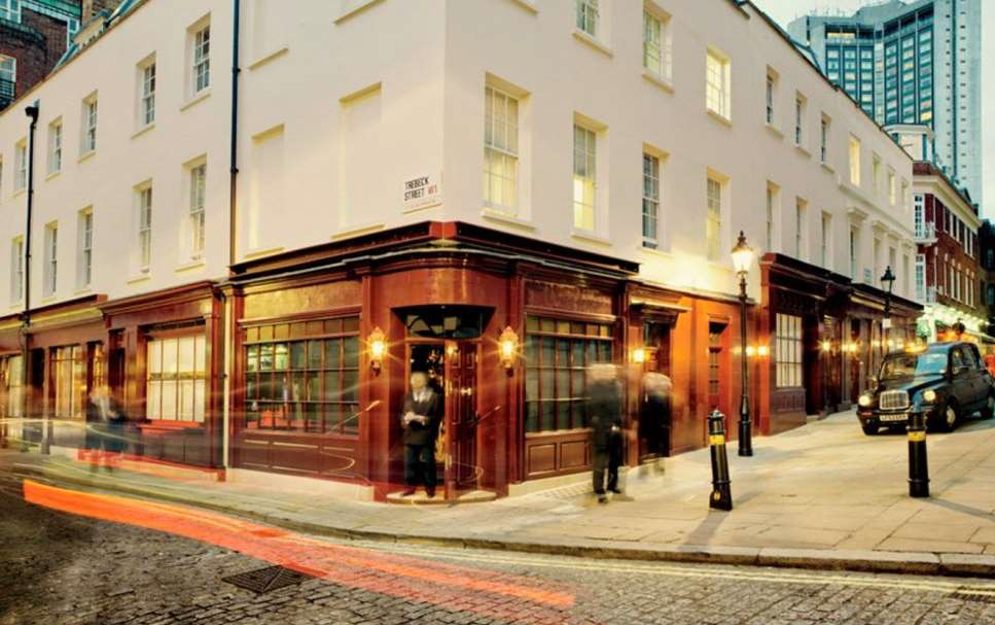 On entering, it is as though you've stepped back in time. Women are poised in floor-length dresses while gentlemen are required to wear jackets at all times. The interior is reminiscent of an eccentric English country manor, with deep rich colour palettes and a wealth of texture, made contemporary with accents of animal print. The style is certainly eclectic, but with numerous references to our beloved Art Deco era. An example is the sunburst ceiling piece above the gold gilded bar in the club's sultry nightclub, Loulou's.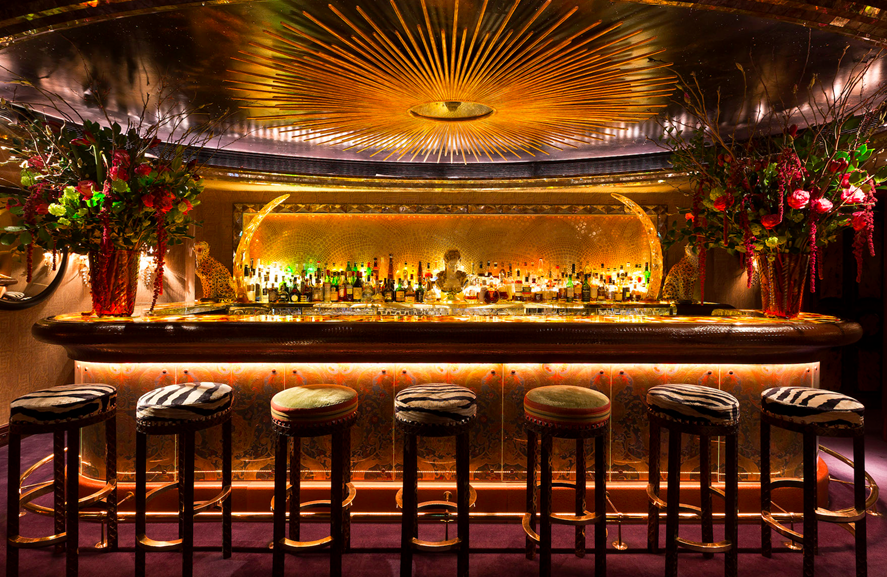 The club draws in a wealthy and famous clientele including royals, politicians and movie stars – Margot Robbie and Prince Harry to name a few. Due to its reputation you might be surprised to discover that No.5 Hertford Street is a fairly new establishment, only opening its doors in 2012. But the owner, Robin Birley, is a renowned businessman in the London scene, and the son of Lady Annabel Goldsmith and night club owner Mark Birley, who opened the eminent private members club, Annabel's, in the 1960's.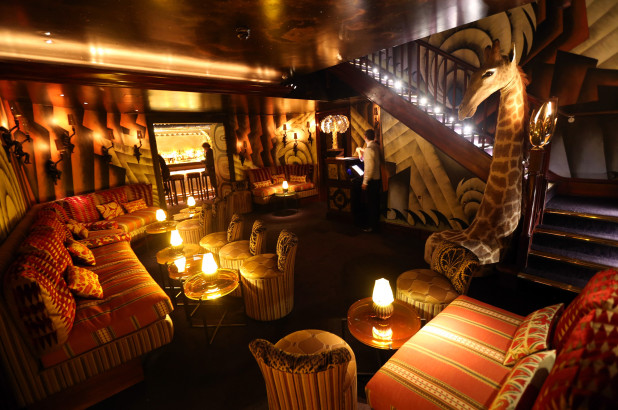 Fashion designer, Rifat Ozbek, whose style is ornate and exotic, was enlisted to design the interiors of the club. Glamour and opulence with Ozbek's exuberant flare were the motives for the design of No.5 Hertford Street. We were honoured to be called upon to supply bespoke fittings for the clubs bathrooms.
The bathroom is intimate with low, warm lighting, and eclectic pairings of dark pink patterned wallpaper from high-end brand Soane Britain, alongside a blush marble clad basin unit. The club commissioned Czech & Speake to produce our Cubist Basin Taps in a 24 carat gold finish, coupled with gold, wall-mounted tumbler holders from our Edwardian Collection. The taps unusual, unique design deemed perfect for an interior that plays with texture and exoticism. The rose tones of the bathroom reflect beautifully off of the warm metal taps, truly exuding a sense of luxury.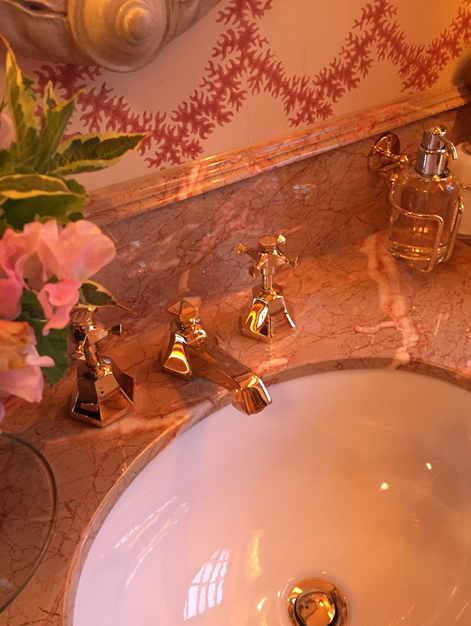 Quality was not compromised in the crafting of this interior, to respect the classical, Mayfair location and building, and to provide the utmost luxury in compliance with the exclusive membership price-tag. With our reputation in producing high-spec interiors, our Art Deco inspired taps coupled with a 24 carat gold finish is the ultimate in luxury design, perfect for a private members club of this stature.  
If you want to bring luxury to your home, explore our Cubist Range as used in No.5 Hertford Street.
Sources: businessinsider.com (Cover photo), glitterandmud.com (image 1), our own archives (image 2), nypost.com (image 3), our own archives (image 4).
---
Located in North America or would like to pay in Euros? Please visit our US site here and our EU site here.