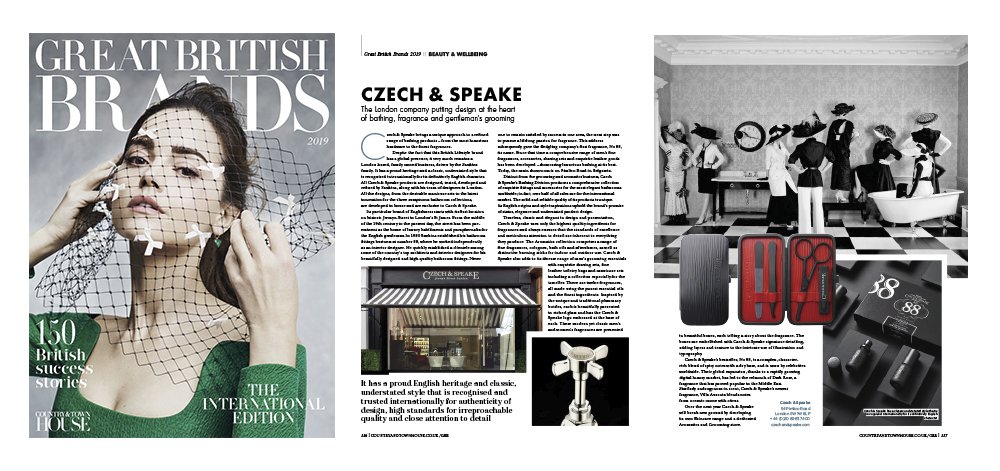 Country & Town House released their annual edition of 'Great British Brands', which is now in its fourth edition. The publication showcases 150 luxury British brands from all areas of retail as well as art, culture, architecture and more. The industry bible provides company information along with the captivating stories of how the brands came to be. Czech & Speake was proud to be apart of the 2019 edition with a double page spread all about the world of Czech & Speake. Below you can read the publications full feature to discover more about the brand if you didn't already know:
Czech & Speake brings a unique approach to a refined range of bathing products – from the most luxurious hardware to the finest fragrances. Despite the fact that this British Lifestyle brand has a global presence, it very much remains a London-based, family owned business, driven by the Sawkins family. It has a proud heritage and a classic, understated style that is recognised internationally for its definitively English character. All Czech & Speake products are designed, tested, developed and refined by Sawkins, along with his team of designers in London. All the designs, from the desirable manicure sets to the latest innovation for the three sumptuous bathroom collections, are developed in house and are exclusive to Czech & Speake.
Its particular brand of Englishness starts with its first location on historic Jermyn Street in London's St James. From the middle of the 19th century to the present day, the street has been pre-eminent as the home of luxury habiliments and paraphernalia for the English gentleman. In 1980 Sawkins established his bathroom fittings business at number 88, where he worked independently as an interior designer. He quickly established a clientele among some of the country's top architects and interior designers for his beautifully designed and high quality bathroom fittings. Never one to remain satisfied by success in one area, the next step was to pursue a lifelong passion for fragrance. This address subsequently gave the fledgling company's first fragrance, No 88, its name. Since that time a comprehensive range of men's fine fragrances, accessories, shaving sets and exquisite leather goods has been developed – showcasing luxurious bathing at its best. Today, the main showroom is on Pimlico Road in Belgravia.
Distinct from the grooming and aromatics business, Czech & Speake's Bathing Division produces a comprehensive collection of exquisite fittings and accessories for the most elegant bathrooms worldwide; in fact, over half of all sales are for the international market. The solid and reliable quality of its products is unique. Its English origins and style inspirations uphold the brand's promise of status, elegance and understated product design.
Timeless, classic and elegant in design and presentation, Czech & Speake uses only the highest quality ingredients for fragrances and always ensures that the standards of excellence and meticulous attention to detail are inherent to everything they produce. The Aromatics collection comprises a range of fine fragrances, colognes, bath oils and aftershaves, as well as distinctive burning sticks for indoor and outdoor use. Czech & Speake also adds to its diverse range of men's grooming essentials with exquisite shaving sets, fine leather toiletry bags and manicure sets including a collection especially for the traveller. There are twelve fragrances, all made using the purest essential oils and the finest ingredients. Inspired by the unique and traditional pharmacy bottles, each is beautifully presented in etched glass and has the Czech & Speake logo embossed at the base of each. These modern yet classic men's and women's fragrances are presented in beautiful boxes, each telling a story about the fragrance. The boxes are embellished with Czech & Speake signature detailing, adding layers and texture to the intricate use of illustration and typography.
Czech & Speake's bestseller, No 88, is a complex, character-rich blend of spicy notes with a dry base, and is worn by celebrities worldwide. Their global expansion, thanks to a rapidly growing digital luxury market, has led to the relaunch of Dark Rose, a fragrance that has proved popular in the Middle East. Similarly androgynous in scent, Czech & Speake's newest fragrance, Villa Ausonia blends notes from oceanic ozone with citrus. Over the next year Czech & Speake will break new ground by developing its own Skincare range and a dedicated Aromatics and Grooming store.
To read more about the publication, click here.
---
Located in North America or would like to pay in Euros? Please visit our US site here and our EU site here.