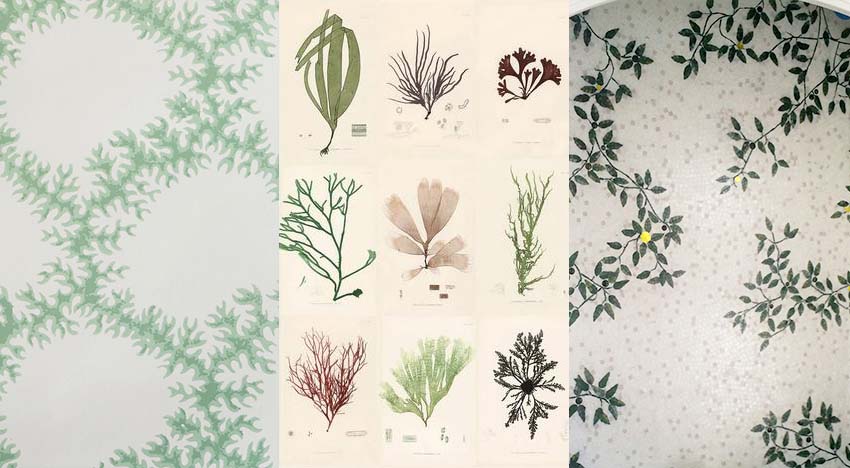 After enduring the long winter period, we look forward to the soon commencing official start of Spring later on this month. You may have noticed early buds emerge and unfold, releasing a subtle sweetness in the air. In no time at all, the earth will be alive, green and blooming. In celebration of the flourishing season, we look to it for inspiration, choosing three beautiful bathrooms that make use of floral design, and bring life to the utilitarian space.
Lulu Lytle's Seaweed Lace Bathroom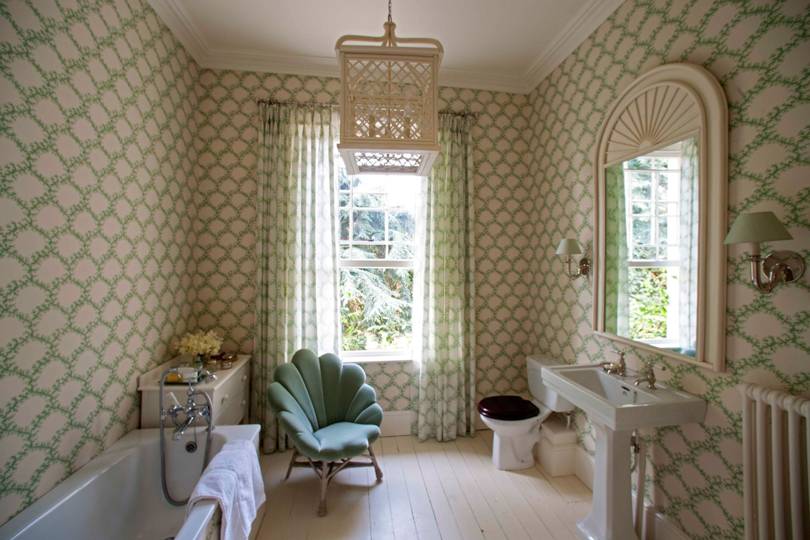 Lulu Lytle founded interior company Soane Britain over two decades ago, with the intention to solely use British craftsmanship to make every product, from furniture, lighting, textiles and wallpaper. Using traditional techniques, many of Soane Britain's designs are inspired by antique references, reworked for the contemporary client. Each wallpaper in the collection is hand printed in British workshops, to provide a true sense of quality, textual depth and individually, so it's no wonder Lytle lined the walls of her own bathroom with the company's prints. 'Seaweed Lace Wallpaper' in Leaf Green is described as one of her favourites; the pattern was lifted from a French pattern book from the 1820's. The bold use of wallpaper transforms the practical bathroom into a sophisticated living space, mimicking the comfort of a living room, while maintaining a fresh, bright look desirable for the bathroom.
John Derian x Studio Printworks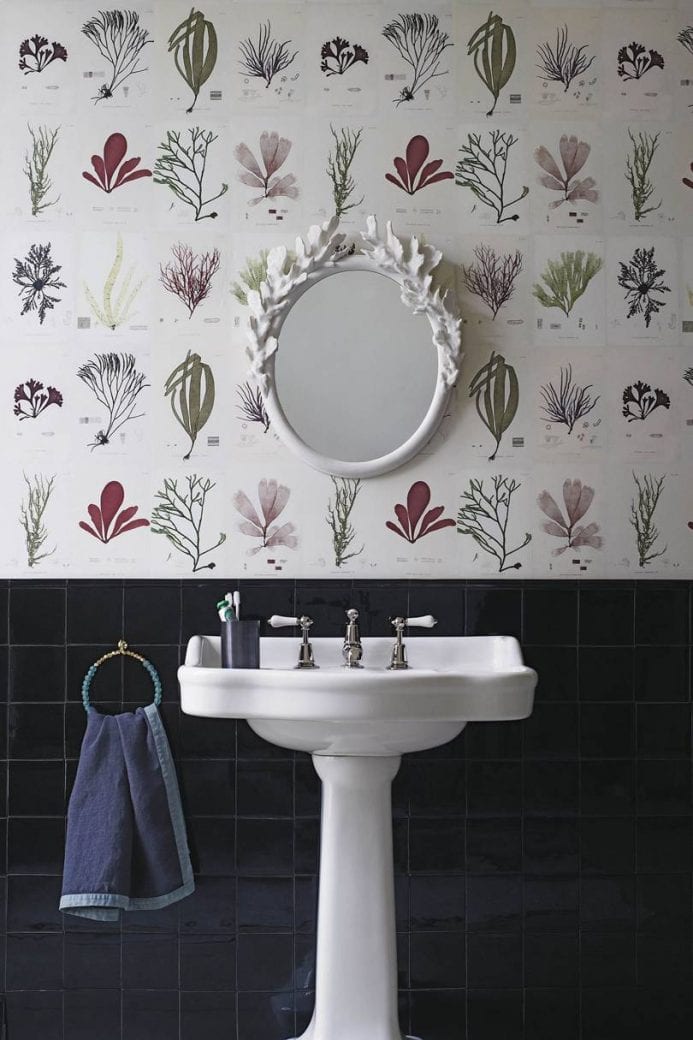 John Derian Company Inc. was established in New York in 1989 by Derian himself, with a small team of artisans creating home items using the unique craft of decoupage. Decoupage as a creative medium came naturally from Derian's love for printed matter – the art of adorning objects with paper cutouts. The objects and furniture in his collection are decorated with imagery from Derian's expansive archive of 18th and 19th century prints, which he then selected from for a collaboration with New Jersey based wallpaper maker, Studio Printworks. 'Sea Plants', as used in this traditional bathroom, is our favourite from the range. The digital print is made up of vintage botanical illustrations complete with annotation, as if torn from the pages of scientific publications, reflecting the strength of Derian's decoupage technique. The delicate, sea-themed illustrative paper fits the bathroom space with subtle character and works beautifully with the bold contrasting black tiles on the lower half.
 Pierre Mesguich Mosaik for Restored Georgian Bathroom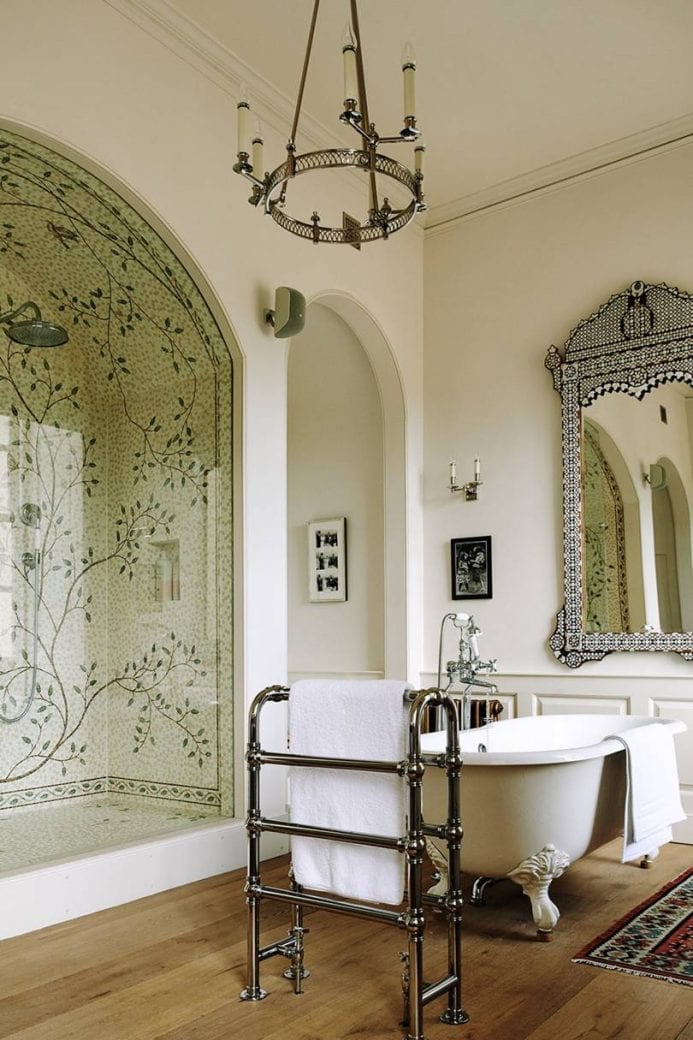 Designer Sophie Hale and husband Rowland were blown away by a grand Georgian house in the Somerset countryside that required ample renovation, but this did not deter them from taking on the project. The risk was worth taking as they were able to bring it back to a stunning state with consideration of the houses original features and constructed to be suitable for contemporary living. Usually the bath falls as the centre piece of the bathroom, but in this case it is the shower that takes centre stage. The interior of the striking arched alcove that houses the shower fittings is embellished with an intricate mosaic created by Ann Hughes at Pierre Mesguich Mosaik, who specialise in the craft. Nature is a recurring inspiration for the brand in reference to traditional mosaic design, which fits perfectly in the period setting. Although ornate, the ceramic material allows the shower to be entirely functional.
If you'd like to learn more about our brand,  follow us on our Czech & Speake Interiors Instagram account.
Sources: Soane.co.uk, johnderian.com, mesguichmosaik.co.uk (cover photo),  houseandgarden.co.uk (images 1, 2 and 3). 
---
Located in North America or would like to pay in Euros? Please visit our US site here and our EU site here.