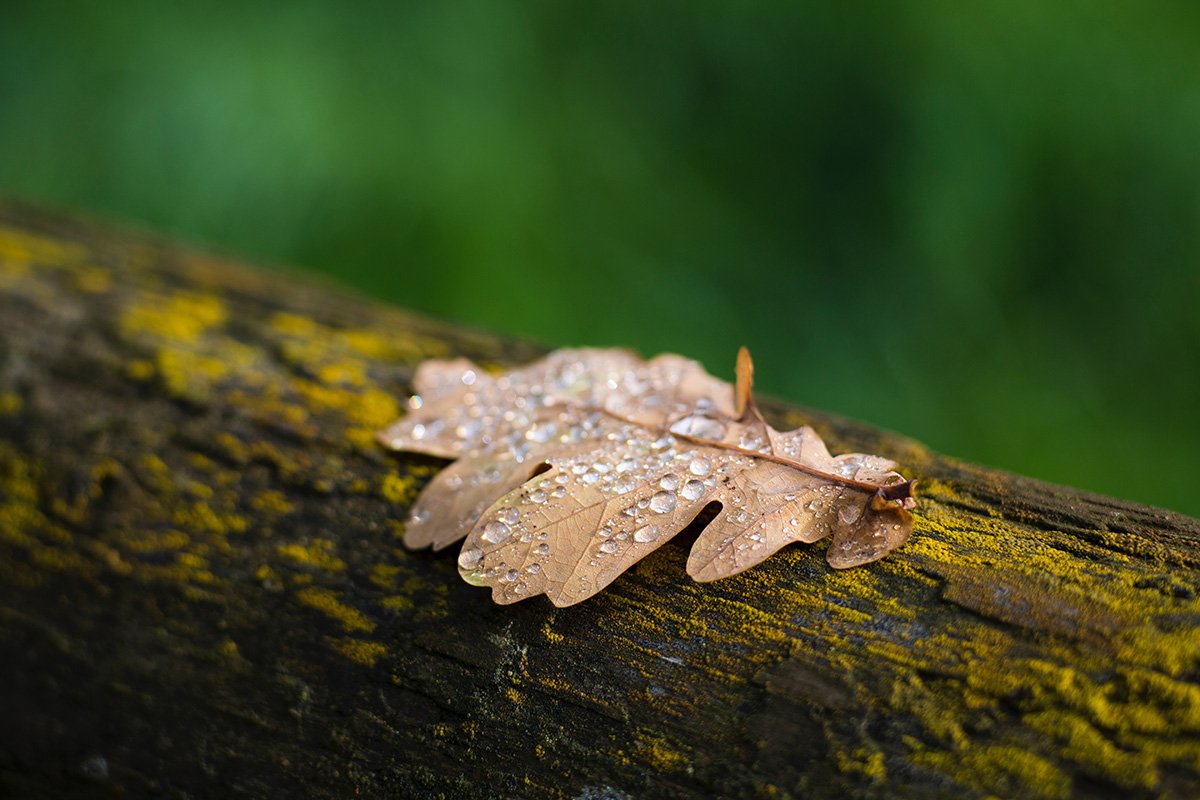 If you are searching for a new fragrance to see you through autumn, look no further as we have edited our niche fragrance collection to reveal the scents most suited to the season.
Thinking about autumn can bring about some fond thoughts. While it is comforting to instantly think about cosy scarves, crackling fires and delicious warming food, it's also worth thinking about swapping the light and summery floral fragrances for the more intense and lingering scents.
Over the past few years, we have noticed woody notes are a popular choice for autumn. Vanilla and sweet warming notes are usually the next most sought-after autumnal scents. Czech & Speake offer plenty of distinct and individual scents to add to your fragrance wardrobe so here are the ones we recommend you take note and take time to research and discover…
Dark Rose Eau De Parfum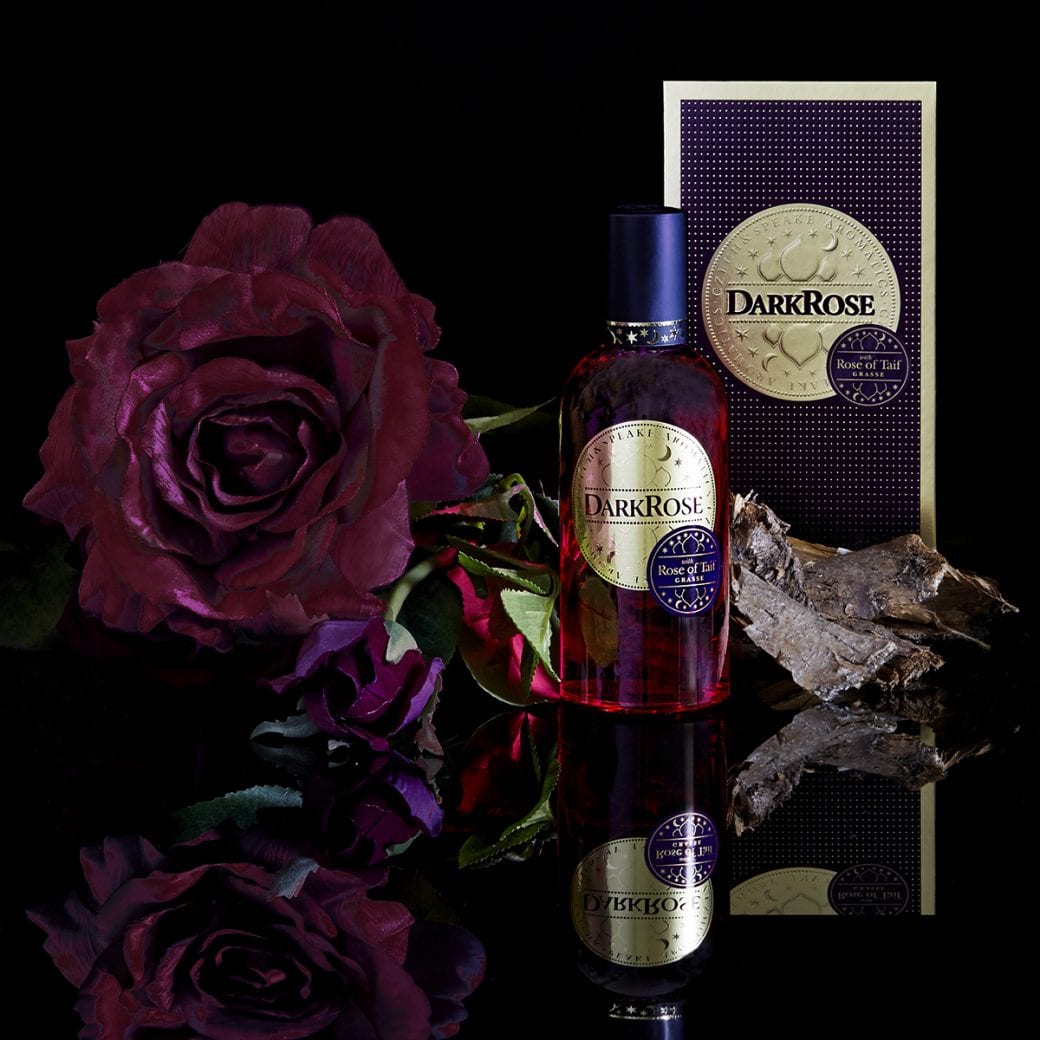 Dark Rose is a unique fragrance that takes its inspiration and ingredients from the traditions of Indo-Arabian perfumery and heritage. The symbolic fragrance made from generous, nocturnal rose, is designed to appeal to both men and women. The luxuriousness of both fragrance and cultures that have inspired this delicious perfume is enhanced by the rich pomegranate-coloured glass bottle.
An exhilarating combination of the most hypnotic essential oils, to create a rich, lingering and indulgent fragrance. It is perfect for the transition of lighter days to the darker nights of Autumn.  Sensual, intriguing and deeply mysterious. The lemony rose of the rose of Taif ads a distinctive characteristic.
Top notes: May Chang
Middle notes: Rose of Taif, Saffron Extract, Lily
Base notes: Cambodian Agarwood (Oud), Musk, Cedarwood
Spanish Cedar Eau De Parfum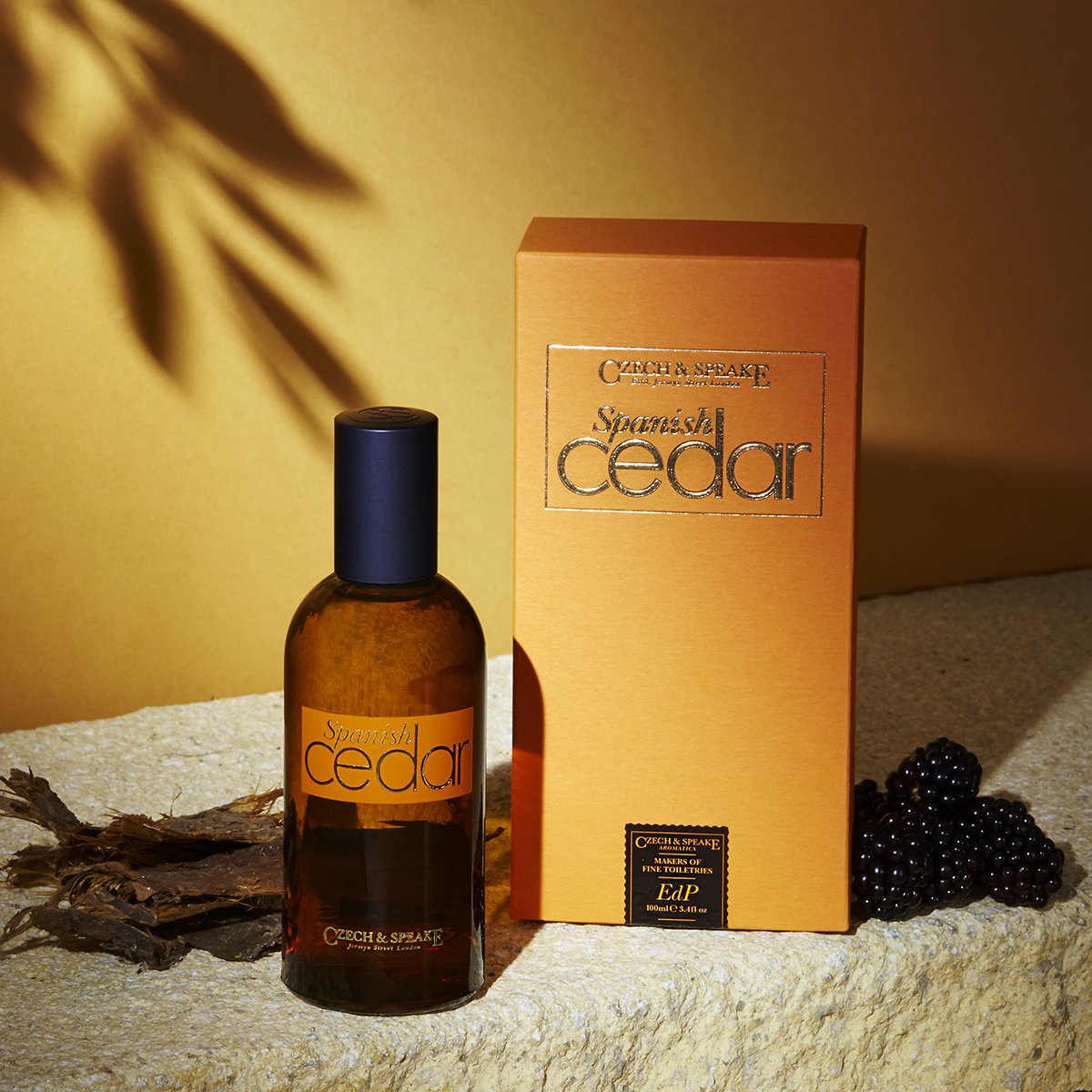 An exotic blend of woods, resin and sensuous smoky notes. balanced with citrus spicy notes. Spanish Cedar has a sensuous warmth and depth, not like any other fragrance of the Czech & Speake collection.
Feels like a deeply woody autumnal evening warmed up by the fire – with its natural sweet aromas and cedarwood notes, it provides a warm and earthy scent, that is quite comforting. It is an extremely addictive fragrance that deepens and develops over time on the skin. Super sexy.
Top notes: Bergamot
Middle notes: Plum, Blackberry, Clove, Galbanum
Base notes: Cedarwood, Sandalwood, Guaiac Wood, Tar
No.88 Cologne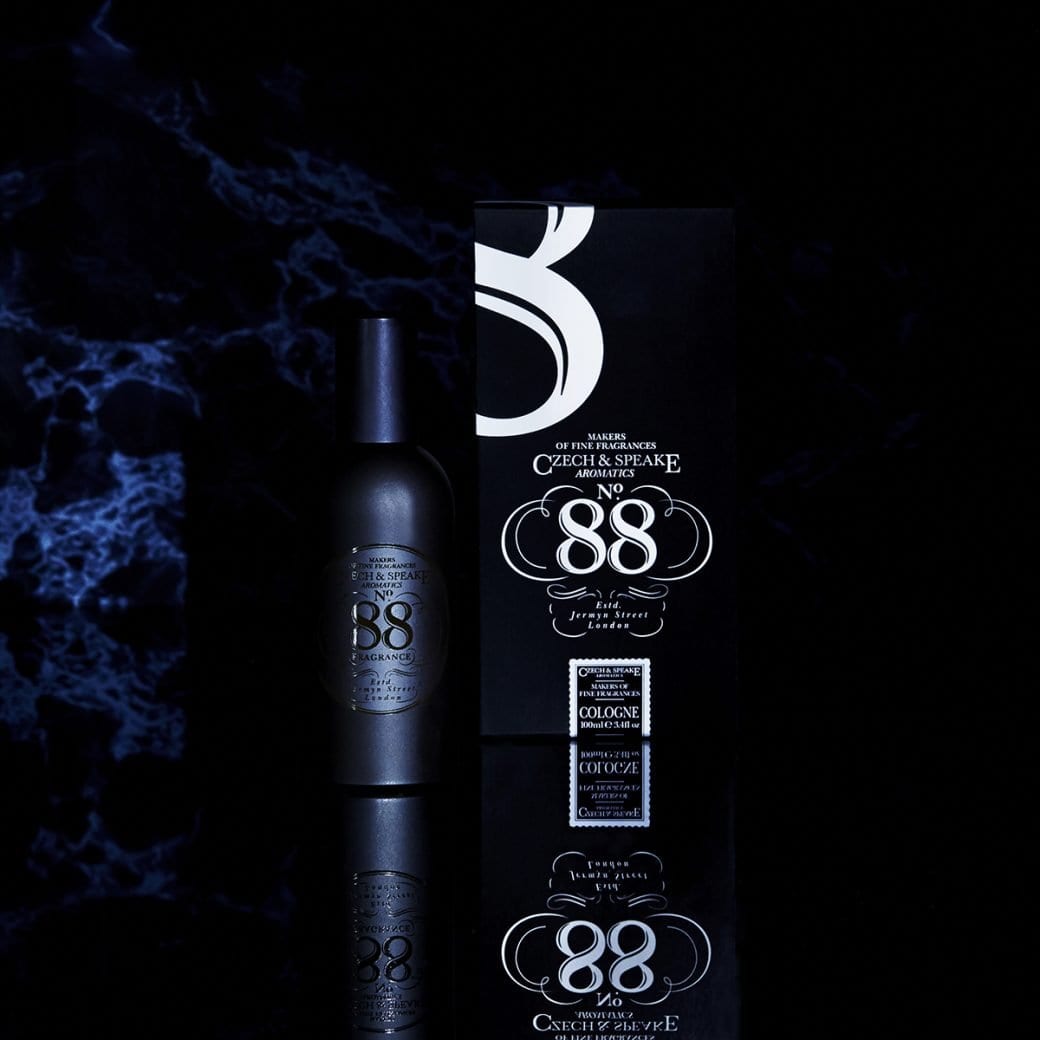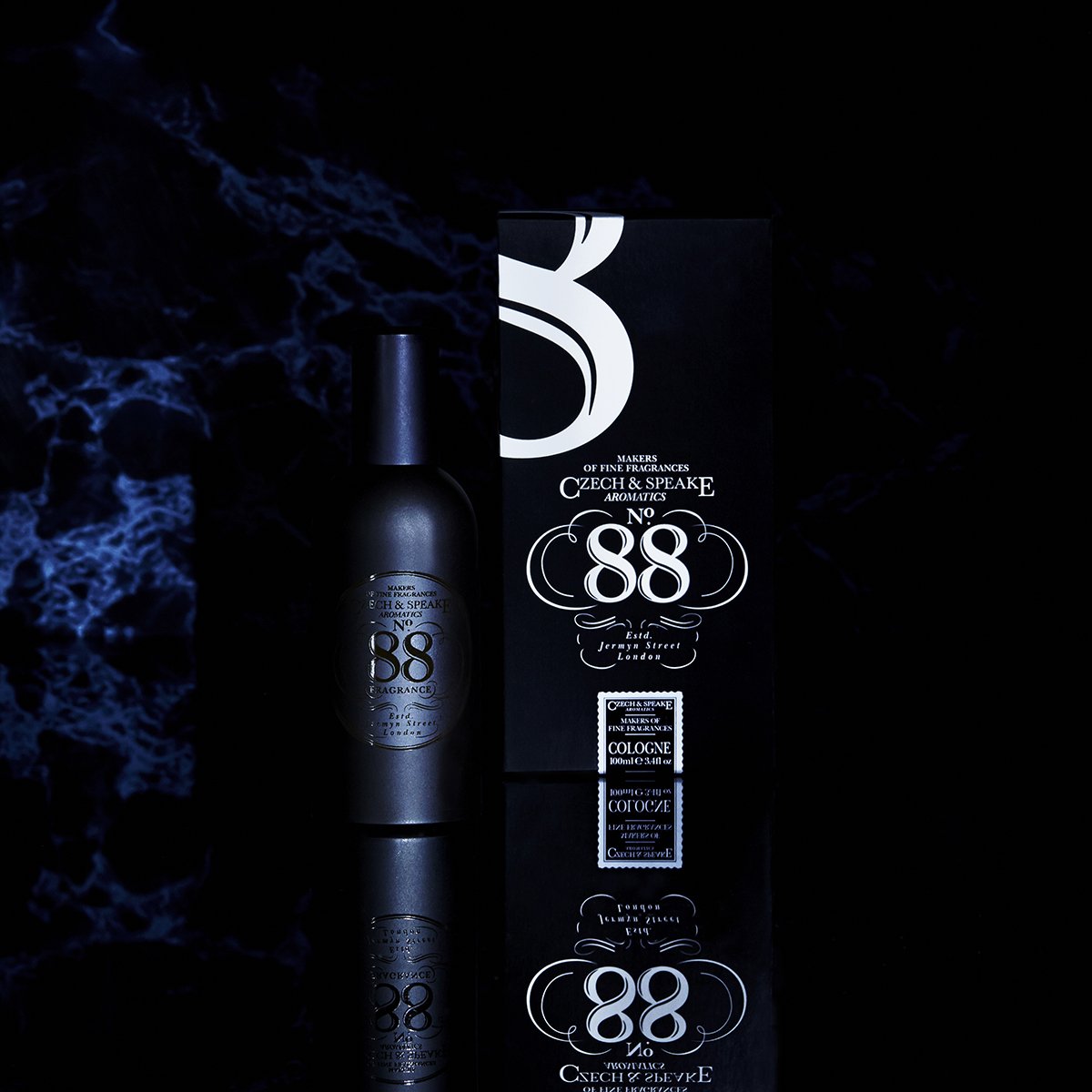 Our signature fragrance, No.88 has a fresh, woody top note of reviving and uplifting bergamot, the richness and warmth of geranium, rose otto, cassie and exotic frangipani. Presented in our own iconic black opal glass bottle. This cologne is rich and has depth, instantly recognisable amongst fragrance connoisseurs and remains our No. 1 bestseller.  Although we are sure this is an all-year favourite fragrance, the No.88 still makes our perfect autumnal scent list.
It feels like you've stepped into a leafy garden on a frosty Autumn morning with a woody edge courtesy of bergamot roots infused with sandalwood and geranium with a subtle hint of rose embedded into the background. Haunting and lingering.
Top notes: Bergamot
Middle notes: Vetiver, Sandalwood
Base notes: Geranium, Rose otto, Cassie, Frangipani
Vétiver Vert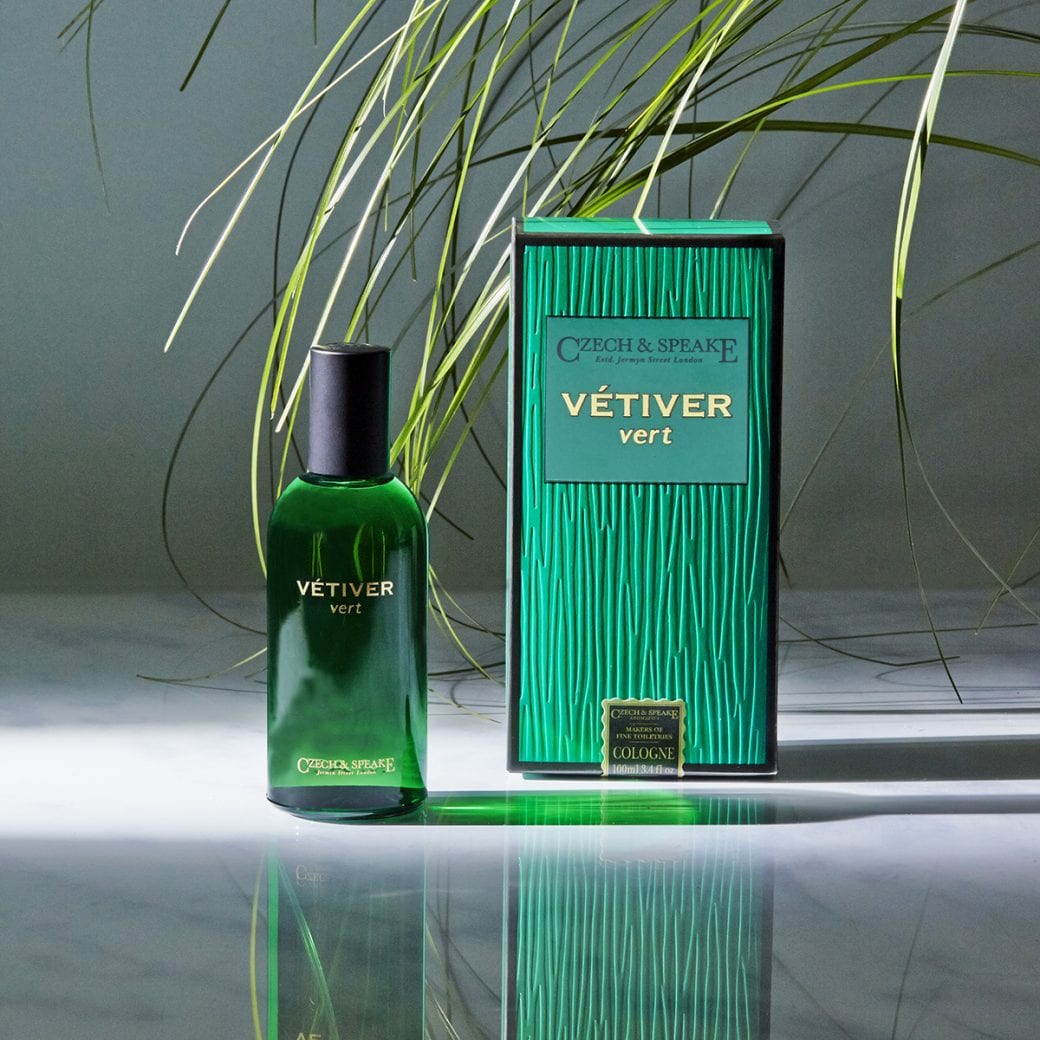 If you prefer a fresher scent but desire the muskiness and intensity suited to the cool season, our Vétiver Vert cologne contains a beautiful harmony of earthy notes evocative of the root of the vetiver plant, combined with a citrusy mandarin top note. Our version of the classic masculine fragrance has a spicy, woody bottom note of sandalwood, and offers a strong base that will leave a lasting impression and warm your senses in the brisk climate.
Top notes: Peppermint, Bergamot, Rum, Lime
Middle notes: Rose, Clove, Bay, Tonka Beans
Base notes: Frankincense, Tobacco, Vetiver, Cedarwood
Autumn has a dark and sensual feel about it, and we think that these fragrances encapsulate the essence and mood that we all look forward to in the Autumn season.
To shop our full range of niche fragrances, click here
---
Located in North America or would like to pay in Euros? Please visit our US site here and our EU site here.