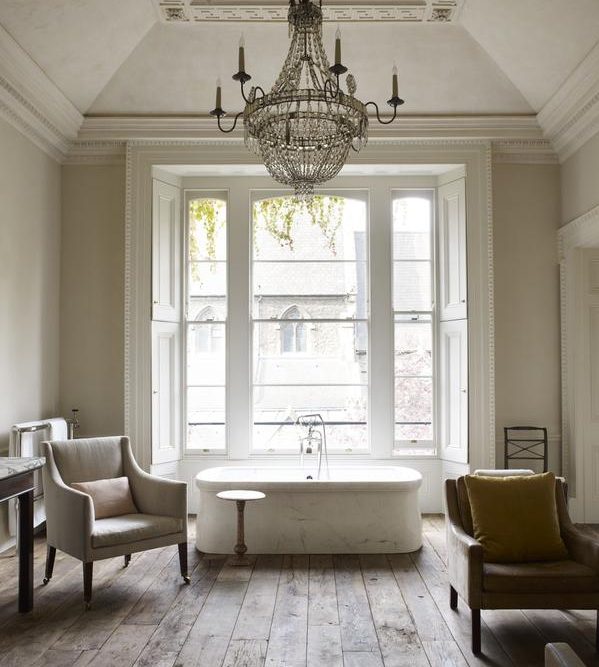 Considered lighting is essential to any interior space. If time has been invested into the design, layout and selection of the most beautiful furniture and fittings, then it would be a great shame if they were not well lit to display them at their best. Of all the rooms, the bathroom demands the most complex lighting; not only is it a task-oriented space where clarity of sight is required for your daily grooming rituals, but it is also a space of indulgence, desiring ambient surroundings and visual appeal.
We've been on the hunt for exciting light designs that are both beautiful and fit for purpose, and these were some of our favourites:
Porta Romana, Scallop Shell Wall Light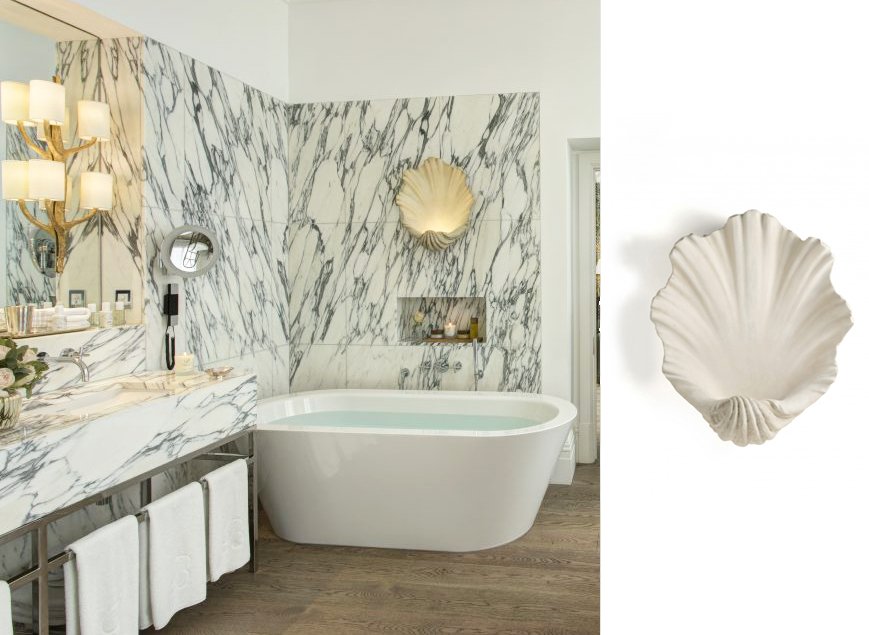 London brand Porta Romana promise to produce highly crafted, original and quirky designs, and they have more than fulfilled with this fanciful, oversized wall light that imitates a scallop shell half. Using the natural shape of the scallop shell, warm white light is directed upwards to create a soft but compelling ambience. Throwing light up at the celling illusions a larger space, while adequately filling the room. Along with its functionality, the antiqued plaster finish brilliantly depicts a valuable artefact, which makes it a rather luxurious focal point – perhaps a treasure found deep at sea, or Goddess Venus' iconic shell plinth.
Arteriors, Linkka Chandelier
Much like Czech & Speake, Arteriors is family run, so we're always inclined to support fellow brands with this authenticity. The Linkka Chandelier is a modern interpretation of the iconic Spudnik chandelier, which initially took its inspiration from the radical form of the first satellite sent to orbit in 1957; Spudunik-1. We love Arteriors' elegant take on the retro fitting; by toning down the more usual and sometimes too flashy starburst effect, the piece remains striking through its unexpected vertical composition and oversized opal glass spheres which emit softened but radiant light. The graceful design and calming light source will be perfect for setting a tranquil atmosphere in your bathroom sanctuary.
Curiousa & Curiousa, Swan Tassel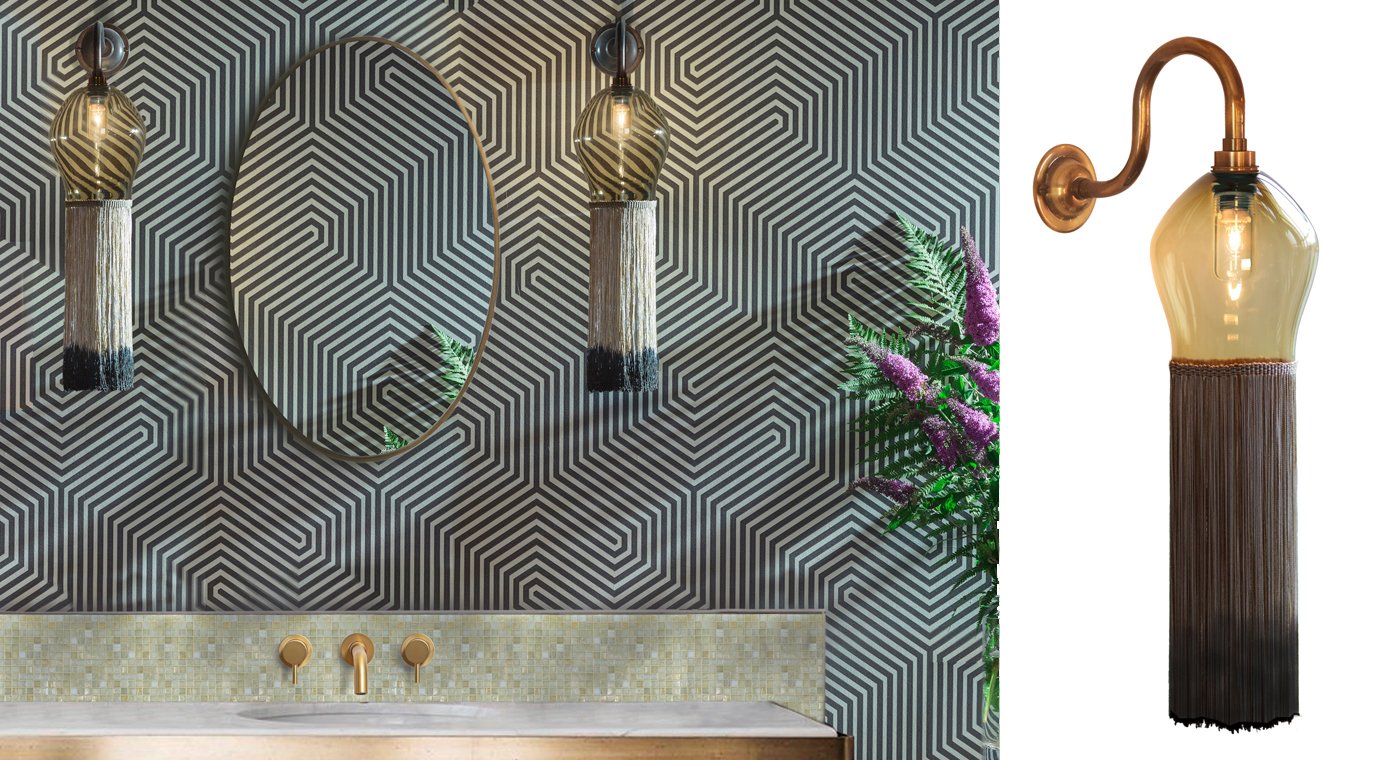 We're thrilled that award winning British brand, Curiousa & Curiousa, have progressed their wall light range to IP45 standards, allowing their elaborate, blown glass designs to be used in wet areas such as the bathroom. Founder, Esther Patterson started her brand with a passion for British-made craftsmanship, and has successfully used these traditional skills to produce bespoke designs with a very contemporary aesthetic through an exciting use of colour and contrasting materials. We're particularly fond of the Swan Tassel design; the long hanging fringing attached at the lip of the glass shade is rather sultry, providing a desired sensuous tone for the place you self-indulge and beautify.
Czech & Speake, Cubist Wall Light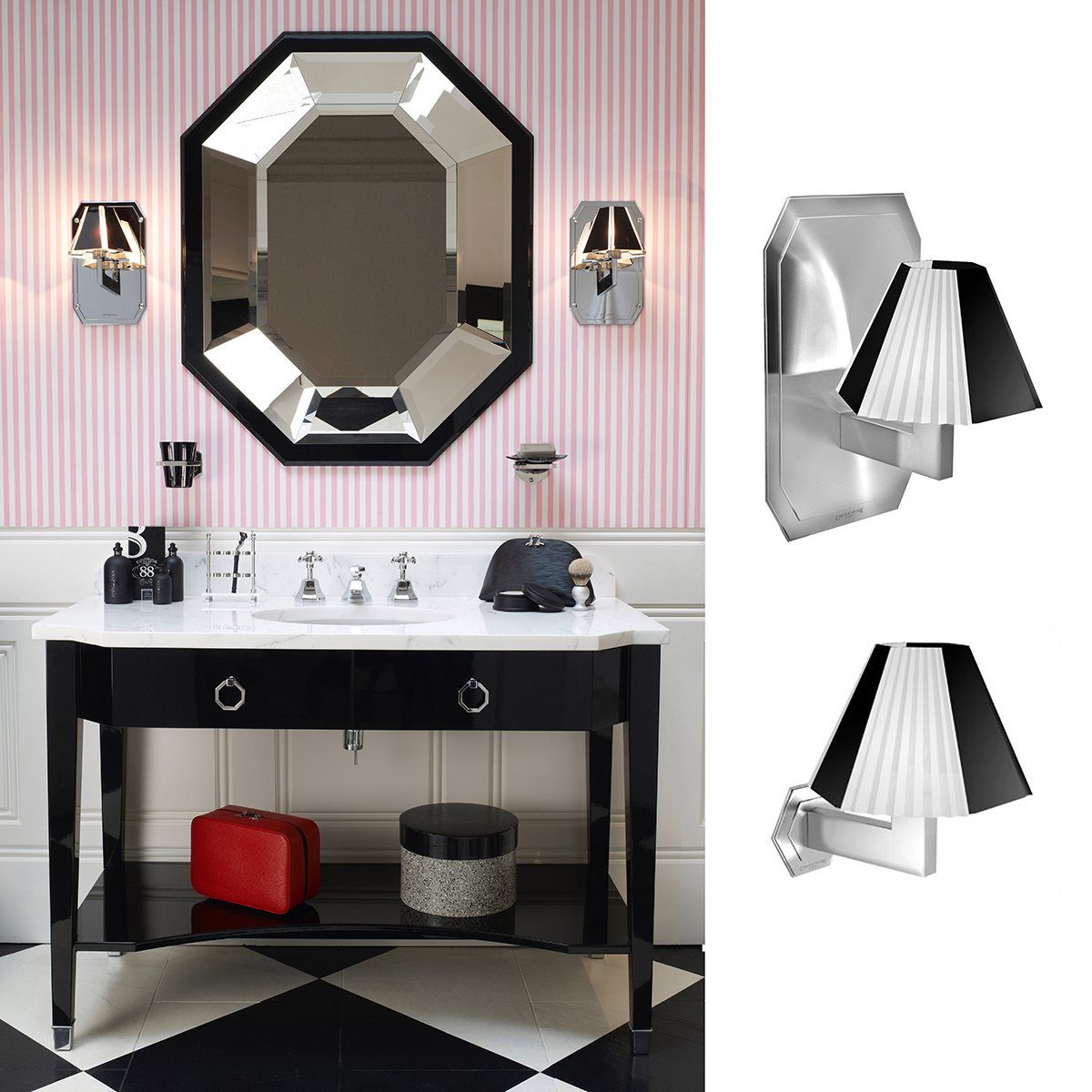 At Czech & Speake, we produced two wall lights to accompany our Art Deco inspired Cubist bathroom range. As with all our accessories, they're designed to function in a bathroom space, made from high quality, hard wearing chrome or nickel with a beautiful black cased glass shade crafted from a traditional bohemian glass making technique. While the structure is as sturdy as our bathroom fittings, the sparkling light effects released from the bevelled glass shade truly embody a vision luxury, and evoke the glamour of the 1920's as intended.
If you'd like to shop our Cubist light fittings click here. Alternatively you might be interested in exploring the entire Cubist Bathroom Accessories range.
Sources: Arteriors, Curiousa & Curiousa, Porta Romana, Andrew Martin.
---
Located in North America or would like to pay in Euros? Please visit our US site here and our EU site here.