Founded on the notion to provide fine quality products to aid a rich and pleasureful lifestyle, Czech & Speake live and breathe luxury. As recorded in history as far back as the infamously indulgent Romans, the opportunity to discover a new culture and allow yourself to switch off from work and worries, remains to be the pinnacle of luxury. We truly advocate the holiday, having designed a niche travel range to make the whole experience a lot easier and to facilitate bringing with you your favourite lavish products.
As it's the season for travel, we'd like to share with you our top destinations for three different luxurious holiday types, paired with high-end suitcase must haves.
City Break: Helsinki
If you desire an escape from your daily routine but find solace in activity and culture as apposed to sun-soaking, a city break will satisfy your needs. We recommend a visit to the cool capital of Finland, Helsinki. As you would expect from the design lead Scandinavian's, the city is run with the upmost efficiency. The streets are clean and the tram system runs smoothly which provides a sense of ease and tranquility that is not often found in buzzing capitals. This contemporary energy is dispersed across the city, spoiling visitors with sleek, cutting edge restaurants and bars as well unique, soul-feeding experiences. You can take in the cities beautiful architecture while open-air swimming at Allas Sea Pools, or release your endorphins in the stunning pine-clan sauna, Loyly.

What to Pack:
Upkeep your appearance to match the sleek city. Pack Czech & Speake's No.88 Travel Shave Set to maintain a close and sharp shave, and keep teeth squeaky clean with Marvis' Ginger Mint Travel Toothpaste. Appreciate Scandinavian design and travel with a Sandqvist's Damien Leather Weekend Bag. Embrace the casual Nordic culture and wear a clean-cut Cotton-Twill Chore Jacket from Richard James both to chic bars and daytime strolls. Meander the cityscape in classic but sturdy Wingtip Brogues from Grenson while immersed in the incredible sound of Sennheiser Momentum True Wireless headphones.
Beach Holiday: Sardinia
If you seek a beach holiday, Italy's Sardinia will not disappoint. The island contains endless golden beaches with heavenly gradients of turquoise. In a country associated with style, it is unsurprising that this magnificent scenery is paired with glamour, appearing as the landscape in numerous Hollywood movies. Strips such as The Costa Smeralda ooze opulence, with luxury hotels, restaurants and boutiques lining the coastline. If you want to escape the glitz you can discover the ruins of Sardinia's ancient nuraghic culture, indulge in the the Italian's impeccable cuisine or simply take in the rugged landscape on costal walks and swims.

What to Pack:
Head to the beach with style, wearing Kirk Originals Harvey Round-Frame Tortoiseshell Sunglasses and Italian designed Rubinacci Printed Swim Shorts, all carried in a Black Calf Leather Trolley Case, also Rubinacci. Maintain appearances after exposure to the elements to look smart for the lavish bars. Wear Triumph & Disaster No Dice Suncream to enhance natural sun protection, and bring with you a Czech & Speake Air-Safe Manicure Set in Blue & White to groom rugged, beach-worn nails. For the costal walks, pack Fracap's Moro Sandals.
Glamping: Mount Rushmore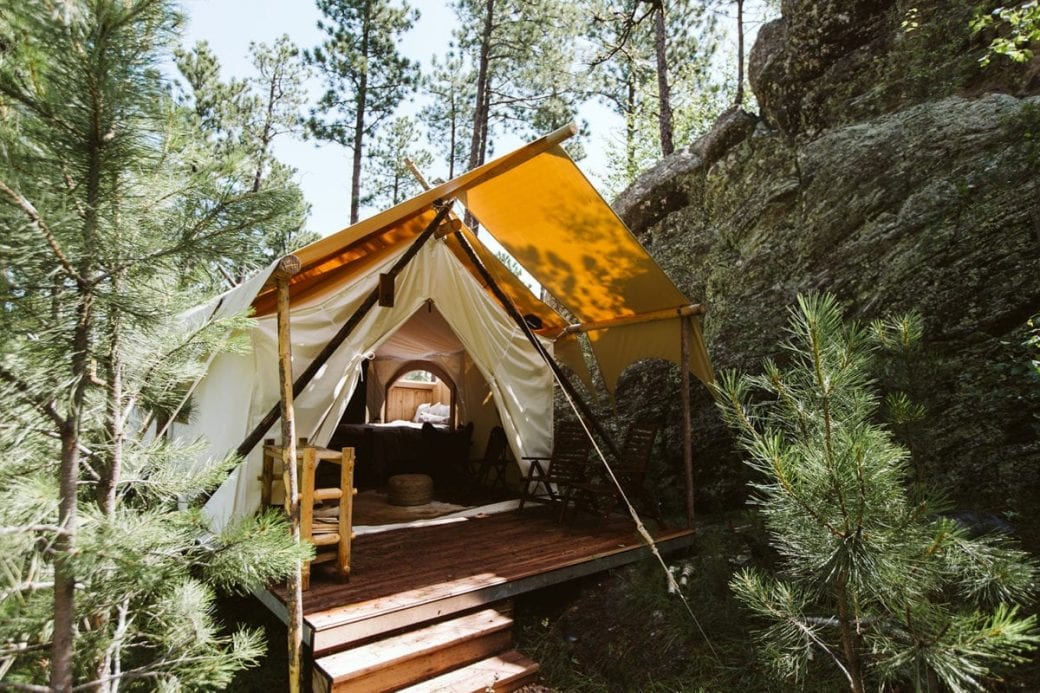 Perhaps you want to escape the bustling world and be at one with nature, but would prefer to do this in comfort and luxury. Glamping is worth a try, and company Under Canvas is the one to choose. The founders mission was to bring friends and families together to experience the immersive outdoors in amenity and style. The company have eight deluxe resorts with impressive safari inspired tents including kingsize beds, ensuite bathrooms and wood burning stoves, with no offer of wifi to encourage visitors to 'unplug'. Our favourite site is located by America's iconic Mount Rushmore, with activities offered such as massages, hiking tours and gold panning.
What to pack:
Under Canvas' tent might be all inclusive but nothing compares to your own personal colognes and toiletries. Czech & Speake's Three Compartment Gentleman's Travel Case in red leather has the capacity to store all of your favourite washroom items. If hiring such a grand outdoor suite amongst beautiful surroundings, it would be shame not to entertain in style. Harrod's Picnic Basket for 4 has all the fine crockery, cutlery and glassware needed, while Snow Peak's Hotlips Titanium 600 Mug is a more practical option for sipping hot brew on chilled evenings. For those days of activity, Prada's Suede boots and Rain's red Jacket are the trendy but hardwearing go-to's, with a Sony a7 II Compact System Camera to capture the memories.
If you've been inspired to book a holiday to any one of our recommendations, discover our travel range. Click to shop No.88 Travel Shave Set, Air-Safe Manicure Set in Blue & White or Three Compartment Gentleman's Travel Case in red leather.
Sources: Under Canvas, as well as site links to products.
---
Located in North America or would like to pay in Euros? Please visit our US site here and our EU site here.