The Czech & Speake Ultimate Christmas Gift Guide 2021
November 2021
Here at Czech & Speake London, we're gleefully witnessing the festive spirit rise in the city, with our favourite store-fronts already twinkling with lights, and the sweet and spicy aroma of mulled wine tantalising our senses as we pass them by. There is certainly a heightened sense of anticipation after the lockdowns of last year, so why not take hold of this and start planning extra special gifts for each of your loved ones. This year, we have created an extensive guide to offer Christmas gift ideas suitable for anyone in your life, whether that be parents, grandparents, siblings or friends. Read on to discover our carefully curated gift selection for Christmas 2021 for those who love Czech & Speake, or are yet to discover our unique collection of luxury fragrances, grooming and leather goods.
Having started on Mayfair's Jermyn Street, the historic home of gentleman's luxury, Czech & Speake has always provided excellent fine fragrance and grooming products for men. Whether you are browsing for your dad, grandpa, brother or son, we will have the gift you are looking for.
Our fine fragrance collection ranges from a unique take on classic scents to niche fragrances with their own story. If the man in your life appreciates a sophisticated scent, impress him with a luxury fragrance from Czech & Speake. These are our perfume gift picks for men:
No.88 is the original Czech & Speake fragrance and has remained our most loved and best-selling scent since its launch in 1981. Its complex and mysterious fragrance has a unique versatility that appeals across generations, meaning you can safely select this gift for dad, grandad and son alike. The fragrance announces itself with a woody top note of reviving bergamot, the richness and warmth of geranium, rose otto and exotic frangipani, combined with dry base notes of vetiver and sandalwood. As our signature fragrance, the No.88 range offers the most options of bottle size and strength. Choose between sizes 50ml, 100ml and 200ml in cologne or eau de parfum; cologne is our classic, while eau de parfum is for those that like it stronger.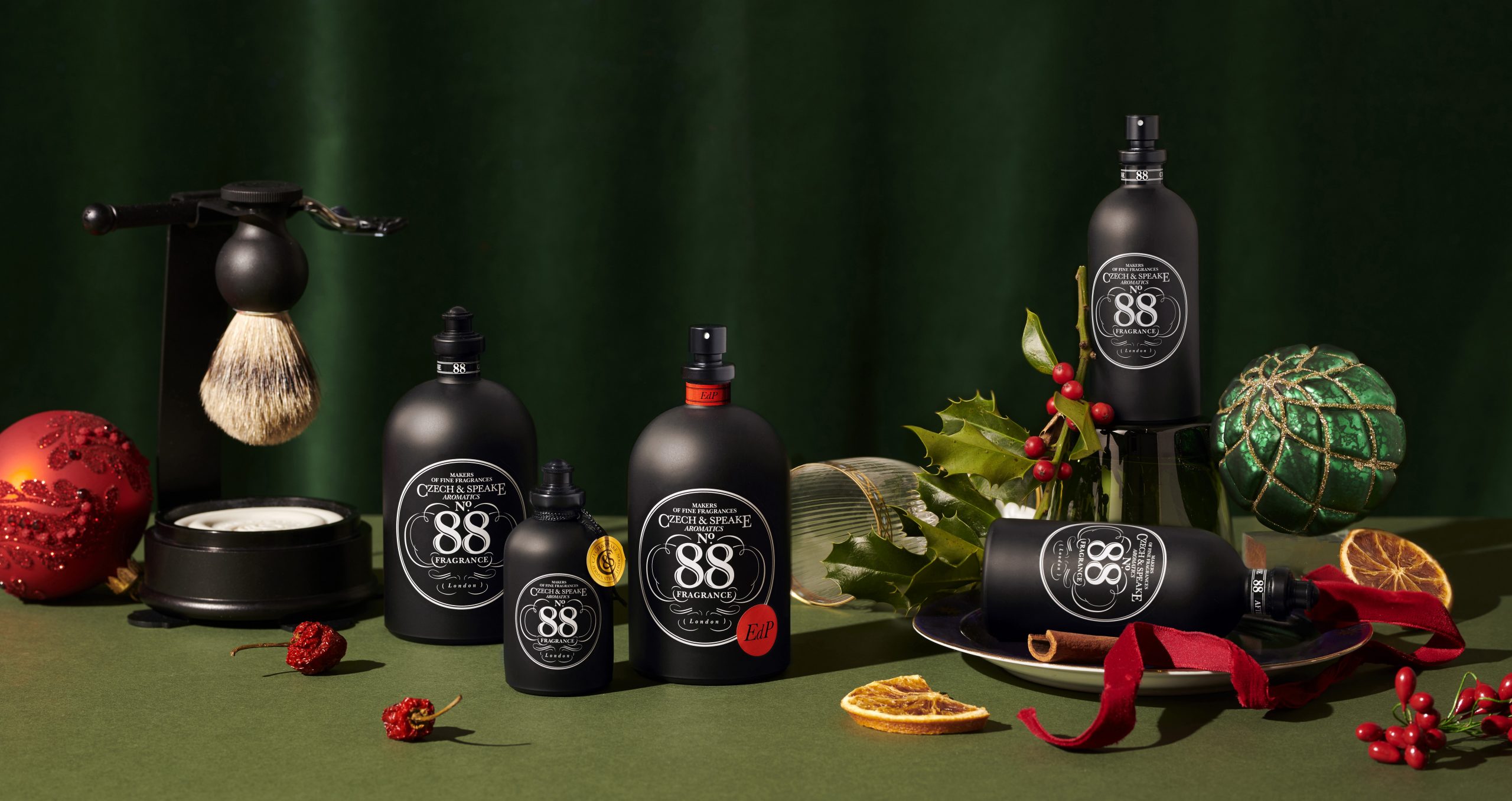 Another favourite in the Czech & Speake fragrance collection is Cuba; a vibrant heady mix of bergamot, lime and peppermint, with a heart of rum, spicy clove, bay and rose. Woody base notes of tobacco, frankincense, cedarwood and vetiver round off this striking fragrance. The fiery yet refreshing character of this perfume could be the perfect gift for a boyfriend or husband. Choose between the 100ml cologne, or the recently added, deeper in strength, 50ml eau de parfum.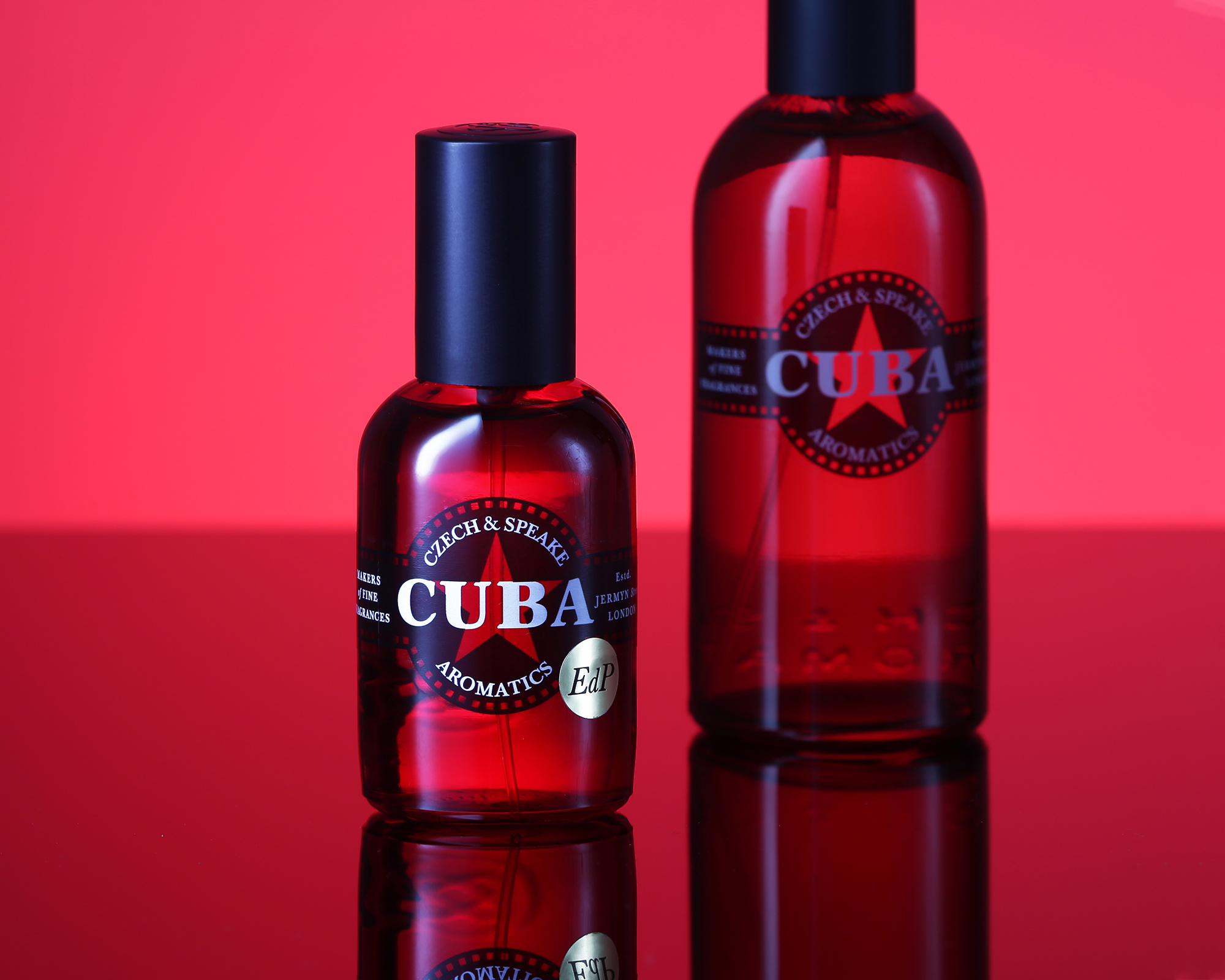 If your recipient likes a fragrance to have some punch, our popular Perfecto Fino Eau de Parfum scent could be the ideal Christmas gift. Evocative, smokey and masculine, this spicy floral scent is built around woody sharp notes with intensive leather notes, instantly recognisable. Caramelised charred bark creates its distinctive and unique smokey scent alongside resinous amber. The poignant notes of leather and tobacco give this perfume a sense of nostalgia, think leather armchairs and thick cigars; a scent experience that grandpa or a discerning gentleman in your life might appreciate.
Renowned for design, attention to detail and quality, our cutting edge grooming products have received many features in Christmas gift guides over the years by the likes of The Guardian, GQ, Esquire and The Evening Standard. If you're looking for a highly luxurious gift, these are our recommendations:
Shaving Set & Stand in No.88 or Oxford & Cambridge
The Czech and Speake Shaving Set & Stand is the pinnacle of luxury. Classic in concept yet minimalist in style, the elegantly curved stand in anodised aluminium suspends a traditional shaving brush above a distinctively embossed soap dish, holding our imprinted solid shaving soap. Scented in either iconic No.88 for the matte black aluminium stand, or lavender-infused Oxford & Cambridge for the silver aluminium stand. Truly a gift of indulgence and style.
Much like our Shaving Set & Stand, our sleek Manicure Sets receive a lot of press attention, appearing in the Christmas gift guides of The Evening Standard and the Daily Telegraph as a luxurious present option. Housed in exquisite leather, every element of the manicure sets represents the pinnacle of available materials and cutting-edge technology, with colour combinations to choose from. We recommend elegant Stone & Cream with Gold Instruments as an extra special Christmas gift.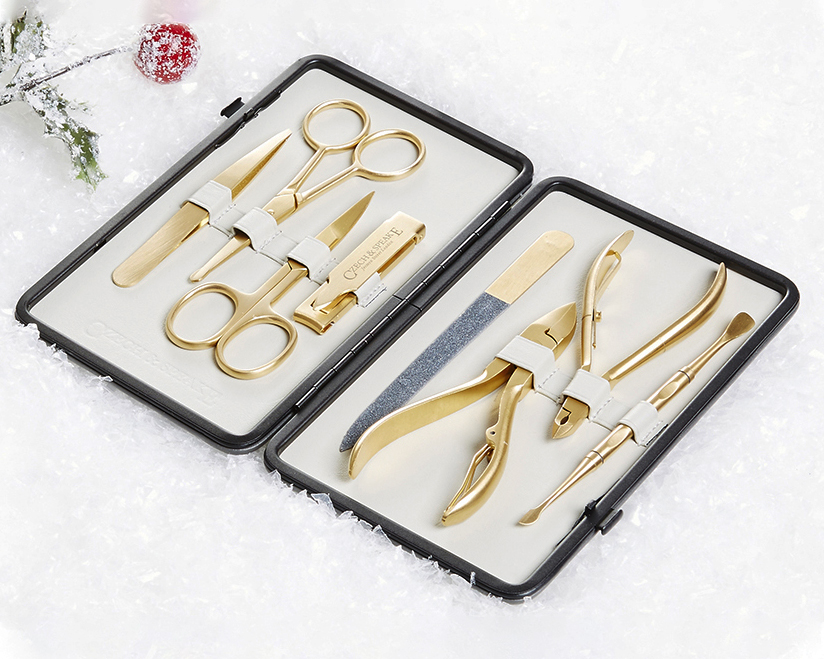 The lady in your life deserves luxury… Whether it be for your mother, grandma, sister or wife, Czech & Speake will have a special gift that they will love.
Our fine fragrance range is designed for all, but there are a few perfumes that are particularly popular with women. From rich florals to sophisticated oceanics, these are our winter perfume picks that will make the most luxurious gifts:
If she loves the scent of rose, our Dark Rose Eau de Parfum is an ideal floral scent for winter. This rich and intense interpretation of the flower blends Rose of Taif and unique Cambodian Oud, two of the most opulent extracts of the orient, with a spicy middle note of saffron and delicate lily. With the romance of the rose, this perfume could be the perfect gift for your wife or girlfriend.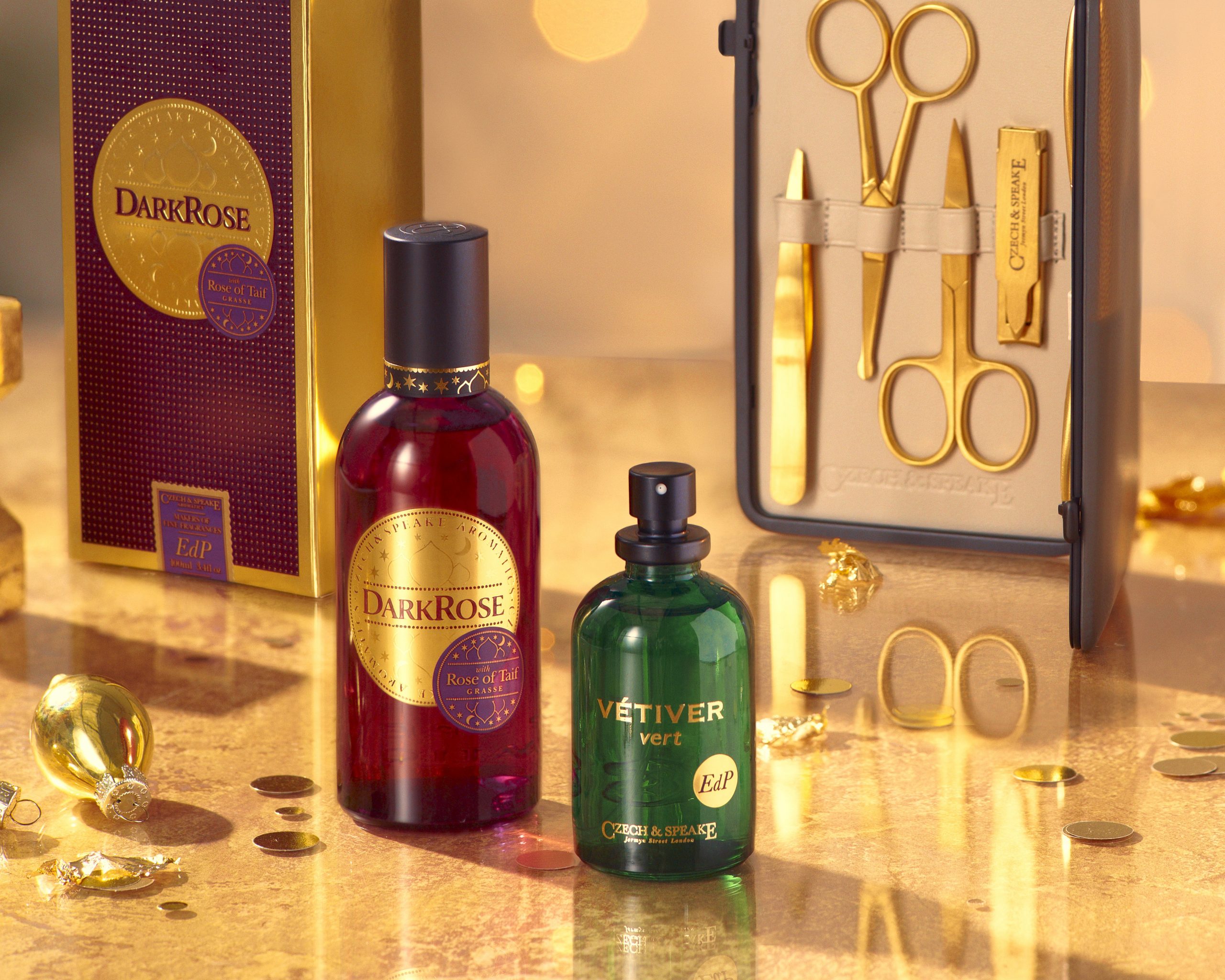 For a lady who loves the classic scents, Oxford & Cambridge Cologne is our take on traditional lavender fragrance. The perfume ​​opens with clean, fresh English and French lavender, topped with a burst of herbaceous peppermint, rosemary and bergamot, gradually giving way to a subtle base of warm oakmoss. The gift of Oxford & Cambridge could evoke memories for grandma, or make new ones for your daughter. A smaller, travel-size 50ml version has recently been added to the fragrance collection.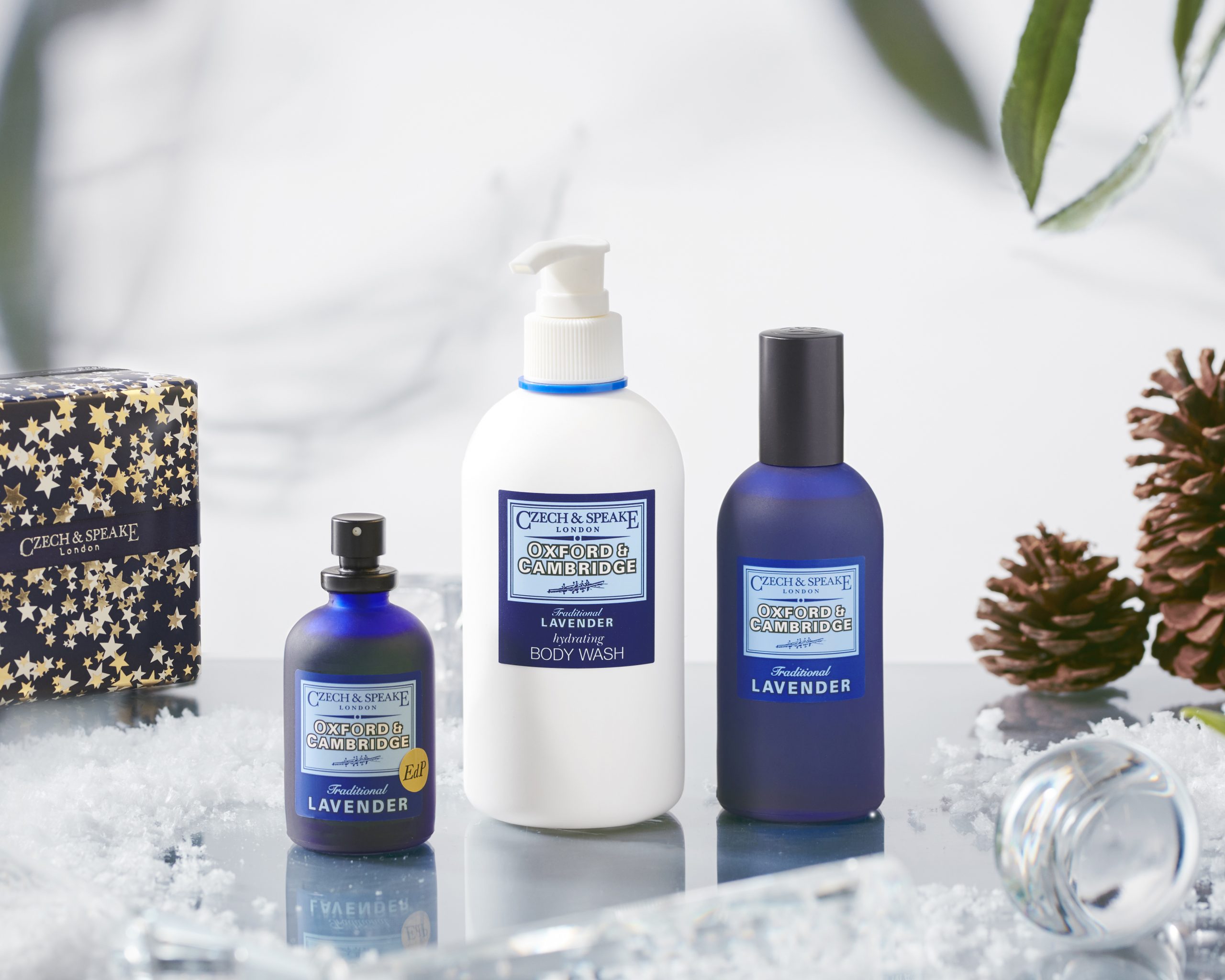 Is your loved one a woman of sophistication, who prefers more alternative, androgynous scents? Villa Ausonia Eau de Parfum is a contemporary fragrance, blending notes of oceanic ozone, green and citrus. Imagine the Invigorating sea air topped with sweet, luscious fruits and refreshing pine. This could be the finest and most thoughtful gift that your sister or a special friend receives this Christmas.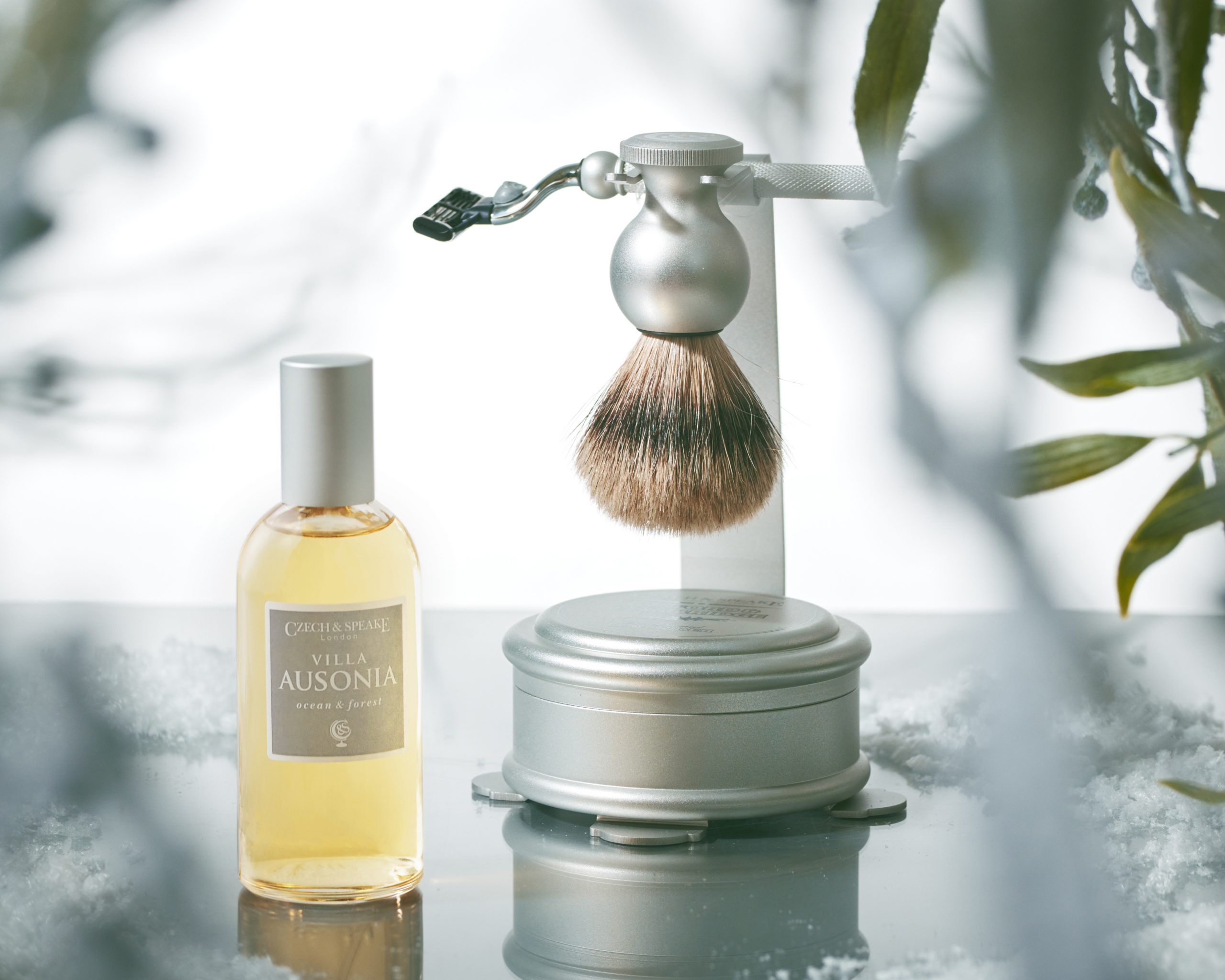 In the cold winter months, there's nothing like a soak in a hot bath. Enhance her everyday and give her the gift of ultimate relaxation with luxurious products from our Bath & Body range.
Our body washes make a great stocking filler for her that you can't easily go wrong with. Available in three scents; sweet and citrusy Neroli, calming lavender infused Oxford & Cambridge and iconic No.88, which was brought back due to popular demand. Made with pure essential oils, the sumptuous scents and soothing properties provide a daily experience of indulgence, which is what Christmas is all about, right?
Each fragrance in the Czech & Speake collection can be enjoyed by all, with the design process motivated by exquisite ingredients and stories of experience, as opposed to gender. Although all our fragrances are gender neutral, some certainly have more masculine or feminine traits, but there are a few that have equal appeal. Vétiver Vert has an elegant sophistication that appeals to both men and women, with a zingy burst of citrus in the top note followed by rich, woody vetiver and sandalwood in the base. Our new eau de parfum version of Vétiver Vert would make a flawless Christmas gift to him or her.
4.
What Are The Most Popular Gifts?
The most popular gifts from Czech & Speake each year are always from our signature No.88 Collection. Since its creation, it has gained a passionate following amongst men and women who adore its depth and complexity. The following are the most popular products in the range:
No.88 Cologne Spray 100ml
The cologne is the original form of No.88, and in the 100ml size it has a particularly loyal clientele. If you know your loved one adores No.88, or wish to introduce them to a new signature scent, this 100ml cologne is a well rounded choice and a must have gift.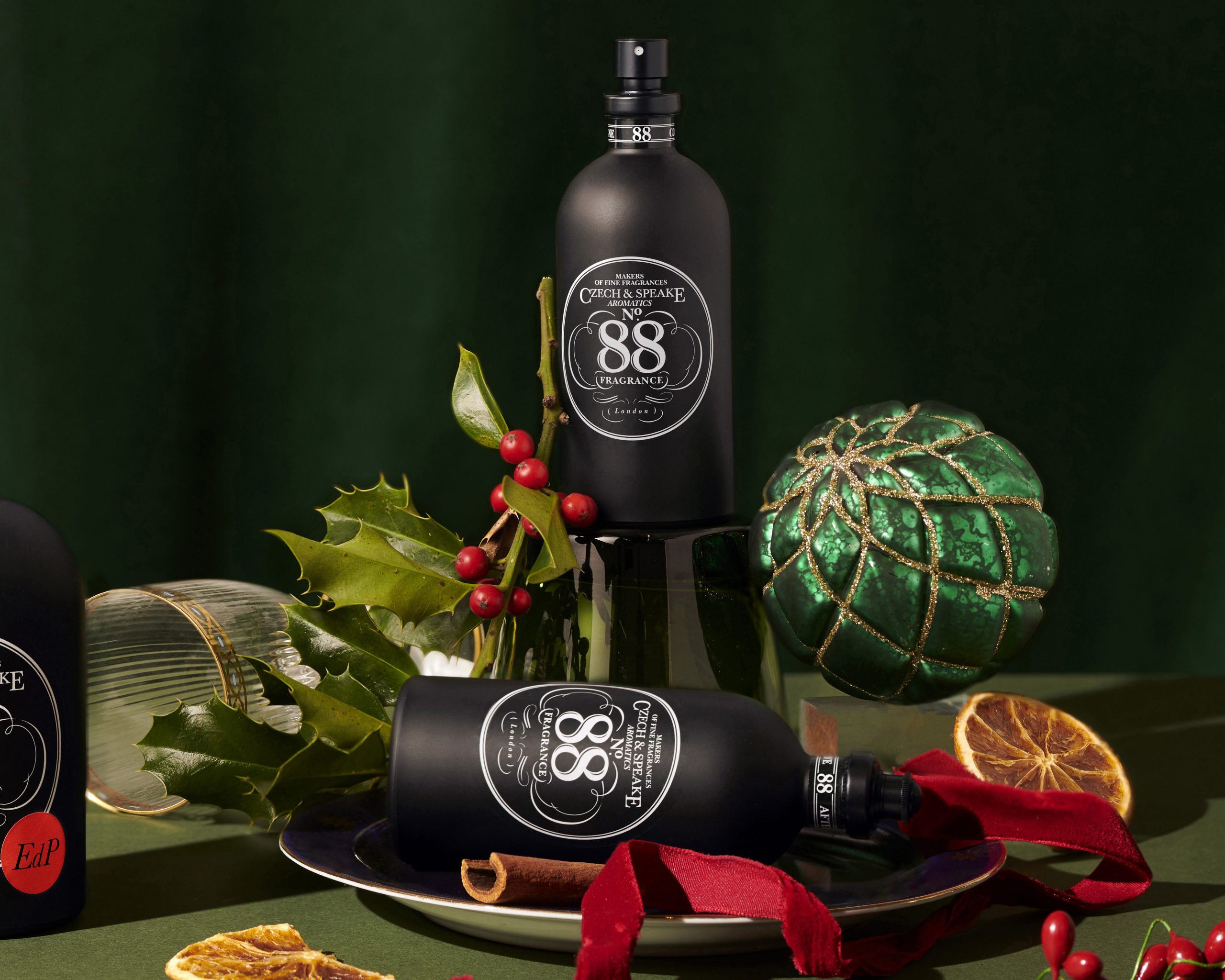 No.88 Aftershave Shaker 100ml
If you're shopping for a man who takes pride in his grooming ritual, the No.88 Aftershave is delicately scented with best selling No.88, in combination with pure essential oils and antiseptic, soothing properties to make his everyday a luxurious experience. The aftershave in the 100ml size is our most popular grooming gift.
No.88 Eau de Parfum Spray 200ml
In the last couple of years we began releasing our signature No.88 fragrance as stronger eaux de parfums alongside the original colognes. These more intense and long lasting versions of our classic fragrance have been gaining popularity with those who can't get enough of the rich, woody scent. As an utterly luxurious and highly generous gift, the No.88 Eau de Parfum in our largest 200ml size will make a bold statement.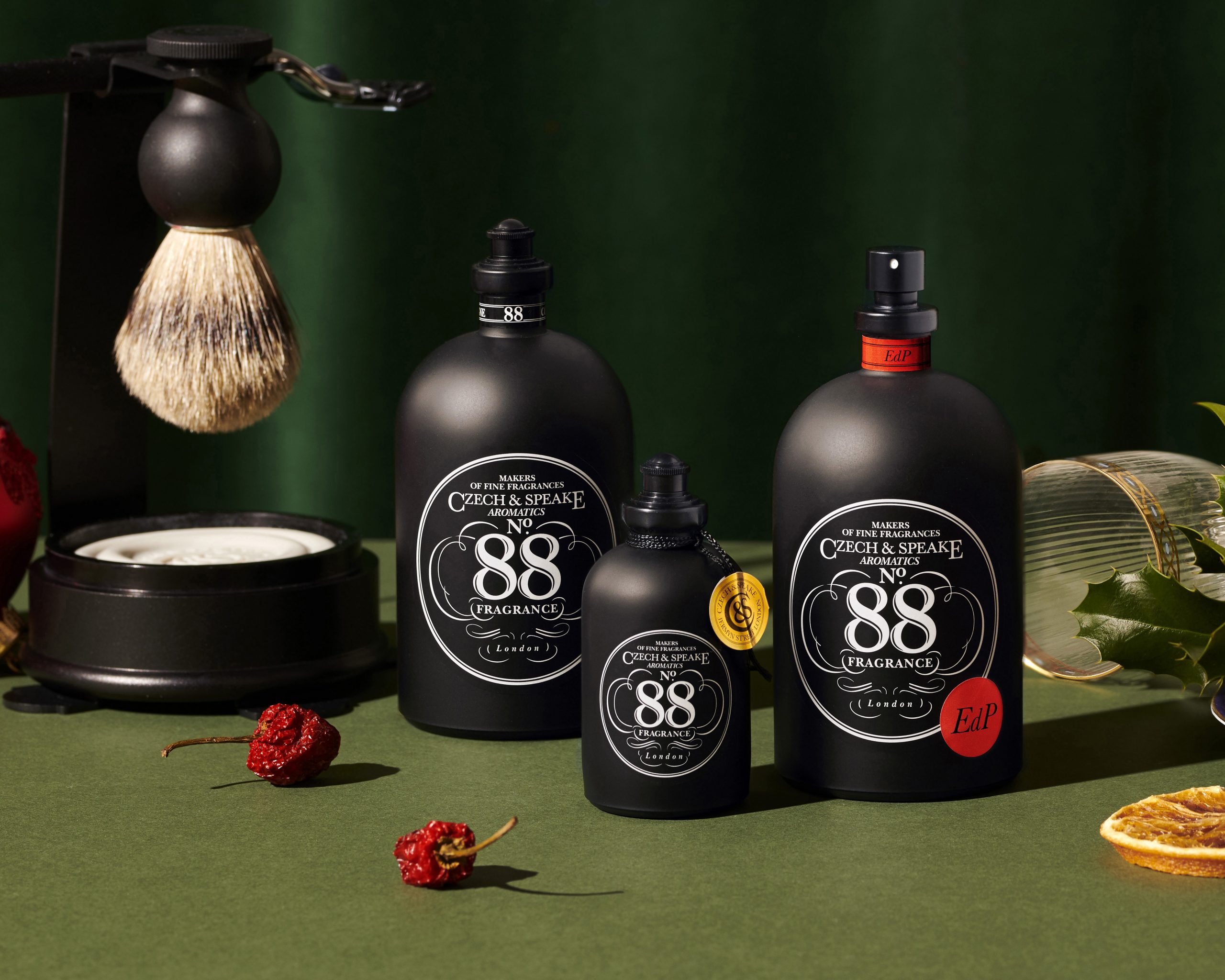 5.
What are good Christmas Traditions?
During the Christmas period, our home becomes our safe refuge and the heart of gatherings. As we all know it is traditional to put up a tree and decorations, but it is the small touches such as burning candles and incense that make a big effect on creating atmosphere.
Our home fragrance category is always popular around Christmas, both as gifts and for personal use to make the home feel warm and festive.
Czech & Speake scented candles make a great gift for him and her alike, of any age group. Lighting candles has deep associations with Christmas whether that be simply for their comforting, festive scent, or for traditional practice. One Christmas tradition we love is to light a candle in the window as a welcome to those coming to visit. Our candle collection expanded this year, but our original Frankincense & Myrrh Candle remains the most popular for Christmas for its spicy, citrus scent and ecclesiastical connotations. The new additions to the range, Perfecto Fino, Spanish Cedar and Mimosa are also perfect as winter warmers with their rich and woody aromas.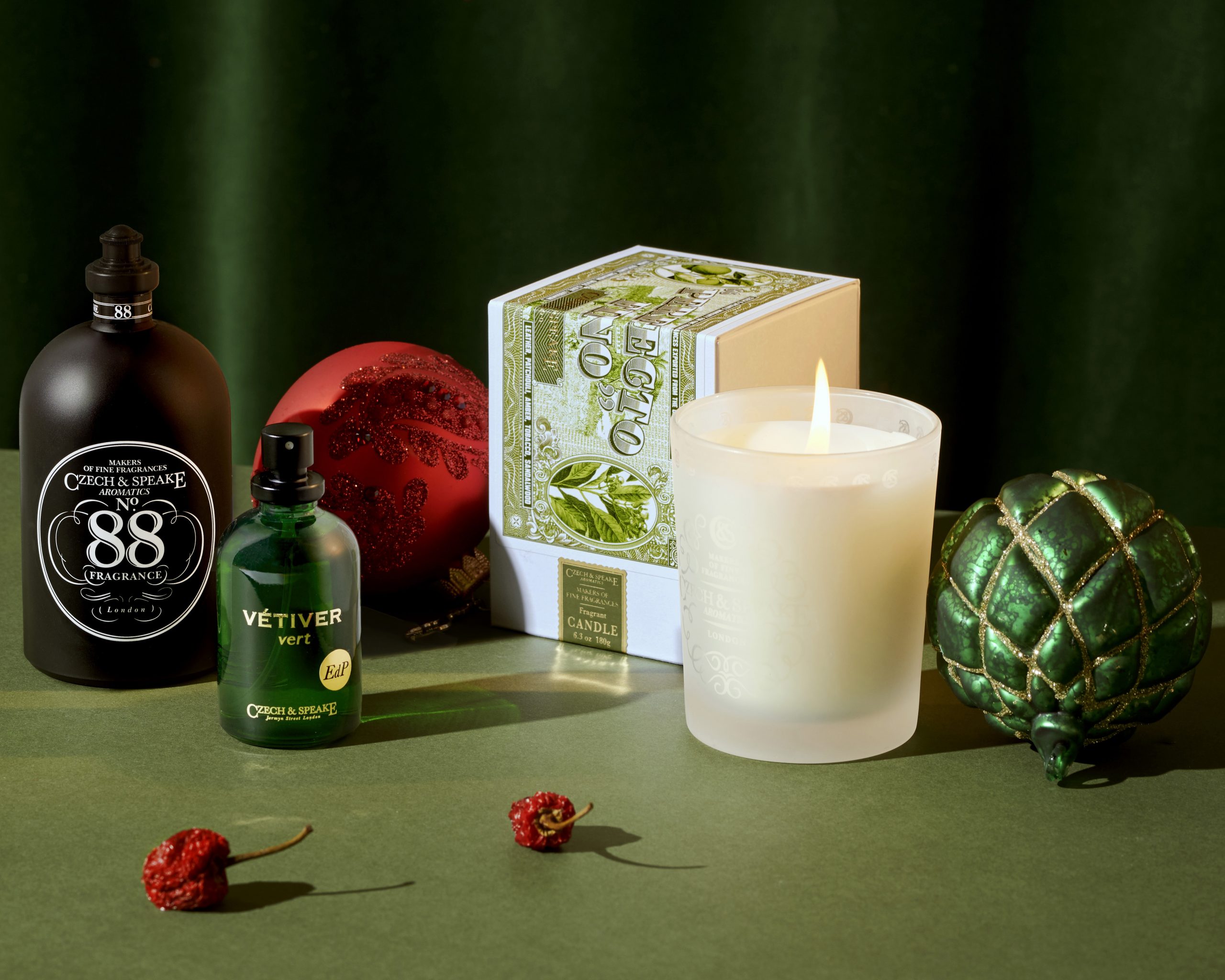 Christmas is the ideal time of year to burn incense. Its warming aroma in selected winter scents can make your home feel cosy and create a wonderful festive atmosphere. In Germany, burning incense is a big Christmas tradition, using a German Smoker; this is a figurine carved from wood, hollowed out for the incense to burn inside and flow out from the mouth. From the Czech & Speake collection, our Frankincense & Myrrh scented incense sticks make a luxurious and festive gift for a good friend or as a gift for yourself to create atmosphere at home over the holiday period. Our No.88 incense is another favourite for its silky, smoky aroma, or discover the new additions to the range in Perfect Fino and Spanish Cedar.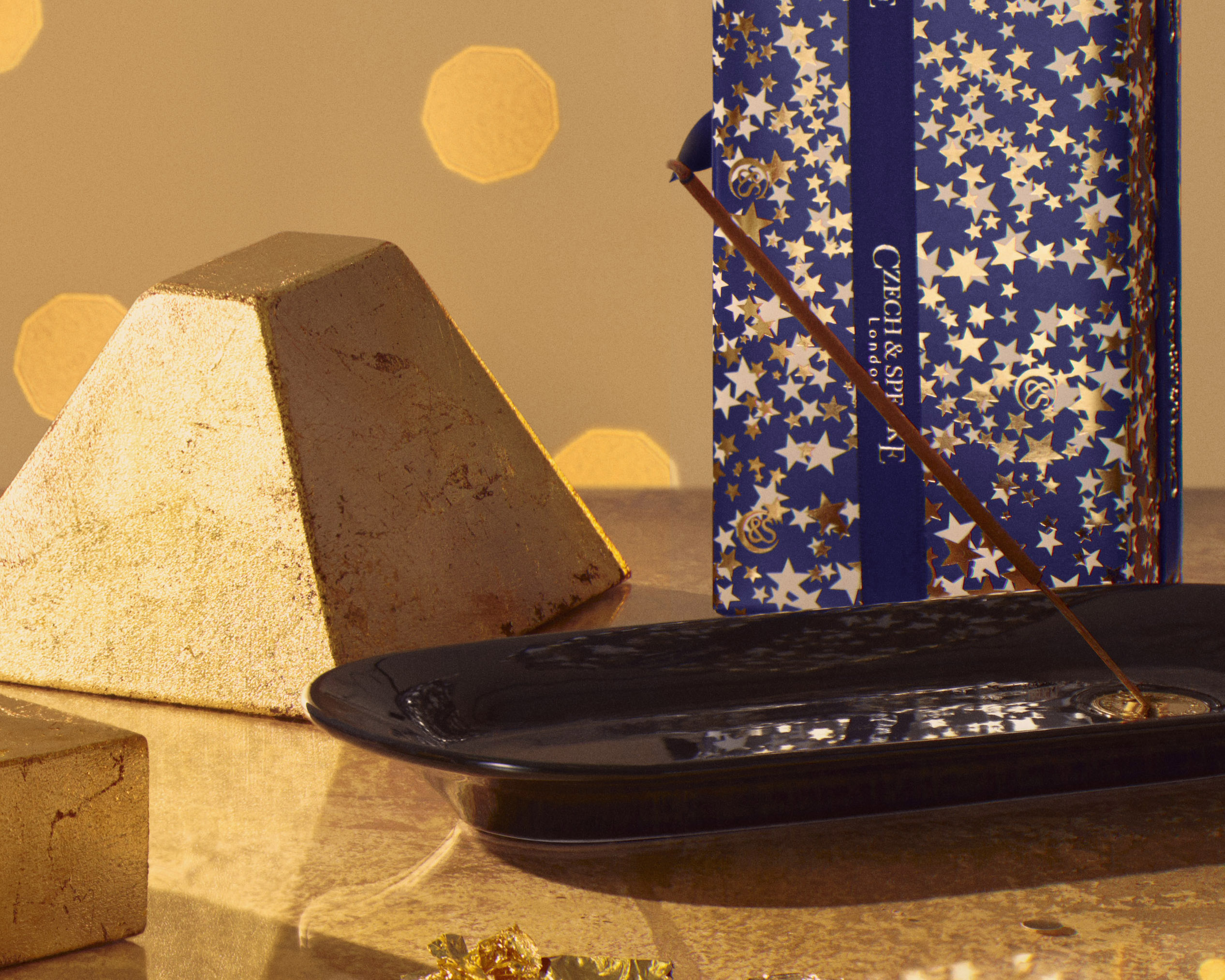 If you want to make each and every gift special but you don't have the time during the busy Christmas period, we are here to help you out with special seasonal services:
If gift wrapping is not your forte or you simply don't have time, we offer a complimentary gift wrapping service all year round, offering Christmas gift wrap during the festive period. Our branded gift wrap twinkles with metallic stars on royal blue, with complimenting Czech & Speake ribbon – a truly luxurious present. If you want to add more personalisation to your gift, you can type out a custom message and we will hand write and include in your order. These options will all be available to select at checkout, and ensure you include them in your order notes.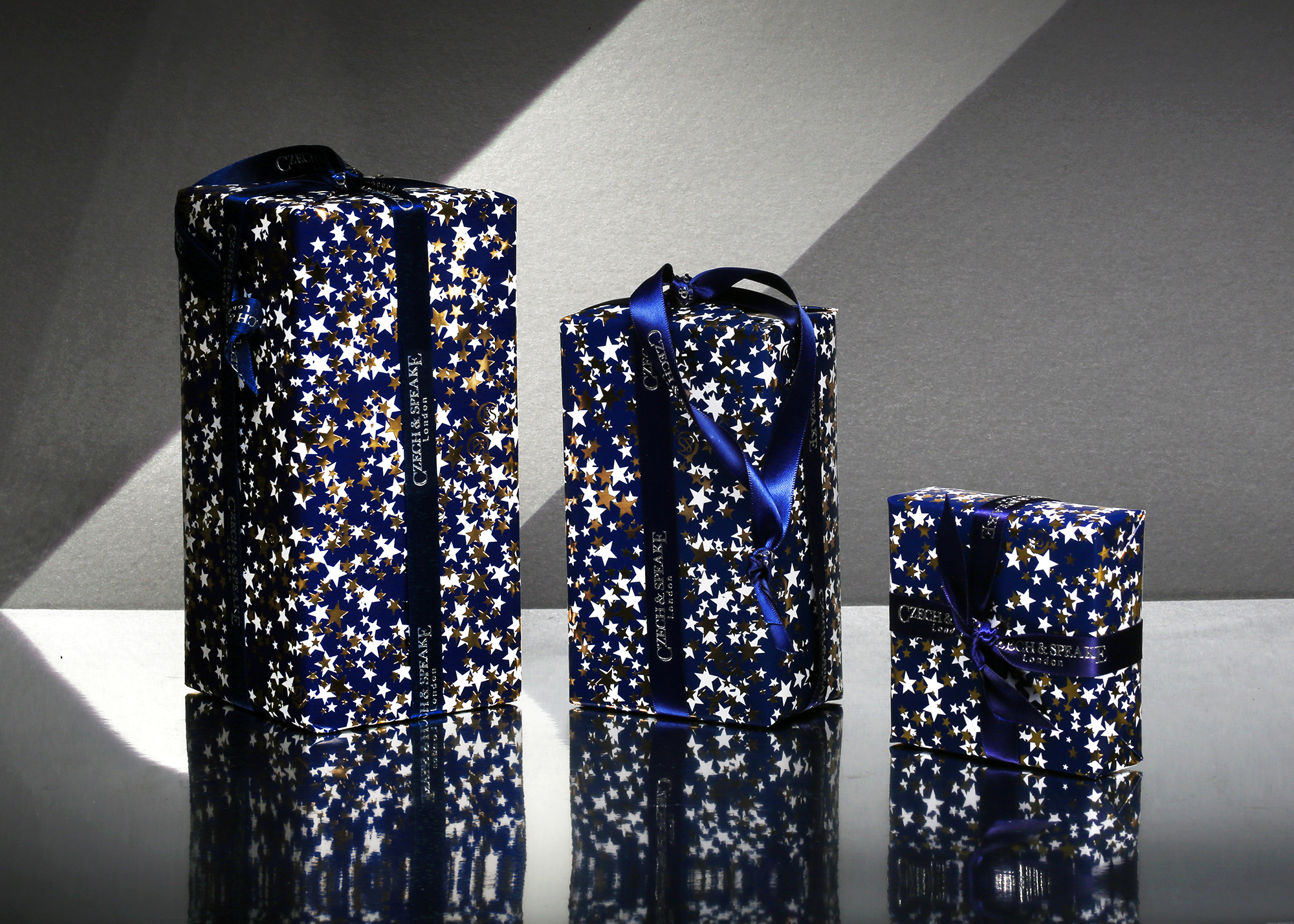 When the big day is drawing close and time is getting tight, look out for our free express delivery service that we release in the days running up to Christmas. This will give you the time to choose the perfect gift and ensure it arrives safely in time.